Written by James Lowen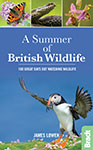 James Lowen, author of our new A Summer of British Wildlife title, discusses his love of wildlife, tips for wildlife-watching and the trips that he has planned for the year ahead.
When did you first catch the wildlife-watching bug?
I can't remember a time when I haven't watched wildlife. My father reckons the starting point was on a country lane, hemmed by towering hedges, near our family home in South Devon. I was three, still toddling but nevertheless clearly observant. A big bird appeared in the sky, so my dad's tale continues, prompting little Lowen to ask what it was. 'A crow,' my father grumped. 'No it's not. It's too big,' insisted the precocious fledgling naturalist. A few days later, identification guide purchased, the bird was identified as a common buzzard. Birds, and wildlife more widely, have riffed through my life ever since.
What is your favourite part of the UK for wildlife and why?
Crikey, that's a hard question. I love so many locations for so many reasons, from the Speyside for northern dragonflies and rare orchids, to coastal Suffolk for the dawn chorus and booming bitterns to the coast of Yorkshire, where I grew up, for its seabird colonies.
All that said, I always make the most of whatever wildlife is on offer, wherever I happen to be, be it a nature reserve, an urban park or a remote mountain. Accordingly, I feel I should answer 'wherever I am right now'. If backed into a corner and forced to decide on a single county, I would probably favour my adopted home county of Norfolk, for its big skies and amazing variety of wildlife: from tiny dune tiger-beetles and clouded yellow butterflies to harbour seal colonies and breeding spoonbills.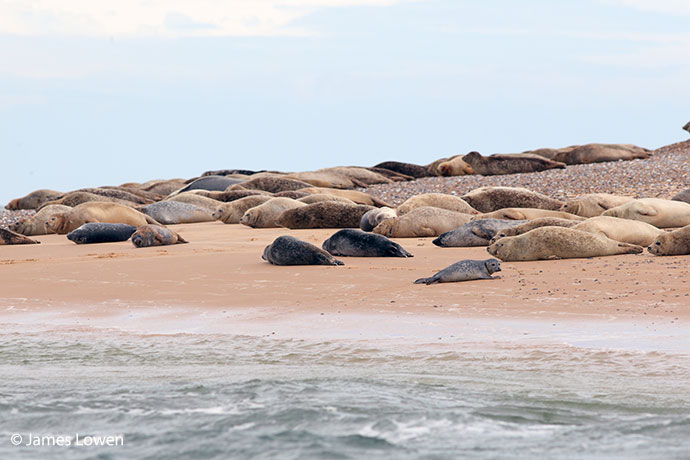 Harbour seals © James Lowen
Each of the days-out in the book is accompanied by a child-friendliness rating. How important is it to encourage the next generation to watch and protect Britain's wildlife?
It's a no-brainer. For all the talk of valuing nature for the services it offers us ('natural capital' and other premises), when push comes to shove, we will only conserve what we know and what we love. This means there must be ongoing efforts to open each child's eyes to the beauty and bounty of nature. Or, more correctly, keep each child's eyes open; every child I know starts off fascinated by nature, then loses interest. I am determined that my daughter, whose wildlife interests informed many of the days out in the book, never loses the buzz of holding a moth on her finger, or looking at a hedgehog rootling in our garden.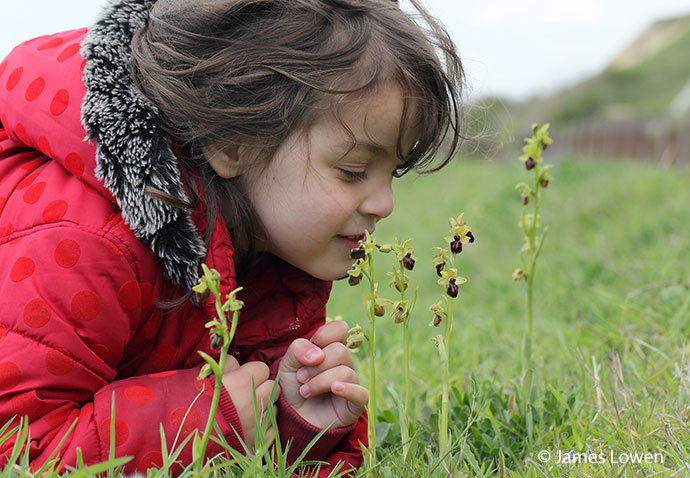 Getting up close to a spider orchid © James Lowen
Many of the book's days-out involve discovering elusive wildlife. Is there a particular species that you are still to come across on your travels?
There are tens of thousands of species in Britain – a little-known-fact that astonishes most people when I tell them – and I have seen barely 1,500 of them! So there is lots and lots more for me to see; enough for several lifetimes, indeed. Each year, I set myself targets for new species to track down. This year's goals include some of the clearwing moths, which mimic wasps to avoid being munched, and the Snowdon lily, which grows on remote crags in Welsh mountains.
The new book focuses on summer wildlife-watching. Do you have any favourite species to look out for in the winter period, too?
Oof, where do I start? Huge flocks of seaduck in eastern Scotland, their number including scoters, eiders and long-tailed ducks. Teeming masses of pink-footed geese in Lancashire. Otters fossicking in remote seaweed-rich bays. Pond-dipping for dragonfly larva. Trekking for mountain hares in the Peak District. Plenty of winter highlights are covered in my book 52 Wildlife Weekends, but there's definitely enough excitement in winter to justify a book of its own. Fancy commissioning me to write it?
Wildlife encounters are some of the most exhilarating experiences in the world, whether swimming with dolphins or coming face to face with a gorilla. What would be your dream experience?
I'm lucky enough to have done quite a bit of travelling, so I've come face to face with a gorilla family, swum with sharks and dolphins, eyeballed a jaguar in the Brazilian Pantanal and even had baby king penguins treat me as a sofa in South Georgia. As for remaining dream experiences, I was hoping to see wild giant pandas this year. Unfortunately, the Chinese reserve where you have the best (if slim) chance of seeing them is currently closed. So this particular experience will remain a dream until another year.
What essential gear would you recommend for wildlife-watching?
To be honest, you don't need more than your eyes and ears, some information and some energy. Nevertheless, the one piece of kit I never venture out without is a pair of binoculars. 'Bins' bring wildlife closer, and enable to you get amazing views without disturbing your quarry. Everyone wins.
What trips have you got planned for the rest of 2016?
Well, as you read this, I'll be in Japan, photographing Steller's sea eagles on Hokkaido. Southern Spain will beckon, albeit on a family holiday. I'll be revisiting some locations with which I fell in love while researching A Summer of British Wildlife, particularly Bardsey Island (Wales) and Shetland (Scotland). I'm hoping also that a new project will come to fruition, as it will enable me to spend nearly the entire summer on the road, trekking the length and breadth of Britain on another wildlife travel quest. Wish me luck!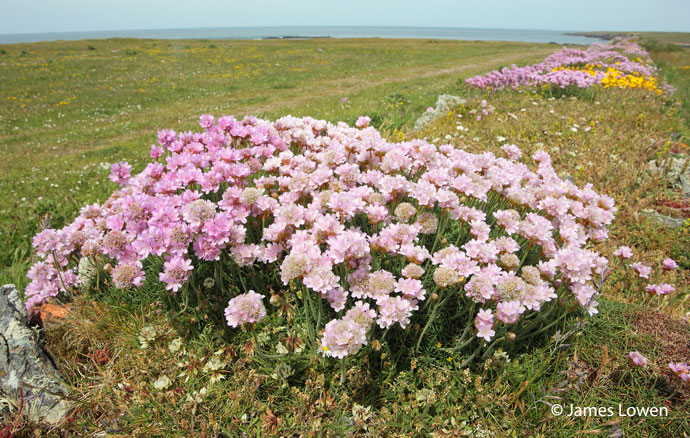 Bardsey Island © James Lowen
Click here to buy James's A Summer of British Wildlife.