Istria has nine lighthouses. Eight were built during the 19th century and remain active. Three have accommodation available. The very first lighthouse was built by the Venetians in 1403 on the island of Sv Nikola just off Poreč. At 15m high, it originally just burned a fire at the top to warn passing ships of the rocks below. Later, in the 17th century, the fire was replaced by a lantern which required less tending and was not so susceptible to the wind. The lighthouse was abandoned at the end of the 18th century, but was restored in 2014.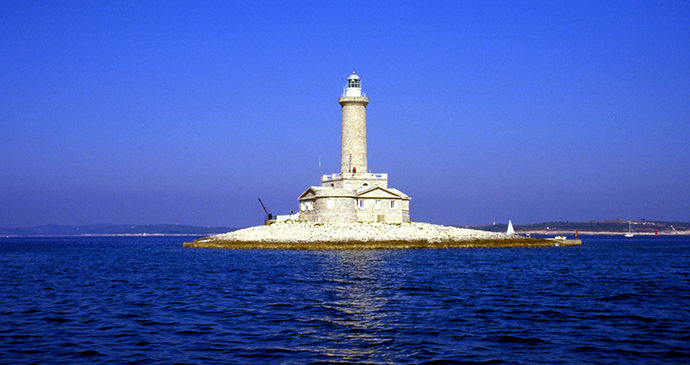 The first of the currently active lighthouses is at Rt Savudrija. At 29m high, it was officially opened by Emperor Francis I of Austria in 1818. It was also the first lighthouse in the world to be powered from coal and was financed by the Trieste Stock Exchange. The next to be built was the lighthouse at Porer, a small islet south of Rt Kamenjak. It is the southernmost of all Istria's lighthouses, and at 35m high it is also the tallest.
St John's lighthouse, built in 1853, is on the outermost of Rovinj's archipelago of 13 islands. It is 23m high, with an octagonal tower, and is permanently staffed because it has no electricity supply from the mainland grid and relies instead on a generator. Next, the lighthouse at Rt Zub (Cape Tooth) on the mouth of the River Mirna was built in 1872. It is more like a traditional stone house than a lighthouse, but on one corner facing the sea is the light. The following year, Istria's shortest lighthouse, at 5m tall, was built at Rt Crna south of the village of Skitača near Labin.
In 1877, the southernmost tip of Veliki Brijun Island gained its own lighthouse atop a two-storey building; another was built in the same year south of Pula at Rt Verudica opposite the island of Veruda. Both these lighthouses now run on electricity and are automated, so do not need to be permanently manned.
Istria's last lighthouse was completed in 1880. Named Marlera lighthouse, it is on Punta Grkova on the eastern side of Medulin.
---
More information
If you'd like to find out more about Istria's historic sites, check out our guide: