Written by Hugh Collins
Release: August 2015
Iraq: The Bradt Travel Guide (2nd edn)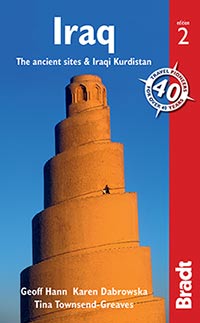 "A lifetime of travel has taught me one thing above all others: that to get the true measure of a country you need to listen to the opinions of the local people. To travel is to realise how much we are dependent on second-hand views and how different the reality is when we talk to the vendor in the market, or our taxi driver or local guide and learn about their every-day concerns. Bradt guides make a point of setting the tourist information against a background of history and cultural identity, and we have always tried to let the people speak for themselves, rather than impose our own political views.
"The aim has never been more important than in Iraq, a country on which everyone has an opinion but very few have first-hand experience. Karen Dabrowska, Geoff Hann and Tina Townsend-Greaves not only know Iraq intimately, but their love of the country and its people persuaded us to publish their first guide to Iraq in 2002. Yes, just a few months before the war.
"Whatever your view on the events that have led to the current situation, there is no doubting that the Iraq that inspired us to commission the original guide has gone. A new Iraq has emerged, well documented by war correspondents and news commentators, but the focus has, inevitably, been on the aftermath of the war and the threat of ISIS. This new edition attempts to redress the balance, taking the original background information about the country and its people, and incorporating the present-day reality that restricts tourism to the few safe areas, which only a tour operator as experienced as Geoff Hann can know about.
"The day will come when all of Iraq is again peaceful and safe for tourism. At present that day seems far away, but I remember saying that of Vietnam, Mozambique, Rwanda… In more than 40 years in travel publishing I have learnt that the people of these turbulent countries are magnificent in their stoicism and desire for peace. It will happen. Meanwhile learn what you can about this wonderful country, even if you are not planning a visit."


Hilary Bradt (founder of Bradt Travel Guides)
---
Written both for the armchair traveller and the career adventurer, Bradt's guide to Iraq has detailed historical and cultural information, information that is easily forgotten midst the tragic turmoil of recent years. It provides a clear explanation of the background to the current unrest and gives comprehensive advice on security and cultural etiquette.
To request a review copy or to arrange an interview with the authors or with Hilary Bradt, please contact Hugh Collins hugh.collins@bradtguides.com
Authors: Geoff Hann, Karen Dabrowska and Tina Townsend-Greaves
Publisher: Bradt Travel Guides
Publication: August 2015
Price: £17.99
ISBN: 9781841624884