Written by Tricia Hayne
To celebrate the release of the new edition of our St Helena guidebook, and ahead of the 200th anniversary of Napoleon's imprisonment on the island, we chat to Tricia Hayne, updater of the new edition.
It's far from a usual holiday destination; how did you become interested in St Helena, Ascension and Tristan da Cunha? When did you first visit?
I've always had a fascination for islands, and after I commissioned the Bradt guide to these three about 15 years ago, I became intrigued by their sheer remoteness. It took ages to set up a trip, but I finally made it to St Helena and Ascension in February 2015.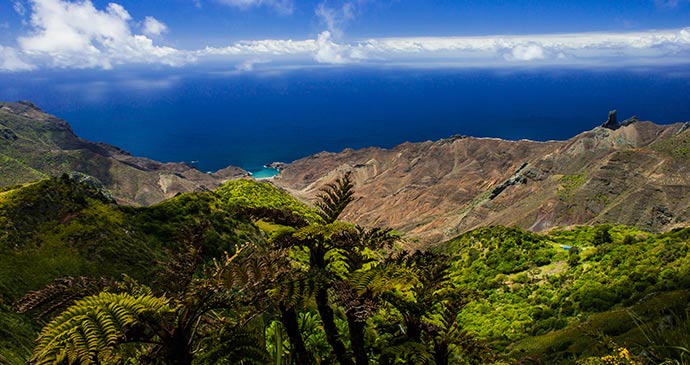 The view from Sandy Bay on St Helena © Paul Tyson, St Helena Tourism

Which is your favourite of St Helena's post box walks?
That's a tough one – there are so many! But I think Lot's Wife's Ponds, for the grandeur of the volcanic scenery, the toughness of the challenge, and the rewards of swimming in natural sea ponds at the end.
What are the spectacles that wildlife-watchers might hope to see on the islands?
The big draws are without doubt the whale shark on St Helena, which is best seen around January and early February, and nesting green sea turtles on Ascension, between about January and June. Pan-tropical spotted dolphins are present all year, and in the later months, humpback whales put in an appearance. On Tristan, subantarctic fur seals vie for attention with the irresistible northern rockhopper penguins.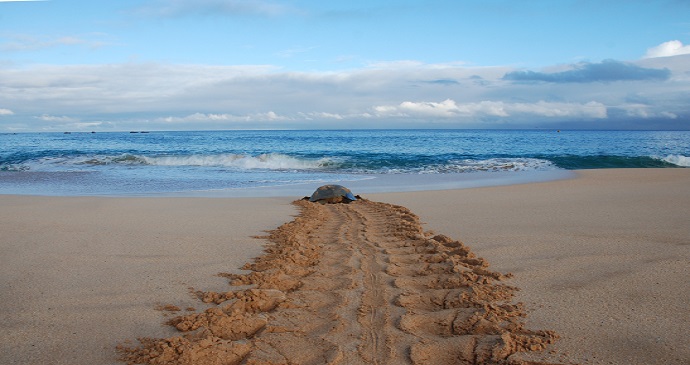 Sea turtles are seen on Ascension's beaches in the early months of the year © Tricia Hayne

Birders will be in their element, with endemic species on all three islands, and huge seabird colonies on both Ascension and Tristan. And for those interested in the little stuff, St Helena in particular boasts an extraordinary range of unique plants and minibeasts.
What are your favourite dive and snorkel sites on St Helena and Ascension?
St Helenian waters are known for their overhanging ledges, with colourful (and often tight!) swim-throughs. I loved Long Ledge, where huge wave-smoothed boulders shine a brilliant red in the sunlight, and moray eels and spiny lobsters peek out from dark crevices. Snorkelling at Lemon Valley Bay was fun, not least as we were surrounded by hundreds of cute gold-fringed cunningfish. On Ascension, it's very different – the waters of English Bay and Comfortless Cove are darkened by shoals of triggerfish. I like to think I spotted the resplendent angelfish, but who knows; it was fun looking!
How is St Helena commemorating the 200th anniversary of Napoleon's exile to the island?
The festivities kick off in October this year, but will continue right through until May 2021, which marks the anniversary of Napoleon's death. The initial celebrations are tied in with fundraising for Cancer Awareness, and include films, a food festival, and a formal Regency Ball. Considerable work has been put into restoring Napoleon's two homes in exile –Longwood House and The Briars Pavilion – both to mark the occasion and to improve facilities and access for visitors.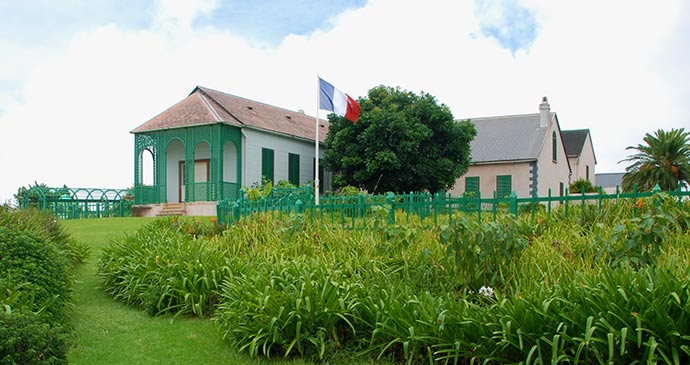 Longwood House, where Napoleon spent a number of his exiled years © Tricia Hayne
What impact do you think the new airport on St Helena will have on the island?
From a visitor perspective, it'll make a week's trip possible whereas current travellers have to allow at least three, yet with only one flight a week, the island's remoteness will hardly be in question. For the islanders, the impact is likely to be immense. Visitors will be arriving once a week rather than every two or three weeks; post and communications will be considerably eased, and faster access to health services will be a big plus. There are downsides, of course, but the Saints are pretty pragmatic about the future.
Speaking as both a travel writer and an editor, what advice would you offer to someone looking to start travel writing?
Stay open minded, knock on doors, and don't give up. I've done more or less every job in the publishing sector, and each one helped to build the career path that led to travel.

What are your travel plans for 2016? Any more far-flung adventures?
Right now there's a big blank canvas, but Iceland is sitting on the edge of the frame, and New Zealand's South Island has been beckoning ever since I visited the north. But then, the Falkland Islands would be good …
Get 25% off St Helena throughout October and November: