Written by Tim Skelton
When and why did you first visit Luxembourg?
I have to own up here. I say in my book that it's possible to drive across Luxembourg in an hour, but why on Earth would anyone want to? But on my first visit back in 1985, that's precisely what I did. I 'skimmed it' while driving from Ostend to the Alsace. It wasn't until I moved to the Netherlands in 1989 that I started exploring properly. The hills of the Luxembourg Ardennes provide the perfect antidote to the endlessly flat landscapes of Dutch Brabant, which is where I live.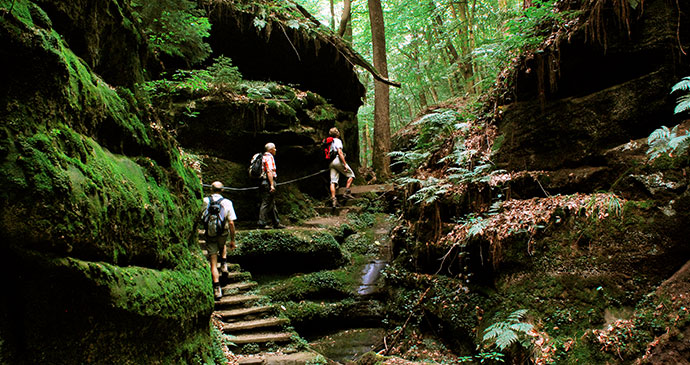 Luxembourg is a superb destination for those who enjoy hiking © ONT
Luxembourg is a foodie's delight, boasting the most Michelin-starred restaurants per capita of any country in the world, what is your favourite of the country's traditional specialities?
I've developed quite a fondness for Pâté au Riesling, something that probably stems from a long-time love of the good old British pork pie. It's quite similar, but with a layer of tangy wine jelly between the meat and the pastry. Another favourite is feierstengszalot – a minced beef salad with egg and chive, which is a great summer dish.
What are Luxembourg's top three attractions/sites not to be missed?
You can't really look beyond Vianden and its stunning hilltop castle as a starting point – there's a reason it's possibly the country's top tourist destination. Little Switzerland around Echternach are also really beautiful, especially in the early autumn, when the leaves are turning golden. I would add in Luxembourg City as a third option, for its spectacular site alone. But that seems a little obvious, so I'll say the Sûre Valley, where it bends around and below Bourscheid Castle – once you see it from the Grenglay viewpoint you'll understand.
How did you become involved in travel writing?
I've always been interested in travel, and always interested in writing. It was inevitable the two would combine one day. But the thought of trying to earn money from it only occurred to me after I was made redundant in 2002. Then it was a question of applying to everyone I could think of until I got a lucky break.
What tips would you offer to aspiring travel writers?
Don't expect to make it rich – we can't all be Bill Bryson or Michael Palin. It's something you have to do because you enjoy it.
And, if possible, marry someone with a steady income!
What are your travel plans for 2015?
I'll be back in Luxembourg a few times in 2015 of course, but next year the main trip will be California and Arizona. An old school friend recently moved to Flagstaff, and although I've visited both before, my wife has never seen San Francisco or the Grand Canyon. What more excuse did we need?
We all get it wrong sometimes, what has been your biggest travel blunder on the road?
I get it wrong all the time. I'm very good at getting on the wrong train when making a connection and ending up back where I started. And I'm equally good at leaving money belts, passports and other documents on buses and in hotels – although so far I've been extremely lucky and always managed to retrieve everything.
A somewhat more embarrassing blunder came when researching Edition 2 of the Luxembourg guide. I was crossing a metal footbridge that links two towers of the restored Useldange Castle. At the end I found the door to enter the second tower was closed and it wouldn't budge no matter how hard I tugged on the doorknob. I headed back to the first tower, and found the door there had also clicked shut and locked behind me, leaving me stranded, 20 metres up in the air, and open to the elements in a deserted castle. My phone battery was all-but dead, and in any case I didn't know the number of anyone in the immediate area to call – the castle is unstaffed. Oh, and it had just started to rain.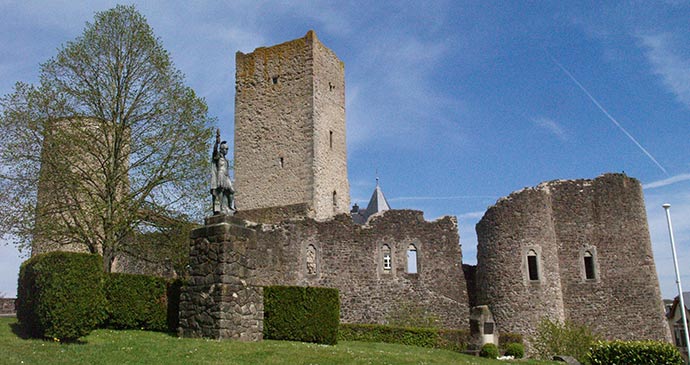 Useldange Castle © Tim Skelton
After half an hour of me wondering whether this was where I would end my days, someone eventually walked past, and I managed to get their attention by shouting down to explain my predicament. They promised to alert someone in the council offices next door, and finally a man emerged brandishing a big bunch of keys. "The door's locked?" he asked. "Yes," I replied, and I demonstrated by pulling hard on the knob. Nothing happened. Then the man reached across and gently nudged the door, and it swung open. "Il faut pousser," he said – "You have to push…"