Written by Sophie Ibbotson and Max Lovell-Hoare
We chat to Sophie and Max Lovell-Hoare, authors of our new Kashmir guide, about their travel memories, tips for travel writers and how to get the most out of a trip to Kashmir.
What's your earliest memory of travel?
S: When I was small, holidays meant camping in France. My parents and their friends would pack up their Volvo Estates with an assortment of small children, dogs, bicycles and camping gear, take the night ferry across the Channel from Portsmouth, and then drive south for a day or so until we reached an idyllic campsite. There'd be wine, baguettes, sunburn and a pool: what more do you need?
What's your most bizarre memory of travel?
S: Driving over the Torugart Pass into Kyrgyzstan by autorickshaw has to rank pretty highly. There was thick snow, and sheet ice beneath it, and we pirouetted down the mountainside, much to the surprise of the truckers. Our feat made front page news.
M: Driving around Urgench in Uzbekistan, filling our fuel tank from a succession of Coca Cola bottles laid out on trestle tables in people's front yards because the government was restricting fuel imports and there wasn't any fuel in the pumps. Closely followed by having to babysit a professional yeti hunter in Bishkek during Kyrgyzstan's revolution in 2010!
How did you get involved in travel writing?
M: We started travel writing in 2008 during the Tracing Tea expedition (www.tracingtea.com), particularly about Pakistan and Central Asia. We wrote for newspapers in the countries we travelled through, for in-flight magazines and travel blogs. Once we had a strong portfolio of published articles and photos we were then able to pitch stories to higher profile publications. Our first job for Bradt was updating the Kazakhstan guide, then the Kyrgyzstan guide, and after that we started writing new titles from scratch.
What is the most lasting image you retain from travelling in Kashmir recently?
M: Standing on top of Khardung La, the world's highest 'motorable' pass, and surveying the glaciers and mountain peaks on either side.
S: We went up to the terrace of the Vivanta Hotel in Srinagar one evening at dusk and looked down on the city below. Mist was rising off the waters of the lake, with the islands and Hari Parbat peaking through. It was one of the most beautiful scenes I've ever seen: no wonder the Mughals thought it was heaven.
Favourite trek?
S: The short (2-day) trek from Lamayuru to Rangdum is one of our favourites for several reasons: it cuts off two days of driving, the wild herbs and flowers are wonderful, and, best of all, you know that Zanskar awaits you ahead.
Most memorable place to stay – in Kashmir?
M: We spent an ultimately relaxed week on a private houseboat on Nagin Lake; I could have stayed there, reading and watching the shikaras float by, all summer.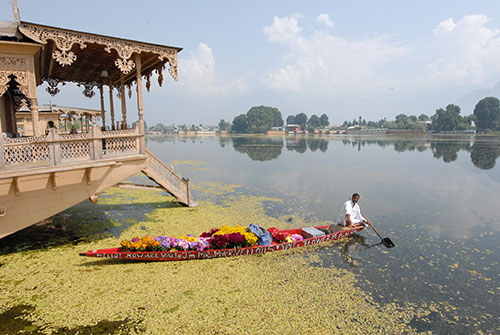 © Maximum Exposure Productions
Elsewhere?
S: A few years ago we slept the night in a family's yurt on the shore of Song Köl in Kyrgyzstan. There were no beds to speak of and so, when bedtime came, the matron of the family made up a single bed of blankets and rugs that was half a dozen people wide, and we slept side by side, warm and like peas in a pod.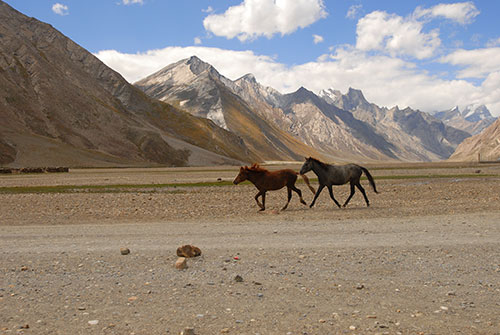 © Maximum Exposure Productions
Which travel destination in the Kashmir area has taken you most by surprise and why?
S: Kargil District is a really underrated area. Before we went we were able to find almost nothing about it – the usual recommendation was to drive straight through – but we found remarkable standing Buddhas carved into the rock; stunning mountainscapes with excellent opportunities for climbing; and the Munshi Aziz Bhat Museum in Kargil town, which has a superb collection of trade artefacts not only from Ladakh but from China and the 'Stans.
If you had one tip to share with other travellers to Kashmir what would it be?
M: Take a torch: the power frequently goes out, so it'll come in handy after dark, but even more importantly it'll enable you to see the detailed wall paintings and carvings in unlit corners of the Buddhist monasteries.
What has been your most exciting travel experience to date?
S: In June this year we rode across Russia on the Trans-Siberian, which was in itself rather exciting, but the best bit was that around Lake Baikal we were allowed to ride on the footplate in front of the engine for a few miles. The speed and the wind were exhilarating, and the views ahead and to the side absolutely spectacular.
Everyone gets it wrong sometimes, so what's the biggest travel blunder you've ever made?
M: The first time we went to Afghanistan, I was keen to fit in and so spent the seven weeks prior to the trip growing a rather impressive beard, thinking I'd fit right in. I arrived in Nechem, Badakhshan, however, to find every man in the village was clean shaven. I stuck out like a sore thumb, but fortunately they saw the funny side.
If you could time travel to any moment in history, which would you choose?
S: I like the idea (though probably not the reality) of going back to the Mughal court – either in Delhi or in Lahore – and of travelling with Akbar and his courtiers along the Mughal Road to Srinagar. The Mughals were very cultured, well-connected, and had a great appreciation of art, architecture and gardens.
M: I'd like to go back to 1991, just as the Soviet Union fell. I'd probably have skipped university, gone to Russia, and be an oligarch by now!
Which is the place you haven't yet been to but would most like to visit?
S: Iran, closely followed by Herat in western Afghanistan.
M: The Baikonur Cosmodrome in Kazakhstan, especially on a launch day.