Written by Sean Connolly
We chat to Sean Connolly, the author of our brand new guide to Senegal, about the west African country, his perfect day in Dakar and what's next for him as a travel writer.
How did you first become interested in Senegal?
Honestly, it would have to be the outsized cultural and political role that Senegal plays in Africa. Having studied Anthropology (with a focus on Africa) at university, I was exposed to the books and films of Ousmane Sembene, and I enrolled on a French course so that I might have a chance of studying or working in Senegal or Francophone Africa one day. It was rough going at first: I remember wondering why the hell the teacher kept saying 'Dakar' after every sentence; apparently I had something of a one-track mind. It took a few lessons longer than I'd like to admit before I figured out d'accord.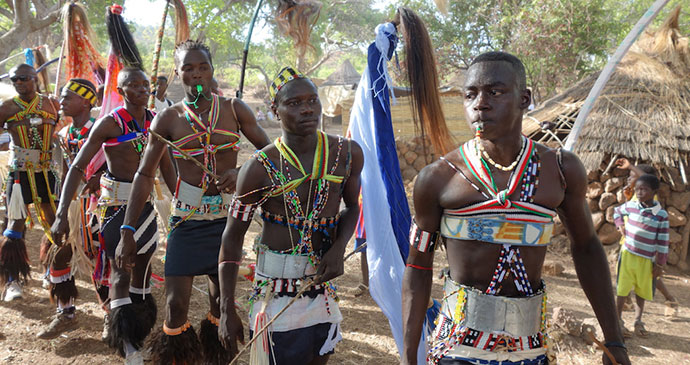 Initiation into adulthood involves long and elaborate ceremonies for many of the Senegalese peoples © Sean Connolly
In the book you talk about the unpredictable nature of independent travel in Senegal. What was your most serendipitous experience on the road?
Well, aside from a rather miraculous series of sept-place rides that saw me connect from Ziguinchor to Kédougou in a single day, the camaraderie between passengers is perhaps the most notable (and reliable) feature of Senegalese public transport. Greetings and snacks are doled out and shared generously, people are typically quite happy to help you figure out where you're going, and if you wind up stuck on the Kolda–Vélingara road after dark in a sept-place sans petrol, well… you'll have to see the author's story in the guide for that!
And if you're really lucky, there's some game viewing to be done from the road as well. I wasn't fortunate enough to encounter the lions that occasionally prowl the route between Tambacounda and Kédougou, but I know some people who have, so while I won't recommend you to hold your breath, definitely keep your eyes open when passing through!
How much reading up about the country did you do before you began your on-the-ground research – did you plan meticulously, or just jump straight in?
As mentioned previously, I had a bit of background on Senegal from my studies, but as far as nuts-and-bolts travel practicalities, my usual method is to sketch out a general itinerary but try and leave room for improvisation (and it's no secret that Senegal's got plenty of places that have a way of playing havoc with your schedule). The Peace Corps also have a robust presence in Senegal, and the volunteers I met around the country were hugely generous with their time and expertise when either hosting me in their homes or advising me on what was not to be missed.
What would your ideal day in Dakar look like?
Wake up with a pastry and a coffee or two at one of the many excellent patisseries in the old colonial neighbourhood of Plateau, and spend the rest of the morning perusing the nearby museums, markets, and galleries at the south end of the peninsula, where you'll easily find offal, outfits, and everything in between within a few blocks' walk of each other.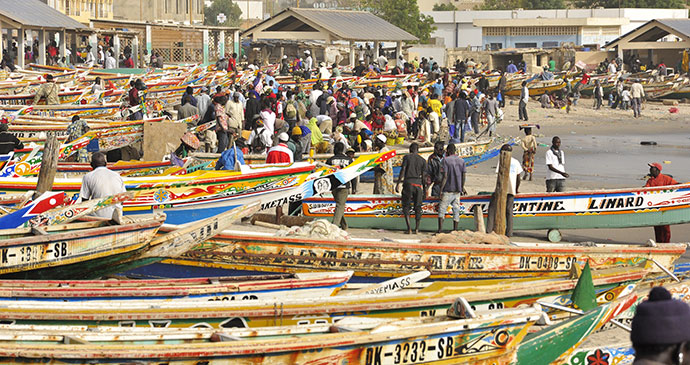 The Marché de Poisson in Yoff is the ideal spot to watch the catch being hauled in © Smandy, Dreamstime
As it starts to heat up, head north towards the rocky Corniche des Almadies for a lazy lunch at one of the surfer-chic restaurants slung along the shoreline, where you can beat the midday heat with a hammock, cocktail, and a crêpe. Once you're ready to crawl out from under your palapa and brave the afternoon, head to one of the beaches on this side of the peninsula like Plage des Mamelles or Plage de Ngor, where plentiful rays and plentiful waves can keep you occupied for the rest of the day.
Finally, after you've watched the sun crash into the Atlantic, head back to your hotel for a pre-dinner nap (dinner doesn't start around here until at least 19.00), then put on a clean shirt for the evening's festivities. As for dinner itself, Dakar might be the best city in West Africa for food lovers, so it's really hard to go wrong, especially if you're willing to splurge a bit. Round out the night with a live mbalax workout at one of the many nightclubs, and maybe even grab an early-morning kebab with the rest of the Dakarois stumbling out squinting into the dawn.
What advice would you give to a first-time visitor to Senegal?
Just go! Really, it's that simple. Senegal is close to home, warm, and welcoming, and is both a fantastic destination in its own right, as well as the perfect stepping-stone to the rest of west Africa. Plus, they've scrapped their visa requirement – last-minute travellers rejoice!
What's the best way for visitors to experience Dakar's music scene?
My ideal day in Dakar pretty much covers it – poke your head around some of the nightclubs like Just 4 U and Le Must in Point E and see who's going to be performing while you're around. There's usually live music several nights of the week, and international heavyweights like Orchestre Baobab, Youssou N'Dour, and Baaba Maal pop up here with some regularity.
Where would you most like to return to in Senegal?
There's more than a few places that I feel like I've still only scratched the surface of, but Basse Casamance is one that I'd have no trouble getting lost in for weeks at a time. There are dozens of hidden backwaters and far-off villages scattered among the mangroves of the Casamance Delta – I'd love to hire a pirogue and explore.
On the other side of the country, I'd like to do a through-hike of the Fouta Djallon foothills outside Kédougou, where a tangle of footpaths through the hills connects dozens of isolated Bassari and Bedik villages in the hills, along with plenty of scenic waterfalls and rock outcrops along the way.
Senegal is renowned for its visual arts. Is there anywhere that you would particularly recommend to travellers interested in the art scene?
As with most things in Senegal, Dakar is really the hub upon which the arts scene turns, but the galleries of Saint-Louis are all strong contenders themselves and the artisans and ateliers in both cities produce no shortage of memorable pieces.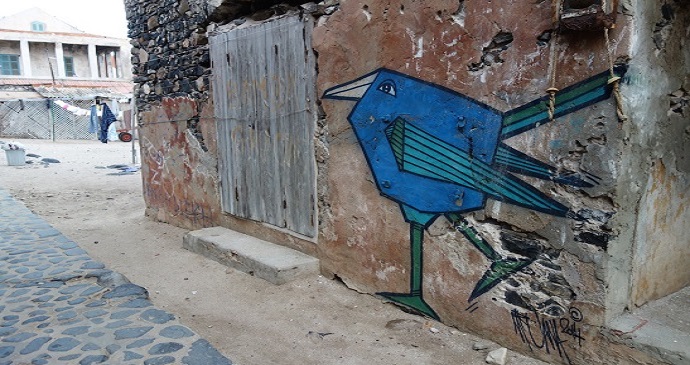 Street art in Goreé © Sean Connolly
What was your most memorable meal in Senegal?
Senegal as a whole is awash in a rich assortment of flavours. But having fresh-caught fish grilled in an old wheel rim on board a pirogue zipping through the creeks of the Sine-Saloum Delta has got to stand out as one of the most scenic – and delicious – meals of my life.
Perhaps a bit more prosaically, I'm also something of a street food fanatic – as much for the flavours as the savings – and the ubiquity of roadside breakfast stands ladling out beautifully spiced niebe (black-eyed pea) or petit pois (green pea) sandwiches on crispy baguette-style tapalapa bread is nothing short of an early-morning blessing when travelling through Senegal. Pair your sandwich with a glass or two of café Touba, and you're ready to start the day for well under 1,000 CFA.
What's next for you as a travel writer?
I'll be spending the next few months crisscrossing Ghana to update for the seventh edition of the Bradt Guide there, and will be making a long-awaited trip to São Tomé and Príncipe over the holidays – as I'm in the neighbourhood, it seemed a fine place to ring in the new year!