Written by Murray Stewart
We chat to Murray Stewart, author of our new The Basque Country and Navarre guidebook, about his tips for those visiting the region, what to eat, and his experiences of being a guidebook author.
The Basque Country and Navarre: what's the connection between the two?
A very good question and one which would take pages to answer properly! To a staunch Basque Nationalist, Navarre is (or should be) already included in the description 'The Basque Country,' making the 'Navarre' part of the book title unnecessary. But most inhabitants of southern Navarre are in no way Basque, and would object to not being separately identified. The fact is that the Basque Autonomous Community (comprising the three Spanish provinces of Gipuzkoa, Bizkaia and Álava) and Navarre are two entirely separate Autonomous Communities within Spain. In the north of Navarre, you will find some of the proudest Basques anywhere; in the south, the people are by identity Navarrese and Spanish and certainly not Basque. As for France, the inhabitants of what were once three distinct Basque provinces (Labourd, Basse-Navarre and Soule) generally consider themselves to be both Basque and French.
If it sounds complicated, that is because it is! But for visitors, the whole region can be enjoyed without unduly worrying about such matters. It's good to know and respect the differences.
What was the best meal that you ate in the Basque Country?
I certainly ate too many! My contact in Bilbao told me at our first meeting that I would put on five kilos while researching the book. I laughed at her…but she was spot on! I have fond memories of my first chuleton (beef chop) cooked in front of me over an open fire. My fellow diner told me that the restaurant was so revered locally that despite questionable health and safety standards, nobody dared close it down!
But it was delicious, and despite overfeeding myself, I survived. The best thing about the Basque cuisine is that it is affordable to everyone.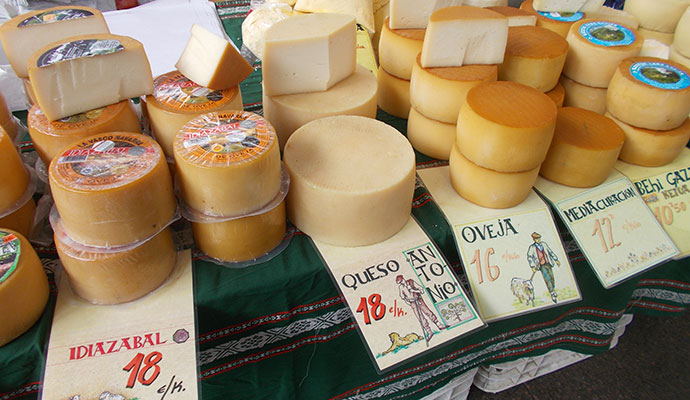 © Murray Stewart
What is your favourite stretch of the Camino within the Basque Country and Navarre?
Strangely enough, the stretch of the GR65 path in the French Basque Country before Saint-Jean-Pied-de Port was my favourite part. As a lot of people only start their pilgrimage towards Santiago at the Pyrenees, this earlier stretch is a lot quieter and there is a sense of growing anticipation as you approach the mountains, knowing that you have a tough hike in front of you. The camino does strange things to you: I even found myself composing a song for the first time in my life, with words in French, and then singing it in front of about 60 other pilgrims in one of the hostels. I can't even sing, as my audience soon discovered.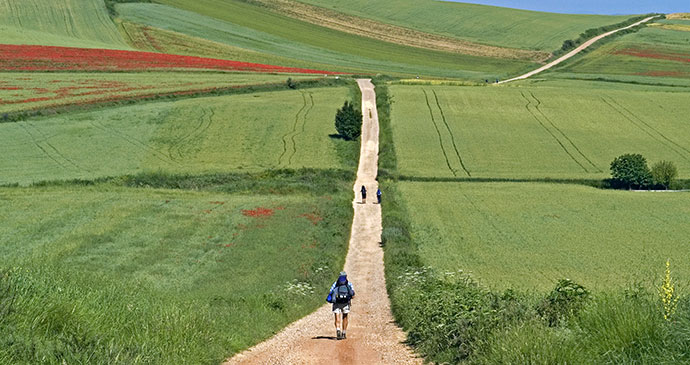 The Camino Frances is a popular route to Santiago © Sjors737, Dreamstime
Which place would you most like to return to?
All of it made an impression on me, but although the main cities are wonderful, three lesser-known places keep returning to my thoughts. One, Getaria, is a small coastal town to the west of San Sebastián with a strong Basque identity, one narrow street that is ideal for a civilised bar crawl, and two famous sons to call its own. I think the fact that a tiny town like this has produced Juan Sebastián Elcano – who was the first sailor to circumnavigate the globe – and Cristóbal Balenciaga – a fashion designer of high international repute – dispels any thoughts that the Basques are, or were, some inward-looking, isolated people. In fact, although their relationship with the rest of Spain and France has at times been difficult, the Basques have always been outward-looking, always with an eye to trading with northern Europe or whaling off the eastern seaboard of the United States.
The second place that I recall with fondness is Gallipienzo Antiguo, a semi-deserted village perched on a hill in Navarre. It is a place that could slowly disintegrate, or be rejuvenated and renovated into a trendy spot for second homes. For now, it has one old-world bar that has one draught beer, and nothing much else. An enchanting time-warp.
Thirdly, Laguardia is a lovely almond-shaped medieval town set in the heart of the Rioja Alavesa wine region. Its narrow streets are quaint and there are plenty of wine-themed activities to entertain you. You can even bathe in the stuff, though drinking it seems like a better idea.
Were there any Basque phrases that worked particularly well as icebreakers?
Ez dut ulertzen (I don't understand) seemed to work pretty well! It's important to realise that Basque is not spoken everywhere in the region covered by the book, certainly not in southern Navarre. And while trying a few words of Basque will be appreciated, no-one expects you to speak it. Lack of language is no barrier to having a good visit.
As a first-time author of a Bradt guide, how did you find the process of selecting places to go in the guide?
I guess that feedback to the book will tell whether I have got it right or not. Most people have heard of Bilbao, Pamplona, Biarritz and San Sebastián, so coverage of those is vital, but the wider region and its culture are quite profound, lending themselves to be explored by those who are genuinely curious. You won't find a Guggenheim on every corner, but the more you delve into this area, the better the rewards. The culture is preserved in the everyday lives of the inhabitants, through food, sport and language. I am naturally drawn to places where there are festivals – and there are hundreds of those here – but apart from a few such as San Fermin in Pamplona, these are not commercialised for outsiders. Rather, they are held by locals, fraternised by locals and serve to reinforce their identity. Nevertheless, the people are proud and love to share their culture with those who respect it. The pepper festival in Espelette, where the pepper receives a benediction, is a good example. A serious occasion, yet full of humour.
But neither the Basque Country nor Navarre are anywhere to be seen in the 'Top Ten' most-visited destinations in Spain, so there is work to be done in popularising these regions.
Is there anywhere that you would particularly recommend for those interested in the Basque Country's maritime history?
There are quite a few museums along the coast, celebrating the rich maritime history of the region. If I was to pick one, it would have to be the Museo Maritimo in Bilbao, which documents very well the historical importance of the sea to the Basques. Follow your visit there with a walk along the banks of the Nervión river (I have detailed such a walk in the book) and imagine a different Bilbao, before it reinvented itself, with heavy industry and large ships right in the heart of the city. If you are spending time in San Sebastián, the San Telmo museum and the aquarium are well worth a look.
Where would you recommend for someone who had only a weekend to spend in the Basque Country?
Although I have tried hard to promote the interior, in a short space of time such as a weekend, you might have to choose a more urban destination to avoid spending your time travelling. If it is literally a 48-hour visit, I would pick San Sebastián, which is enjoying its status as European Capital of Culture in 2016. It is easy to fall in love with quickly (important if you have only time for a two-day 'affair'!), with city beaches, tremendous bar culture, Michelin-star restaurants and a relaxed ambience. Bilbao is just as interesting, but takes a little longer to get to know. Biarritz is another possibility, elegant and very close to its airport, which receives direct flights from the UK.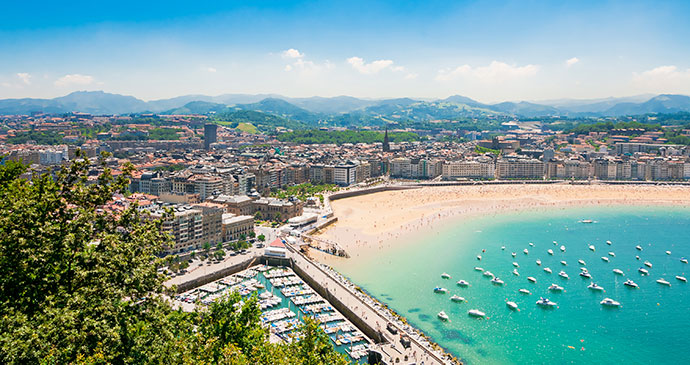 The sweeping bay of San Sebastián © Alexander Demyanenko, Shutterstock
Prior to starting your on-the-ground research, were there any books or documentaries on the Basque Country that you found particularly useful for background information?
Not everyone takes kindly to subtitled films, but if you wanted to begin to understand the Basque culture and have a good laugh at the same time, I would get hold of Ocho Apellidos Vascos, a blockbuster movie which skilfully pokes fun at the Basques and simultaneously the non-Basque Spanish. You may not get all the jokes, but it is a cracking movie which explores the cultural differences, and managed to do so without upsetting too many people.
For something more serious, but not too heavy going, Paddy Woodworth's The Basque Country: A Cultural History would be my choice for pre-holiday reading.