Written by Mike Unwin
Mike Unwin, author of our guides to Swaziland, Southern African Wildlife and 100 Bizarre Animals, talks to us about his favourite hiking trails, wildlife experiences and travel blunders.
How did you get involved in travel writing?
In 2000, I won the Bradt/BBC Wildlife travel-writing competition. This was the 'now or never' moment that persuaded me to give up the day job in publishing and turn freelance. My win led to a guidebook commission and the book (Southern African Wildlife), in turn, led to my first articles for magazines and newspapers, with travel assignments attached. My early travel writing concentrated on Africa and wildlife, the two areas in which I was most experienced. I have since broadened my repertoire, but I'm sure that having a perceived niche has helped bring work my way. That said, it's hard to make a living as a writer from one source alone. Thus, as well as travel writing, I also write children's books and wildlife articles for natural history magazines and websites.
You lived in eSwatini for five years. What took you there and what is the most lasting image you retain from your time there?
I went to eSwatini in 1993 as a commissioning editor for an educational publisher, with a remit to produce new textbooks for local schools. I had previously worked as a teacher in Zimbabwe, which is where my interest in southern Africa began. I knew very little about eSwatini when I arrived but soon fell in love with the place. When my three-year contract was up I renewed for another two. The images I retain are many and vivid. I suppose, when I close my eyes, I first see the landscapes – especially the Nkomati Valley, at the point where the high road north from the capital Mbabane comes over a rise and gives way dramatically to a wild panorama with ridge upon ridge of blue hills beyond. It was a paradox that never ceased to surprise me: how such a tiny country could contain such huge landscapes. The image of cattle wandering across the road, pursued by small herd boys wielding ineffectual sticks, is one that still has me driving warily in rural areas – even in East Sussex.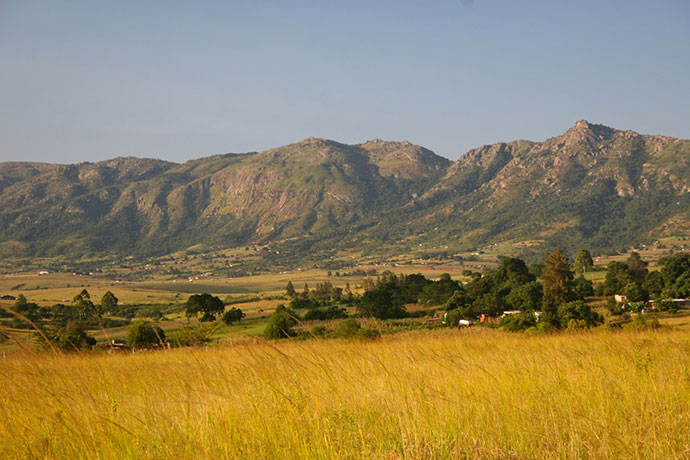 The Mdzimba Mountains © Mike Unwin
Where would you particularly recommend travellers to visit for big game viewing there? And for birding? Is there a particular wildlife experience you would like to highlight?
eSwatini has its fair share of big game: at reserves such as Mkhaya and Hlane you can see rhinos, elephants, hippos, giraffes and a variety of antelope and smaller mammals. But these reserves are relatively small by African standards, and many of the larger beasts have been reintroduced under controlled conditions. While such places are certainly exciting, I feel that chasing after only the 'Big Five' is somehow missing the point of eSwatini. Other reserves, including Malolotja and Mlawula, may not have the A-list wildlife but offer a broader wilderness experience – one that is often hard to enjoy on your own terms in other safari destinations – plus a host of smaller and/or more unusual animals, from pythons to aardwolves.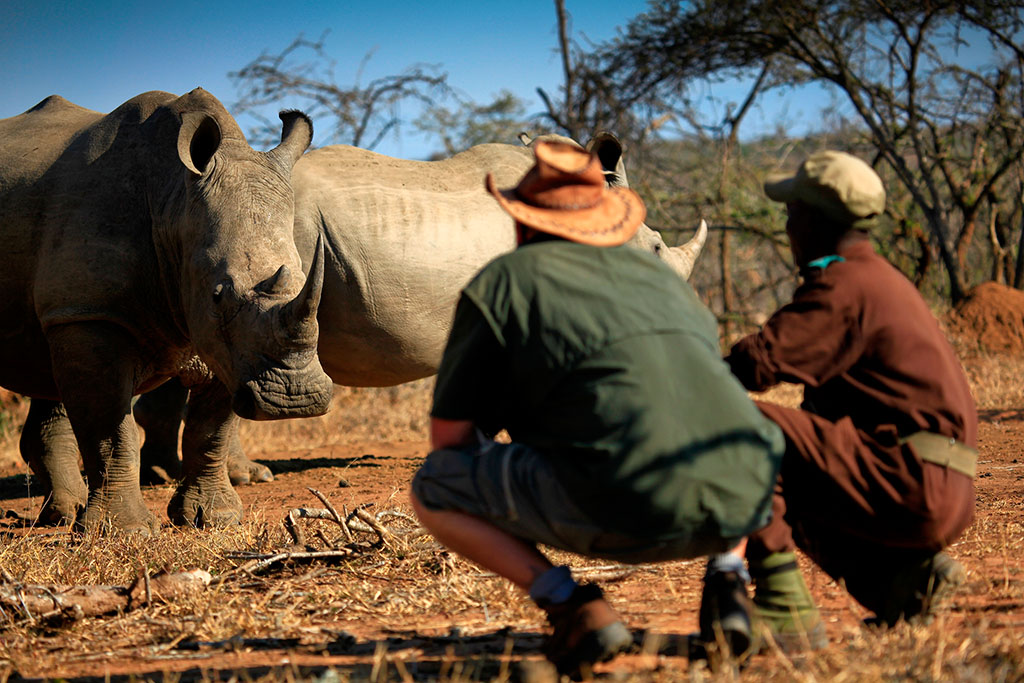 Mkhaya Game Reserve offers close-up viewing of rhino, elephant, hippo and others © Courtesy of eSwatini Tourist Board
The birding in eSwatini is impressive by any standards: a species list of around 500 is amazing for such a tiny landlocked nation and on par with South Africa's much larger Kruger Park. The key is the broad altitudinal spectrum of habitats. This means you can see classic savannah species, such as hornbills, rollers and bateleurs, down in the lowveld, and montane rarities such as blue swallow, bald ibis and Stanley's bustard up in the highveld. Reptile enthusiasts will be impressed by the variety of snakes, not to mention numerous lizards, tortoises and – in lowveld rivers – crocodiles. And one particular wildlife experience? For safari thrills, little beats tracking a black rhino on foot at Mkhaya (see below). But equally, visit the magical Phophonyane Falls Nature Reserve and try to spot the dazzling, but elusive, narina trogon.
Do you have a favourite hike or trail in Swaziland?
This is a tricky one. eSwatini is packed with fabulous hiking trails. Top of the tree, however, has to be Malolotja Nature Reserve. And a day hike to the Malolotja Falls from either Logwaja or Silotfwane viewpoint would have to be my number one choice – provided you're prepared for a steep, hot climb back out. Look out for baboons on the ridges and crowned eagles down in the valley.
What was your most exciting experience (could be an activity, adrenaline high or a cultural experience or a wildlife encounter)?
I was once best man at the wedding of a Swazi friend. The celebrations – traditional and modern – continued all weekend, and taught me more about Swazi culture than any of the more formal ceremonies and festivals I often attended. As for adrenaline highs, I've enjoyed white-water rafting and canopy ziplining, but my most thrilling moments have involved wildlife. These include tracking a black rhino and her calf into a dense thorn thicket and having to freezing, pinioned by the thorns, as she swivelled to catch our scent. Also, helping capture a black mamba holed up in the roof of a hut and once, while counting waterbirds along a lakeshore, dodging a large crocodile that rushed out of the bushes and splashed into the water at my feet.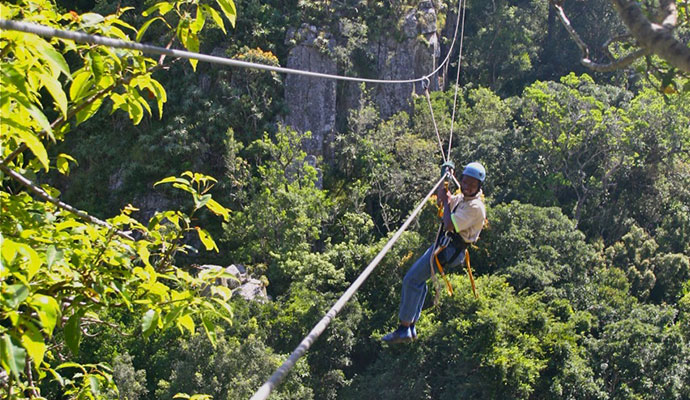 As part of the Malolotja Canopy Tour participants descend the gorge by ziplining high above the forest canopy © Mike Unwin
What was the most memorable place you have ever stayed in Swaziland?
I once spent the night in a cave beneath Executioner's Rock, in Mlilwane Nature Reserve. We cooked on a fire while a lightning storm crashed down outside the entrance, then dozed off in our bed rolls with nightjars fluttering around our heads. For perfect back-to-nature seclusion, but with all creature comforts, it would have to the safari tents beside the river at Phophonyane Falls Nature Reserve: wood owls at night, monkeys in the morning and the sounds of the village drifting up from the hillside far below.
Which area/place in Swaziland took you most by surprise and why?
Probably Ngwempisi Gorge. This wilderness area in the south is very little known. I heard nothing about it during my five years living in the country and visited for the first time when I returned a few years later in order to research my guidebook. It is truly spectacular, but completely hidden between hills that lie far off the tourist route. It takes an effort to get there, but you'll have it all to yourself. Also, there was the first time I climbed the Lebombo Mountains in the east, and was amazed to find that from the top I could see the glittering white city of Maputo on the shores of the Indian Ocean, 60km away.
If you had one tip to share with other travellers to Swaziland what would it be?
This is highly unoriginal, but try to learn – and use, however ineptly – a little of the language. Just being able to exchange greetings, buy a loaf of bread or thank a stranger in SiSwati has a huge impact in a part of the world where the former colonials made little effort to engage with local language or culture. Taking the trouble to greet somebody is vital to social success, whether or not you known the lingo. Another tip? Always keep a supply of candles – especially in the rainy season, when the power can cut out at any moment. And try to avoid driving at night.
Everyone gets it wrong sometimes, so what's the biggest travel blunder you made in your time in Swaziland? Or have ever made?
Plenty. There are the ones where I simply underestimated the environment: I climbed up Sibebe Rock – a huge mountain of exposed granite – and got trapped at the top during a cataclysmic electrical storm; I drove my small Toyota into Mlawula Nature Reserve during the rains, and had to be towed out of the mud. My worst social faux pas occurred in Botswana, but it could easily have been eSwatini. After staying with a local family for a weekend, and eating them out of house and home, I brought back a shopping bag of basic foodstuffs in order to replenish what I'd eaten and repay some of their hospitality. The bags were discreetly taken from me and that night, at dinner, I found the whole lot cooked and laid out for me to eat. It was a case of crossed wires: in southern Africa you don't bring food to your hosts as this is tantamount to questioning their hospitality. Unable to explain my mistake without making things worse, I forced myself to eat virtually my own bodyweight in eggs, loaves, rice, biscuits and baked beans.