Written by Bradt Travel Guides
Marco Muscarà is an Italian freelance photographer based in Spain; he specialises in remote landscapes, wildlife, portraits and surfing photography.
He has travelled extensively in over 70 countries across five continents and his work has appeared in various books and magazines published by Bradt, National Geographic, Surfer Magazine, Lonely Planet, Cathay Pacific, Rough Guides and Moon among others.
In 2013 he organised a photographic exposition of his São Tomé & Príncipe reportage in Marseille as part of that city's year as Capital of the Culture.
When he's not shooting abroad, he lives on the tiny island of Formentera in the Balearic Islands.
What draws you to the places that are the 'roads less travelled'? What are the main struggles involved in photographing places off the beaten track? What do you feel are the main benefits?
The lack of images, news and stories all increase my desire for knowledge. I have often worked on projects with an almost total absence of practical information, which is quite difficult to comprehend in this era of instant-access info over the internet. The main problem is usually related to obtaining the entry visa, especially for a solo traveller. Weather conditions can also be a factor – difficult weather can cause problems for photographic equipment.
But it's worth it for the unique experiences and encounters along the way. Plus, I find I'm often one of only a handful of people with photos of these destinations.
Your joint passions are photography and surfing – where have you caught the best wave? Does your love of surfing influence your choice of photography destinations?
I have caught the best waves on the globe, but I'm always saying that the best one is still out there waiting for me. It certainly influences my choice of destination, yes, especially during my round the world trip.
Since I was teenager my biggest dream was to take a gap year travelling around the world to experience the most famous waves; in 2006 I took a year off and explored the following surfing destinations: Barbados, Panama, Costa Rica, Nicaragua, California, Hawaii, Fiji, New Zealand, Australia (Tasmania included) and Indonesia.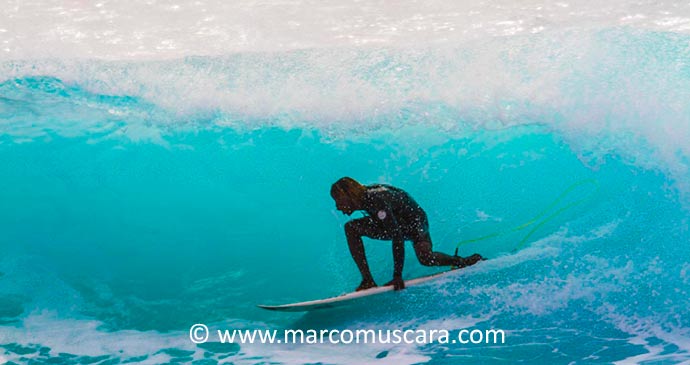 A surfer inside the tube at Ponta Preta on the island of Sal, Cape Verde © Marco Muscarà
What first got you interested in travel photography? Was it a particular place you visited? An experience you had while travelling abroad?
As a child I always had a huge passion for natural phenomena: waves, waterfalls, canyons, deserts, volcanoes, forests and the northern lights. I guess it started there!
You said that you put all of your heart and passion into the São Tomé and Príncipe shoot, for which we used a number of your photos in our print guide. What is it about this country that really inspired you? What suggestions would you give a potential visitor so they could make the most of their visit to the islands?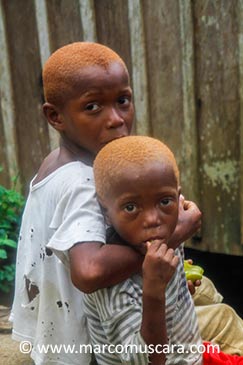 I am always on the lookout for unknown waves, and ten years ago a friend of mine went to the islands, showed me some pictures and said that it was an undiscovered surfing paradise. Since then it has been high on my list. Beside that I've gained a lot of experience in the lusophone (Portuguese-speaking) countries.
During my time there I felt I'd discovered a truly unspoiled country. The tourists I encountered seemed to move swiftly around the country in their 4x4s, eager to get to the few luxury resorts across the islands. If you really want to find the essence of the place you need to slow down and travel by local transport or on foot.
(Photo: Two young brothers in the Cantagalo district, São Tomé © Marco Muscarà)
What is the most difficult place in which you've worked? The easiest? Why?
I think there have been two difficult situations that really stand out. I was shooting in the Dominican Republic during the 2010 earthquake in Haiti. I was on the northern coast of Dominican Republic, a few kilometres away from the Haitian border, but it was really like being in Haiti; the desperation in the eyes of all Haitians I saw evacuating the country is something that I will never forget. Since that time I promised myself that one day I will return to photograph Haiti.
The other one is the disaster of the cruise ship Costa Concordia in the Giglio Island in 2012. I was among the first to arrive on the scene and the news as told through my lenses has been used by various international newspapers. Beside the pictures I've collected a lots of testimonies of survivors, truths which have never appeared in any newspaper!
Both were very 'raw' experiences.
Without a doubt, though, the easiest place is to shoot is here in my little paradise island of Formentera.
Speaking of travel mishaps, have you found yourself in any potentially dangerous situations while on a shoot? How did you get out of it? What did you learn from the experience and how has it shaped your future travels?
I've never been in a potentially dangerous situation with people – it's usually nature that trips me up, because I often find myself travelling through very remote locations on my own. For example, in São Tomé, the Pico de São Tomé and Volta à Ilha trails were very isolated; in Guyana I trekked for a week through the Amazon Rainforest to reach the Kaieteur Falls, and I walked from the Wadi Mujib Canyon to the Dead Sea in Jordan.
Over the last few years I guess I've learnt to respect nature as well as my own limitations. I try to put my safety first a bit more – always living on the edge is not wise!
Of all the places you've been to photograph, what is your favourite? What place is at the top of your 'must-visit-soon' list?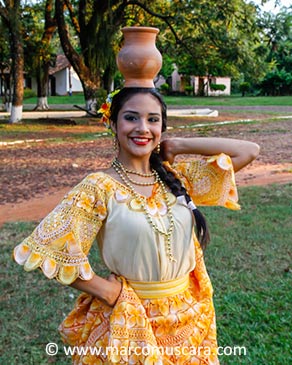 I love Africa and Latin America, but in photography terms the Middle East is probably my favourite area – that really is another world!
Socotra has been top of my must-visit list for years. I've failed twice: the first time, in 2007, I was travelling overland from Oman, but at the border they sent me back without any explanation.
The second time, in 2011, during the Egyptian Revolution I landed in Sanaa with a couple of French photographers, but when they saw our photograph equipment they put us back on the return flight to Cairo. Now there's a direct flight from United Arab Emirates so perhaps the third time will be mine – I will never give up!
(Photo: A girl wearing a Ñandutí dress during a folk dance, Santa María de Fe, Paraguay © Marco Muscarà)
What advice would you have for photographers just starting out and looking to see whether this a career for them?
To be honest, I'm very lucky to be able to make a living from photography – the digital era has seen the internet swamped with images meaning you have to work really hard if you're going to stand out.
My advice is to find new perspectives and new subjects to photograph. The internet is full of images of the same point of view, so you need to be innovative – find new angles and approaches, etc.