Written by Lucy Mallows
Lucy Mallows, author of our new guide to Bratislava, talks to us about her love for the Slovakian capital, and gives her tips on what not to miss and where to explore beyond the city.
When/why did you first visit Bratislava?
I first visited Bratislava in the spring/summer of 1982. I was studying Russian, Spanish and Czech at Leeds University and we had a term abroad. I went to Brno J E Purkyne University with five other students who were studying Czech. It was incredibly difficult to organise such study abroad in those days, and only possible because Leeds University had an arrangement with the university and five Czech students were allowed to do an 'exchange' with us. I remember how we were asked to smuggle lots of banned books in our luggage and it was exciting (and stressful!) when we crossed the border between Austria and Czechoslovakia on the bus and the guards went through our belongings. We got the books through somehow! The course was great and we went on trips (Prague, Bratislava, Poprad, the High Tatras, Česky Krumlov, České Budêjovice) every weekend. I look back on my time in Brno as one of the happiest and most fulfilling times of my life. In Bratislava, I stayed with – I realise now – a rather well-to-do family who lived in a smart apartment just beneath the Castle. They showed us all around the city and we went on a picnic to a ruined castle in a forest, which I have been trying to find ever since! I fell in love with Bratislava then and there, and I return whenever possible to see the changes – almost always for the better.
What are your top 3 'Don't Miss' sights?
It's so hard to narrow it down to three as – for a small, compact city – Bratislava is crammed with more than its fair share of amazing sights.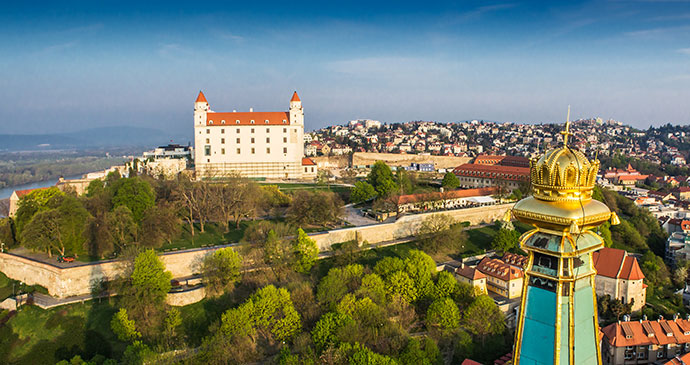 The castle dominates the skyline from all points in the city © DUOMEDIA
If I had to choose, Bratislava Castle would definitely be up there: its chunky square walls dominate the city skyline, it contains a fascinating museum as well as several excellent restaurants and the view of the Old Town from the surrounding gardens is delightful.
The Little Blue Church of St Elizabeth is stunning and so quirky and unusual with its baby blue colour and icing sugar decoration. I love this Art Nouveau gem, both inside and out. Finally, dinky St Martin's Cathedral is a perfect place to escape the bustling old town and listen to the choir.
Bratislava is a city full of quirky statues – which is your favourite and why?
Although it changes from day to day, my favourite statue at the moment is the one of a Napoleonic soldier leaning on the bench in Hlavné námestie (Main Square), because it's fun to see how all the visitors incorporate him in their photo opportunities.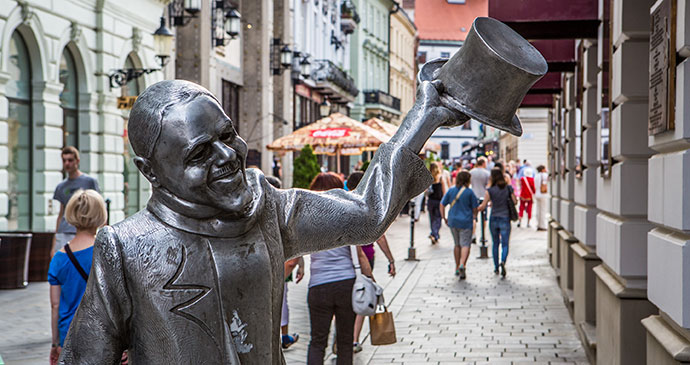 Schöne Náci is one of Bratislava's most iconic statues © DUOMEDIA
I also like the sad, touching story behind the statue of Schöne Náci, who greets tourists on the corner of Hlavné námestie, by Kaffe Mayer. He was a real person, Ignác Lamár, who was famous for strolling along the Korzo, a promenade stretching from Michalská brána to Hviezdoslavovo námestie. The statue looks jolly and friendly, but his smile hides a tragic story – which you can read more about in the guidebook!
Bratislava is the gateway to the rest of Slovakia. Where would you recommend for travellers wanting to explore beyond the city?
If you are pushed for time, the Small Carpathian Wine Route is well within reach by local bus and charming small towns along the way such as Modra and Pezinok open the cellars to the public for wine-tastings. You can also take a bike tour along the route. For those in search of a little pampering, Piešťany is a spa town with a clutch of excellent hotels offering all manner of treatments and relaxing therapies.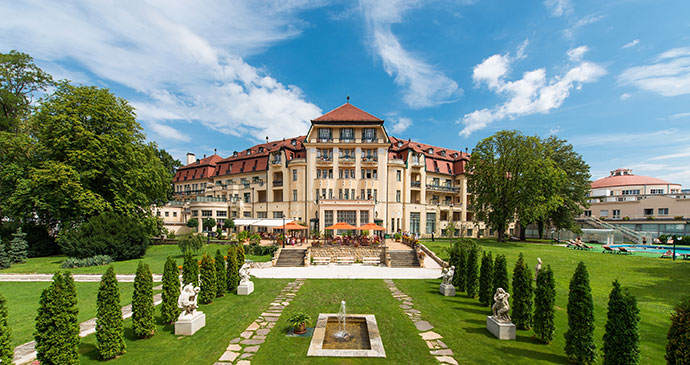 Those in search of a bit of pampering should head straight to Piešťany © Danubius Piešťany Hotels
If you want to get a taste of eastern Slovakia, the wonderful city of Košice makes an excellent base for exploration of this undiscovered region. Packed with history, culture and great bars and restaurants, this former European Capital of Culture is also the gateway to the east of the country, with national parks such as the Slovak Paradise, a clutch of impressive castles and fortresses, and the wine-producing region of Tokaj.
What are your upcoming travel plans?
In early April, I am heading to Istanbul and Cappadocia on a press trip. I am curious how many journalists will be on the trip, given the recent problems and violence in Ankara and Istanbul. I try to return to Bratislava at least once a year and I hope to combine a summer visit with a trip back to see old friends and colleagues in Budapest, where I lived for 12 years. The train ride from Bratislava to Budapest is quick and cheap. At €17.50 for a return trip, it costs less than a train ride from my home in Brighton to Worthing! In Brighton, I sing with a local choir and we are performing at a big concert in Amsterdam in August, with choirs from all over Europe. I hope to finalise more trips for the autumn, possibly Andalucía to visit friends and write a report, however that's enough to be going on with!