Written by Hugh Collins
Here at Bradt, we have a reputation for publishing guides to unusual destinations and for taking the road less travelled, and this month we talk to a man who did exactly that. In 2014, British explorer and adventurer Levison Wood became the first man in history to walk the length of the River Nile. His 4,000-mile journey is now being shown in a documentary on Channel 4 and below Lev discusses his motivations for the trip and advice for would-be adventurers.
Mountaineer George Mallory famously quipped 'Because it's there' on being asked why he was climbing Everest, why did you walk the Nile?
I love that quote and it'll never be beaten for its simplicity, and I completely agree with his frustrations at such a question. Does one need to have an answer? I just wanted to explore modern Africa and test myself in a way that explorers have throughout the ages. It was the biggest adventure I could imagine, and I love East Africa – theres also something enigmatic and alluring about the Nile that as a historian I just couldn't resist.
Were you surprised that such an iconic journey had never been done before?
It is quite surprising really, and lots of people shake their heads in disbelief saying things like 'Surely the Africans have done it'. Well think about it – why on earth would they? Why would anyone before the modern era have risked their life to walk the length of a river? Tribal wars, disease and wildlife have rendered it impossible – until now. The great Victorian explorers either used boats or walked overland from the east coast of Africa in search of its source. But ultimately in spite of my best efforts, I too was defeated – civil war in South Sudan meant that I had to fly over the front line of the conflict after I was ordered to leave by government troops, so even now nobody has ever walked the entire length – I did only 95% of it!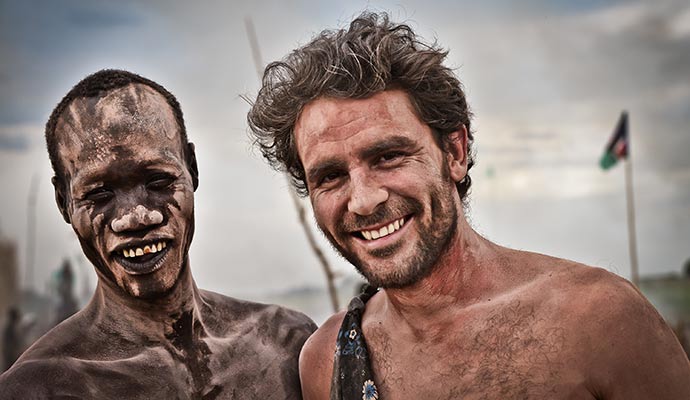 Lev in South Sudan © Tom McShane
Given the scale of the expedition, how did you preparations differ compared to your previous adventures? How do you prepare physically for a 4,000 mile journey?
There's not much you can do to prepare physically – just take it easy in the first two weeks, with only eight to ten miles a day to start with. You need to be mentally prepared to be away form friends, family and luxury for a long time though. Mentally it was tough. It was different purely because of the time frame, but it's important to still do your homework when it comes to risk – wildlife, politics, war, disease – you need to read into it.
Which of the countries you travelled through surprised you the most?
Sudan. The people were amongst the most friendly I have ever encountered. Most people associate Sudan with brutal dictatorships or Darfur but everyone I met looked after me, fed me and one time a man even insisted I stay for a few months and he would build me a house. Just because he wanted to improve his English. They're incredible.
It is estimated you took seven million steps to complete the expedition – did you encounter boredom? If so, how did you keep it at bay?
Of course, that was something that was very hard – seeing the same horizon for weeks on end – especially in the desert. At least further south in the jungle the terrain was pretty varied, but the Sahara was monotonous. You have to try not to think big introspective thoughts and just concentrate on the day to day – where's the next meal coming from, etc. Although I did get through quite a few audio books.
Can you describe the feeling(s) you felt on 30 August, when you finally reached the Mediterranean?
Elation, joy, relief … tinged with a bit of sadness of having come to the end of a huge journey.
Do you enjoy the post-expedition work, the writing and speaking?
It's part of the job, and yes I enjoy sharing the experience and hopefully motivating and inspiring others to live their own adventures. Seeing your own book on the shelves gives one a real sense of accomplishment.
What advice would you have for those inspired by your trip and keen to undertake their own expedition?
Just go for it, don't let other people's negativity put you off. Do your planning and prepare, but ultimately getting to the start line is the hardest bit!
Finally, the question all explorers and adventure
rs must dread to hear, what next?
Top secret. Watch this space. (Although maybe its another continent that begins with 'A')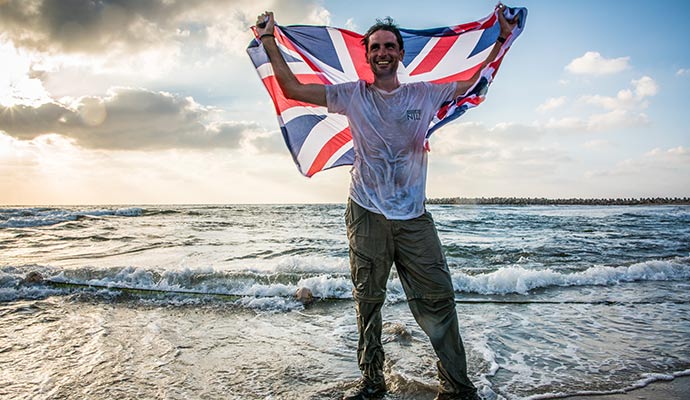 At the finish line: Lev ended his mammoth journey in Egypt © Tom McShane
Lev will be talking on 29 January at this year's Destinations Travel Show in London. To get free tickets, please click here.
---
Special offer
To celebrate Lev's extraordinary achievement and to help inspire your next trip, we are offering a 40% discount on all our Africa titles. Simply enter the code NILE at the checkout. Offer valid until 28 February 2015.