Written by James Proctor

Here we chat to James Proctor, author of our Lapland guide, about the region and how attending the wrong lecture at university led to his fascination with everything Nordic and nice.
How did you become interested in the Nordic countries?
By mistake, actually. At university, I signed up to do a year's course in Spanish but misread which lecture theatre I was supposed to go to for the Spanish course. Alphabetically, Spanish, of course, was next to Swedish on the list I looked at and off I went to the wrong room by mistake. A blond-haired, blue-eyed lecturer walked into the room and began writing words on the blackboard with lots of å's and ö's. Clearly not Spanish! Weird, but even at that point I could understand quite a lot and the more I learnt the more I realised that I already had a lot of Scandinavian words in my Yorkshire dialect from childhood. Words that had come over with the Vikings which were still in use in Yorkshire. I immediately felt right at home when I first visited Sweden – a feeling of the strange familiar – and I have been unable to stay away for very long ever since!
Lapland is renowned for dog-sledding, the IceHotel and, of course, being the home of Father Christmas, but for those visiting outside of winter what are the experiences you would recommend?
Lapland contains some of Europe's last areas of true wilderness. Hiking here is a very special experience. Lapland's national parks are criss-crossed by hiking trails which will give you a chance to explore the extensive spruce and birch forests of northern Scandinavia at first hand. Kayaking or canoeing is also a great summer activity in Lapland. There's plenty of space for everyone and more than enough rivers and lakes for you to have one all to yourself. The coastline of Norwegian Lapland, particularly around the Lofoten islands, is arguably at its most alluring during the long days of summer when the sun never sets. Scudding in and out of fjords in a high-speed RIB inflatable is another fantastic experience. For other people, it's simply the desire to cross the Arctic Circle and go to the very top of Europe – that's another great thing to do in summer. The North Cape is certainly the perfect place to see the midnight sun.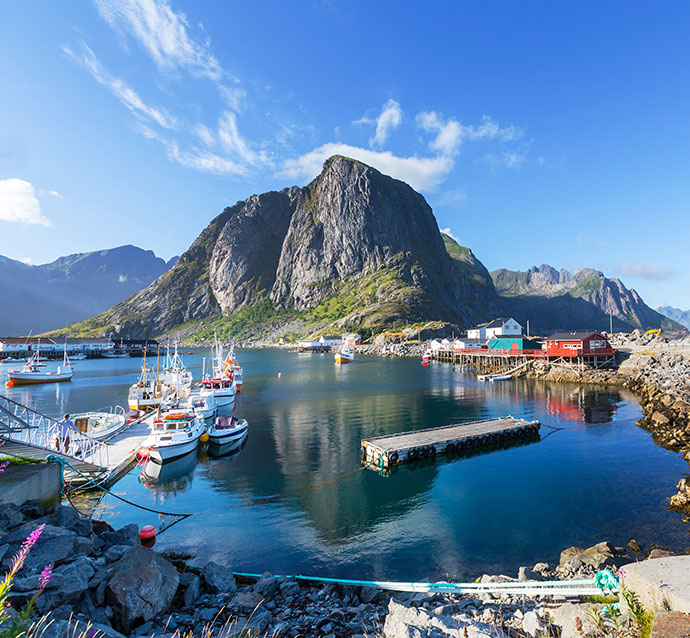 © Jan Miko, Shutterstock
Nordic cuisine has flourished in the past couple of years, what is the most unusual delicacy you've eaten in Lapland?
I've certainly eaten some strange things in my time but fermented birch soup takes some beating! There's a great Sámi run place in Jokkmokk on the Arctic Circle in Swedish Lapland that serves a whole range of dishes which draw heavily on the traditional flavours of Lapland. Arctic char is a delicious fish no matter how it's served – but it takes on a whole new flavour when it's been marinated in rowan leaves. That's another oddity I've sampled!
What advice would you offer for someone planning to tackle the Kungsleden?
Give yourself plenty of time. The trail spans a distance of 430km so, naturally, you're only going to want to do part of it. My favourite section is between Jäkkvik and Adolfström – it's on the least walked sections, too, so the chances are you'll have the path to yourself. The views are stunning! If you opt for another section, think about walking south to north, ie the opposite way to most other hikers. That way, too, you'll have much more freedom to appreciate the cinemascope vistas that the trail throws up at every turn.
What is your memorable wildlife encounter in Lapland?
Naturally, I'm going to say reindeer here. What else would you expect! This last winter when I was driving from Inari to Kittilä in Finnish Lapland a female reindeer and her calf ran right in front of my car. The road was covered in snow and ice and there were high banks of snow on either side so there was no way for them to leave the road. As I drove along at a sedate pace, the animals were running right in front of my windscreen. Never have I come so close to a reindeer´s bottom! This continued for almost a quarter of an hour until the animals decided to turn off the road and disappear into the forest.
"Jooti lea buoret go oru" is a Sámi proverb meaning it is better to keep moving than to stay in one place. What are your upcoming travel plans?
I'm lucky enough to own a cabin deep in the forest in Sweden which I go to about six times a year – I'm about to head there again. There's no electricity and no running water. But I have a couple of solar panels and a wind turbine and when I need water I simply take it right out of the lake which is just 10m away. The lake is 15km long and I have no neighbours – perfect! It's a great place to unwind and commune with nature. Sometimes I go out rowing on the lake, sometimes I go walking in the forest, or sometimes I just watch the eider ducks and great northern divers from my windows as they pass by. There's nothing better, though, than having a sauna at the end of the day and then running into the lake for a refreshing skinny dip. I'd recommend it to anyone!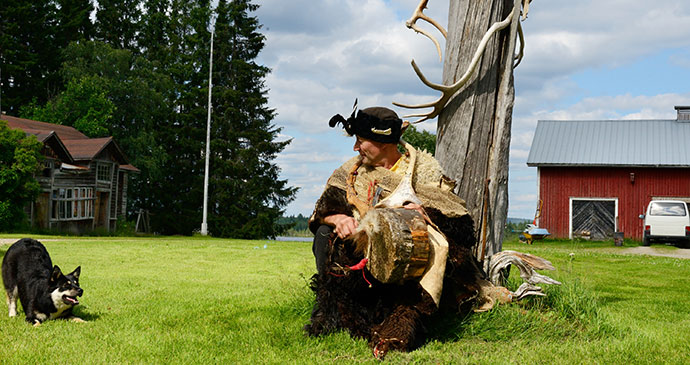 A Sami shaman and his dog, Finnish Lapland © Popova Valeriya, Shutterstock
Finally, what advice would you offer to aspiring travel writers?
Don't expect to get rich!