Written by Hugh Collins
This December, we are publishing the world's first guidebook to the Carretera Austral, South America's greatest road trip. Here, we chat to author Hugh Sinclair about the route, Chile and why road-tripping represents an altogether different type of travel.
What is your favourite town on the Carretera Austral and why?
Two stand out: Puyuhuapi and Caleta Tortel. One of the most fascinating aspects of this region of Chile is the history, which is not well documented. The history of the early settlers to the region is best understood in Puyuhuapi, where many of the original buildings survive to this day, as do many of the original inhabitants and their descendents. When one considers quite how isolated Puyuhuapi is to this day, it is astonishing that in the inter-war years a group of hardy explorers settled this remote spot, and built a small village literally with their bare hands. Not only is the village beautiful, and perched on the end of a fjord surrounded by mountains, but there are glaciers and hot springs close by. But it is in Puyuhuapi itself where visitors can truly witness the pioneering spirit of the region, which lives on to this day. The Carretera Austral is neither easy to travel in nor to live in, and as modern society slowly creeps in, it is worth pausing and reflecting on the origin of these villages.
Caleta Tortel – a village built entirely on boardwalks © Jorge Harnecker
Caleta Tortel is also steeped in history, and I urge any visitor to read up on the mystery of the cemetery just outside the village and visit it. Although the events were tragic, involving the death of many innocent people under unusual circumstances, it is a fascinating twist in the history of the region, again harking back to the earliest settles. But the village itself is also spectacular, and utterly unique, built entirely on wooden boardwalks along the coast, entirely devoid of vehicles, and on a sunny evening the view across the village and out to the canals is unforgettable. And perched inbetween the northern and southern ice fields, Caleta Tortel is ideally located to visit the glaciers in the region.
The Carretera Austral offers the whole range of different experiences (visiting glaciers, seeing Andean condors, white-water rafting), but is there anything that shouldn't be missed?
It is hard to traverse the Carretera Austral WITHOUT seeing a glacier or condors, and the white-water rafting is world class. Some of the multi-day treks are also spectacular. But if I was to single out a truly unique activity, snorkelling in the Río Cochrane was one of the most memorable. It requires no prior experience and only a modest swimming ability, and wetsuits are available. This is a pristinely clean river of glacial meltwater, so it's cold all year round. As the current gradually pushes you downstream, with almost no need to exert any effort, your mind begins to play tricks on you. As the river bed flows past, with multi-coloured reeds waving in the virtual 'wind' beneath you, you lose your sense of perspective, and can imagine yourself flying in an airplane over the trees of a jungle beneath. The river weaves through trees, and on a sunny day the shadows turn this imaginary world into day and night at random intervals. The river is packed with fish, most of which are unafraid of humans, and simply watch nonchalantly as you drift past. The glaciers, treks and hikes of the Carretera Austral are superb, and each unique in their own regard, but they exist elsewhere. I have never seen anything like the snorkelling trip down the Río Cochrane!
How and when did you first visit Chile?
I first visited the north of Chile in 1996, and was mesmerised by the Atacama Desert. I went to Santiago a few times for work, but it wasn't until we moved to Argentine Patagonia in 2010 that I began visiting so frequently. However, only in 2011 did I first visit the Carretera Austral, and I couldn't understand how I had never heard of this place before, particularly as it is almost on my doorstep. Since then, I try to visit the region as much as possible – for me, the Carretera Austral is the highlight of Patagonia. This has not yet reached the mainstream tourism sector, but it will, and at that point Argentine Patagonia and the deep south of Chilean Patagonia will likely become less visited. If and when there is a boat connection between the southern Carretera Austral and Puerto Natales (close to Torres del Paine), this will further accelerate a shift in consciousness: Patagonia is Chilean.
How do you think the new national park, Parque Patagonia, being created by Kris Tompkins, will impact on tourism in the area?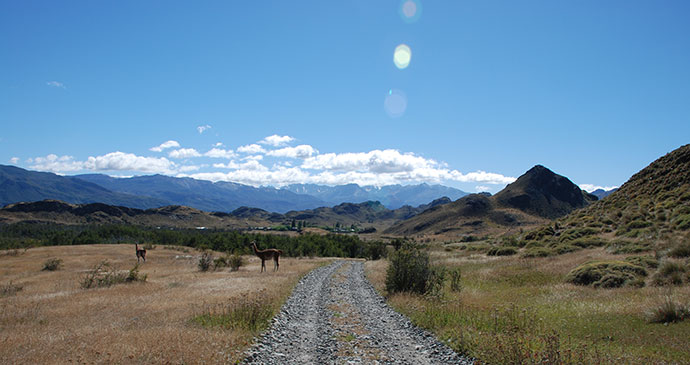 Guanacos are a common sight in Parque Patagonia © Hugh Sinclair
Parque Patagonia is actually three parks combined: Tamango, Jeinemeni and Valle Chacabuco. The latter was acquired by Kris Tomkins and is in the process of being donated to the Chilean State. This huge park, with two border crossings to Argentina, an airport just to the north, and sandwiched between glaciers, Lago General Carrera and the deep south of Patagonia, will transform Patagonian tourism. It boasts a bit of everything, and is well located between an abundance of adventure activities, bursting with wildlife, and an ever-expanding range of accomodation and culinary options. It is not as remote as the extreme south, and while Torres del Paine is wonderful, Parque Patagonia offers comparable vistas and hiking options. Perhaps most importantly, it is located between the two most popular regions of Patagonia currently: the north (Bariloche and the Chilean Lake District), and the far south (Torres del Paine and Tierra del Fuego). Previously, there was little way to get between these two points of interest other than by a long, dull bus ride, a quick flight, or a tiring drive. The park now provides visitors with a bridge between the north and south of Patagonia – something to do inbetween. And it is not merely a minor distraction, but one of the most wonderful road trips on the planet.
Why is 2016 the perfect year to visit the Carretera Austral?
There are two key reasons. Firstly, tourism in this region is still nascent. There are no traffic jams, no litter, almost no nighclubs and crime, so even within a few miles of Coyhaique, the capital, one has the feeling of utter isolation. The region is still untouched by man, and there are few such places left, alas. Roads are a precursor to environmental destruction, and the Carretera Austral is still not complete. And yet, for its sheer remoteness and size, it is unlikely that the Carretera Austral will ever attract the mass tourism and commerce that has destroyed other regions, including within Patagonia.
The second reason is access. Each year more sections of the road are completed, or paved, and entirely new side-roads are built. Until recently, it was hard to obtain information about this region, and challenging to even get onto the Carretera Austral, let alone traverse its length. However, with improvements in the ferry connections to the north, some new roads providing access to glaciers, and more border crossings, it is increasingly possible to visit the Carretera Austral without expert knowledge of the region. Hopefully the book will also assist in alerting people, including Chileans living north of Puerto Montt, to the incredible beauty and adventure possible in this lesser-known region of South America. However, with more visitors comes more litter, traffic and the other banes of tourism, which is why we stress the important of protecting this environment throughout the book. But thankfully large parts of the Aysén Region are protected, and thus construction, mining and development are simply prohibited, which will serve to at least partially protect the region from mass urbanisation.
Why, in this age of instant gratification and whistle-stop travel, should our readers slow down and embark on a road trip?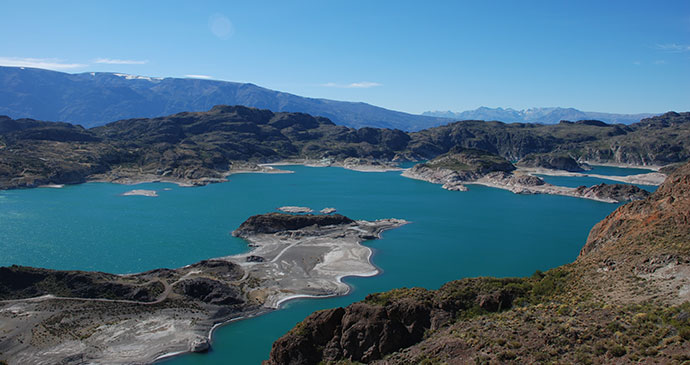 The road south along Lago General Carrera is one of the highlights of the route © Hugh Sinclair
A road trip is an entirely different sort of travel. Although there are plenty of adrenaline-inducing activities possible along the Carretera Austral, this is not a region for instant gratification. When travelling from north to south, it is the gradual changes in the horizon, the vegetation, the smells and temperature, that captivate the visitor. At each degree further south the sun sets a little later. The few satellite dishes point at increasingly flatter angles. This is a journey towards the end of the world. Glaciation carved the face of much of our planet, and this is one of the few places where you can see this happening, in real-time, from the side of a road. The Carretera Austral is a mere slither within a vast region, so many of the animals you spot along the way are entirely unfamiliar with human beings – we are entering their arena. We spend so much of our lives surrounded by people, phones, internet, shops, advertisments, traffic, noise and endless signposts and instruction guiding our every move – why not take a break from all this and escape for some weeks or months? And why rush it?
What advice would you offer to those interested in travel writing?
First of all, know and love the region you intend to write about. Secondly, if writing a guidebook, have an excellent filing system and be rigorous in capturing the information you need at the time. Backtracking is tedious. Thirdly, set aside twice the amount of time you think you'll need. Finally, understand the history of the region – this isn't merely an 'interesting appendix', but helps you to understand why things are as they appear, why some things apparently don't make sense, why people live in some areas and not in others. It also helps enormously in connecting with the local inhabitants – when they realise you have bothered to read up on their history, they are much more willing to speak openly. Glaciers may be eye-opening wonders to a visitor to this region, but they are part of the scenery to the locals, like Big Ben to a Londoner. So if you know the history of the region and the reason why a village was built, its colonisation and challenges through the years, the locals will be more inclined to take you to the hidden glacier that doesn't appear in the guidebooks!
What are your travel plans for 2016?
While writing this book I had an excellent opportunity to visit North Korea, and I would love to return in 2016. I will also be returning to the Carretera Austral, probably on a motorbike, perhaps towards the end of the season (March 2016) or at the beginning of next season (November 2016), as these are my faviourite months. But there are mountains visible from my office window that I have not yet climbed, so I also hope to explore my 'back yard' a little more. To be honest, when you live in Patagonia, there's no huge incentive to travel much at all – it is all here!
Click here to get a 10% discount on our Chile: The Carretera Austral guidebook.