Written by Hilary Bradt
To celebrate the release of her new Slow Travel North Devon & Exmoor guide, we chat to Hilary Bradt about the region and what makes it special to her.
What does slow travel mean to you?
Everyone has a slightly different definition. I think mine is seeking out places of outstanding interest which are not part of the usual tourist hype. Very often they are free, such as the little churches which are such a characteristic of our countryside and which are jam-packed with history. Those in Devon and Exmoor are usually open, which is an added bonus. Along with the nearby pub, they really are the essence of a village. But that's not to exclude places that charge an entrance fee. When researching the book I found some gardens that are little known and enchanting for that reason. No crowds, winding mossy paths, and lots of rare flowers. In each Slow guide that I've written my aim has been to hear local people say "I never knew that". So uncovering little-known facts as well as places is part of the challenge and pleasure.
Slow food is an important part of the slow travel movement, what was your 'slowest' and tastiest food experience in North Devon and Exmoor?
Cream teas! They tend to be exceptionally slow since one is too full afterwards to do anything. I found a particularly wonderful place at Hele Cornmill, which does its own baking from home-ground flour so the scones are extra delicious. But what makes it exceptional is that they use cream cheese on cheese scones, with jam – yummy! The seafood is also good all along the coast, and of course around Exmoor carnivores can enjoy a variety of game.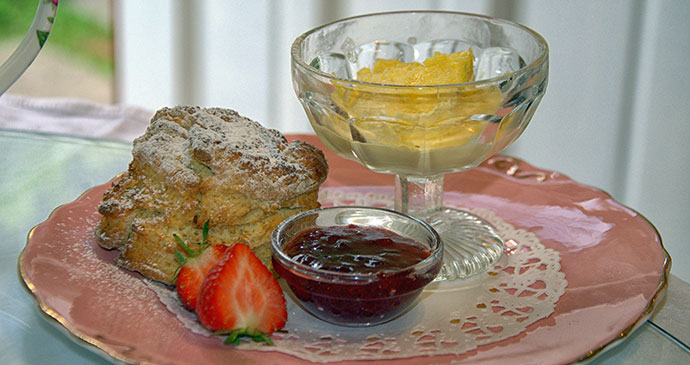 Devonshire cream tea © Hilary Bradt
Woolacombe beach is regularly voted as the UK's top beach, do you have a favourite beach in the region?
Not Woolacombe, actually, because I prefer coves to wide expanses of sand. My perfect beach is a horseshoe-shaped cove enclosed by high cliffs, accessible only with some difficulty (or expenditure of energy). Just north of Woolacombe is Grunta Beach which fits the criteria pretty well, but is actually quite easy to get to if you don't mind steps.
For those who don't know the area, what are your top-three experiences not to be missed?
Walking the South West Coast Path. I may have said this before for other regions of Devon, but I really do think that it is at its very best in North Devon and Exmoor. Perhaps my favourite stretch is Hartland Point, although in August I would go east to enjoy the heather in bloom on Exmoor.
Culbone Church, near Porlock. The smallest, most inaccessible parish church in England. You have to walk there for over two miles, but every time I see it crouched in a clearing in the woods it tugs at my heartstrings. It looks so vulnerable yet has been part of Exmoor for nearly a thousand years.
The cluster of villages in eastern Exmoor which form part of the Holnicote Estate: Selworthy, Bossington, Allerford and Luccombe. They are owned by the National Trust and are quintessentially West Country – low thatched cottages with bulging chimneys that once housed the bread oven. Most have a tea room inviting you to linger.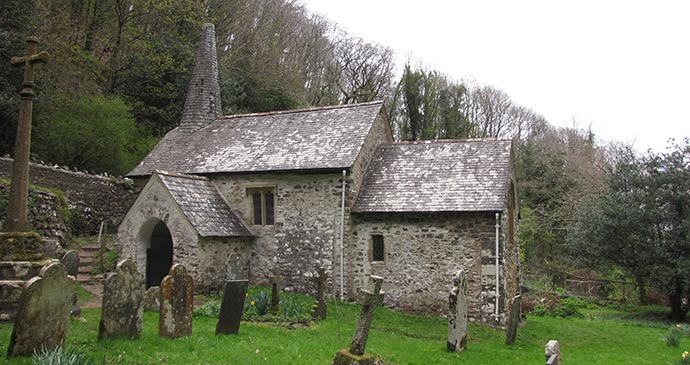 Culborne Church © Hilary Bradt
When did your love affair with the Exmoor pony begin?
Probably when I was about ten and read Moorland Mousie which is the classic story about an Exmoor pony. They are such a distinctive breed that any horsey child delights in telling anyone who'll listen their characteristics: mealy muzzle and toad eye. I regret to say, however, that I've yet to ride an Exmoor pony but that will be sorted soon. The Exmoor Pony Centre near Dulverton has ponies you can ride providing you do not exceed a certain weight. Might have to hold back on those cream teas, however…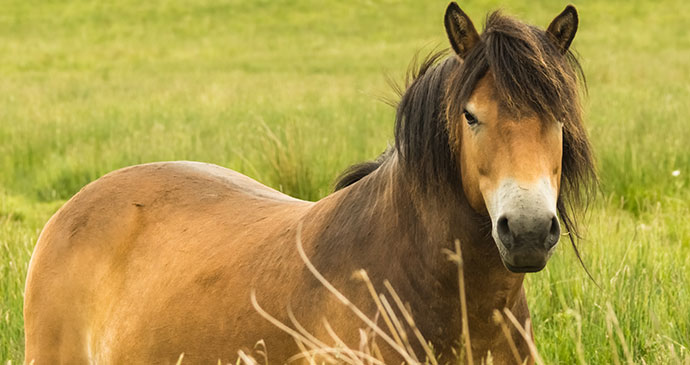 Wild Exmoor pony © Roger Hall, Shutterstock
The book has an emphasis on sustainable, car-free travel. Why, do you feel, travelling in this way adds to the travel experience?
If you drive in this region you'll know the answer! Devon's lanes are notoriously narrow, with high hedges or banks. Not only is one driving constantly in reverse to let the other car pass, but the scenery is hidden. Anyway, I'm prone to getting lost. I love travelling by bus since you can see over the hedges but, shamefully, the services are being reduced so it's often not possible. When the buses fit, my favourite sort of walk is a 'bus-assisted walk' which is linear, with the bus taking you there or back. East of Exmoor is the West Somerset Railway which is the epitome of Slow; the steam train ambles through wonderful countryside, providing lots of time to admire the view. And the scenic Tarka Line has designated walks between stations. So why stress yourself out by driving?
What are your travel plans for the rest of 2015?
I'm accompanying a Bradt Tour to Peru in June which is hugely exciting in that I have had the privilege of devising the itinerary to take in the less well-known places that I've always wanted to visit, or which I saw in the 1970s when first exploring South America. Then I have to complete the final guide in the Slow Devon trilogy – East Devon and the Jurassic Coast, so I don't suppose I'll be idle.
---
Fancy visiting North Devon & Exmoor? Here's 10% off our guide: