Written by Bradt Travel Guides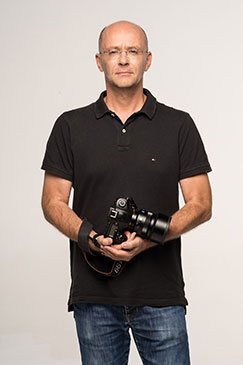 Ever since he was young, Eric Lafforgue has been fascinated by far away countries and travelling, and spent some time in Africa when he was ten-years-old in Djibouti, Ethiopia and Yemen.
He started taking photographs in 2006. Quickly, magazines and newspapers from all over the world like National Geographic, began using his work for illustrations on North Korea, Papua New Guinea and the tribes of Ethiopia.
In 2008, his work on the people of Papua was displayed at the prestigious VISA photojournalism festival in Perpignan.
Eric spends most of his time travelling the globe to share his encounters, through the perception of an ethnologist and the heart of an artist, privileging the regions or populations in danger and less-visited countries. He is part of the Sony Team.
1. You're known for your incredible portraits – when you got involved in photography in 2006, did you plan to focus on portrait photography or was it a natural progression as you started shooting?
I was not really inspired by people when I started photography, as I was a little shy, but when I discovered it was the best way to make contacts, I quickly began to take more portraits than anything else!
For me, portraits were all the same, but I have realised that you can show so much with the eyes, the attitude and the smiles, that it has become my favourite activity!
2. What's your secret to the perfect portrait? How do you make your subjects comfortable and confident in front of the camera?
Smiling is universal, from Papua New Guinea to North Korea, so if you come close to someone with a smile, it will break the ice. It is also important to show your photograph to the people in it, as this is a way to share the moment and the intimacy you have created, even if it just lasted only a few seconds – I work very quickly. I am always worried that I steal time from people when I ask to photograph them though as, personally, I hate to pause for pictures!
When I visit poorer areas, I also bring Polaroids, as this is a gift that is really appreciated by people who do not have any pictures of themselves, which in turn helps to create complicity.
3. Do you go somewhere on assignment with a particularly story in mind that you'd like to tell? Or do you let your experiences in the country create the storyline and go with the flow?
More and more, I try to imagine or research the stories I will photograph before I visit a country as when I'm back, it is very frustrating to read things about the places you've seen and realise the things you've missed! As I work a lot for magazines, I always try to envisage a story that can be interesting for everyone, from readers in China to those in America, as with the joys of the internet I aim to sell my work around the world.
4. Where is your favourite place to travel for a shoot? Who has been the friendliest subject and why?
My favourite place was North Korea which I have visited six times. Unfortunately, I was not allowed back as they wanted me to delete some of my photos which showed the country's poverty, and I refused. Now, Ethiopia is one of my favourite destinations, along with Kenya, as there are so many diversities in those countries: from Christians to Muslims, deserts to hills, the variety is huge. Some areas have very few tourists visiting, so the contact is still real. Angola also has a lot to give for photographers, with its Art Deco buildings and incredible tribes.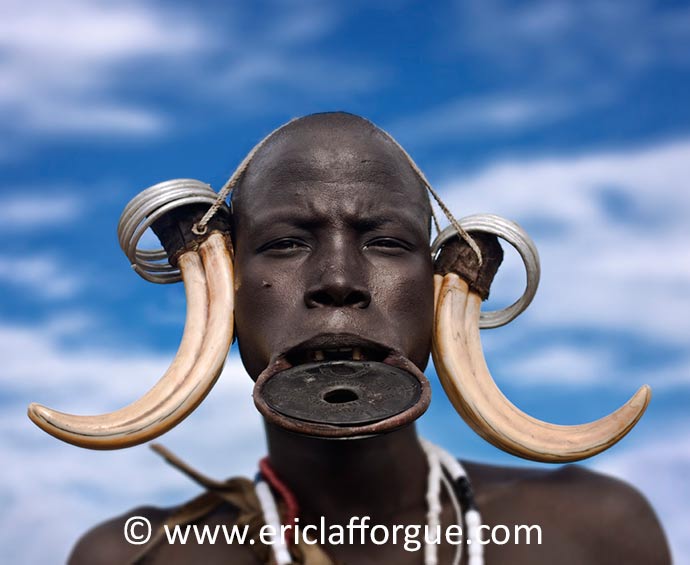 A Mursi woman with hippo tusks in the Omo Valley, Ethiopia © Eric Lafforgue
The friendliest subject I have encountered was a little albino girl I met in Tanzania. She was so sweet, despite the fact that she had been chased by witch doctors for much of her life: a real angel.
5. We're publishing a new travel narrative called The Irresponsible Traveller containing stories of travel gone awry. What was your worst travel experience, when everything went wrong? What happened? Did the experience affect your subsequent travels?
I visited Eritrea last year, my fifth trip to this wonderful country, but where people suffer under a harsh dictatorship. I was snorkelling around the Dahlak Islands, just off the coast of Massawa, when the captain of the boat was attacked in front of me by a shark. He lost half of his shoulder in the attack, but is fortunately well now. It was the kind of event where you forget to take a picture!
6. Regarding North Korea specifically, what were your impressions of the country when you first visited and how have they changed over the course of your return visits?
I visited North Korea for the first time in 2008. On my last trip in 2012, I noticed that the country had changed a lot as many young now speak English and are not so shy with foreigners. You can see the influence of China in NK as it looks more modern now, with cars, for example, and people calling on mobile phones. My first impressions were rather negative as the lack of freedom is evident everywhere, even for the tourists who cannot walk alone. But I tried my best to focus on local people and I experienced some really nice encounters.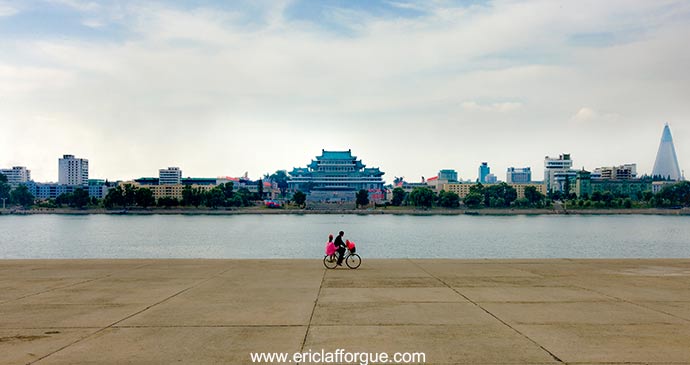 A cyclist in Pyongyang, North Korea © Eric Lafforgue
7. What do you hope your images reveal about North Korea and its people? What misconceptions about the country would you hope your images dispel?
North Koreans are not the robots that the media portray. They are warm people, not cold at all. I visited twice a kind of bed and breakfast on the Chilbo coast, and the family who welcomed me had kept my Polaroid in the family album, and offered me a huge dinner. They even refused the money I wanted to give them, even though they are very poor in this area, as they are fishermen.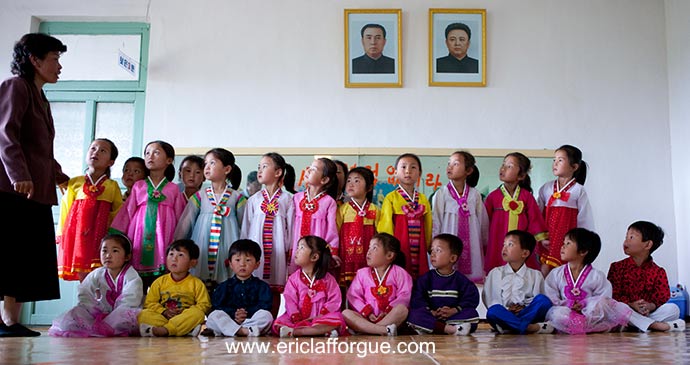 Children in Chongsan, North Korea © Eric Lafforgue
8. What destination is the top of your travel wish list and why? What destination do you find yourself returning to again and again?
I would like to visit Socotra in Yemen, and Mogadishu, Somalia. I've been many times to Yemen, first in 1974 when I was ten years old, but never to the incredible island of Socotra. Somalia is an old dream, but the armed escort is rather expensive for a traveller like myself if I'm not on assignment!
I want to go back to Papua New Guinea as when I visited I only saw the highlands and a couple islands, but not the Sepik area. The culture is still strong and it makes for some incredible pictures.
Ethiopia, even if I've been there ten times, is also a place I want to visit again, as I have not been to Dallol or Erta Ale yet!
9. If you were to give budding travel photographers a piece of advice, what would it be?
Take as many pictures as you can of the places you visit. Everything changes so quickly in places that when I visit five years later, for example, I do not recognize anything. The photos are the only testimonies to the moments you have lived.
---