What does slow travel mean to you?
Slow travel for us is all about taking time to discover smaller areas in greater detail and not rushing from one place to another on a proscribed itinerary of top sights. We like to talk to people and find out their 'secret' places, to hear local recommendations. We're great fans of OS maps: every day is a new exploration if you spend a wee bit of time studying a map beforehand to see what features or points of interest grab your attention.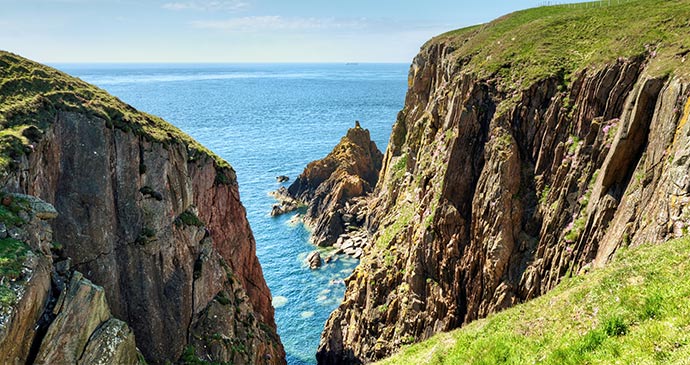 Mull of Galloway © Kevin Eaves, Shutterstock
Slow food is an important part of the slow travel movement, what was your 'slowest' and tastiest food experience in Dumfries and Galloway?
There's a strong tradition of 'slow' food in the region. As an agricultural area the land has been farmed for centuries. Galloway beef is delicious, and so too is local lamb. The region also has something of a sweet tooth: Ecclefechan tart is a fruity desert which also works well with my favourite meal of the day: afternoon tea. In the west of region there's a super market garden above Creetown which produces great vegetables and is even growing tea in the Galloway hills. Getting even closer to the land, Galloway also has a resident forager who runs regular courses.
You describe Dumfries and Galloway as "Scotland's forgotten corner", why do you think it has remained off the tourist trail?
Quirks of geography and associated transport connections have meant that the region has been largely bypassed. With the honey pots of the Lake District immediately to the south and the Scottish Highlands to the north, Dumfries and Galloway has been slightly forgotten. Many people enter and leave the district in around an hour as they head north on the motorway, without realising that they could find stunning hills and valleys and 200 miles of coast if they were just to turn left or right at Gretna Green.
Dumfries and Galloway is a spectacular region for walking and considerably closer (to the south) than the Scottish Highlands. Do you have a favourite walk in the area?
This is a tough one. We have lots of favourite walks: coastal, hill and moorland. In the west of the region the walk from the village of Garlieston to the clifftop ruins of Cruggleton Castle is terrific, with great variety of habitats and some history thrown in, too. It takes in the harbour at Garlieston, a section along the estuary where during World War II the Mulberry Harbous for the D-Day landings were tested, views of Galloway House and gardens, through woodland and up to the breezy clifftops. In the east of the region we like to roam across the moors above Langholm and also to take off into the hills above our home town of Moffat.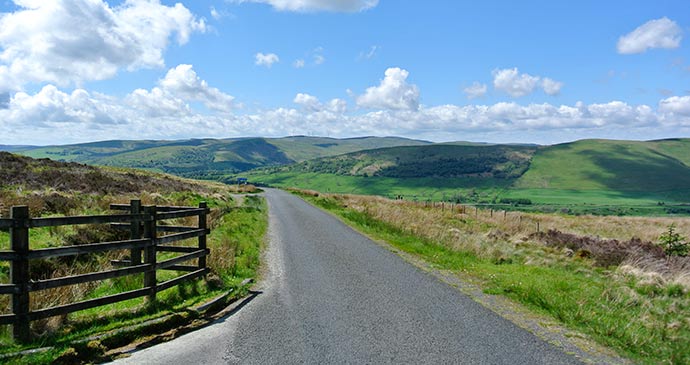 Langholm © Tom Hutton
For those who don't know the area, what are your top-three experiences not to be missed?
Broadly speaking the region is split into coast, hill and moor. Our advice to anyone coming for the first time would be to try and take in a bit of each. The beauty of Dumfries and Galloway is that you could, if you wished, experience all three in a day, from enchanting rocky bays to Scotland's highest village (and micro-brewery!).
During your research for the book were your expectations met?
Yes. And more! Each of the six chapters into which we have split the book has its own distinct identity and attractions. Visitors are given a warm welcome across the region and local people are always interested to know where you've come from and to share with you their tips for making the most of your visit.
What are your tips for aspiring travel writers?
Be original; there's an awful lot of 'me too' stuff out there. Find your voice and don't overlook what's right in front of you. And be very clear in your mind about who it is you are writing for.
What are your travel plans for the rest of 2015?
We've both spent a lot of time travelling overseas in the past but at the moment we're very much in stay-cation mode. We actually started the year by taking a break in our home region on the Kirkcudbright coast. We always enjoy a week's escape at the end of January, even if it's just an hour down the road. It helps to recharge the batteries in the middle of winter. Through spring and summer we'll be spending some time on the Suffolk coast, another area that we love. It's such a contrast to Dumfries and Galloway and is particularly good for butterflies, which is one of Darren's interests. In summer we often also go up to Wester Ross in northwest Scotland to the mainland near Skye and to Torridon, which is magnificent. This year we're having a change and going to Islay in the Inner Hebrides. It's home to over 200 bird species plus there's also a chance of seeing dolphins, otters and basking sharks. Fingers crossed!
---
Here's 10% off Donald and Darren's Slow Travel Dumfries and Galloway guide!