We speak to co-founder and Managing Director of tour operator Discover the World, a company that has been pioneering holidays to Iceland, our Destination of the Month for November, for almost 35 years and is now one of the UK's leading specialists.
Discover the World is still owned, managed and run by Clive Stacey, who founded the company over three decades ago. It now offers trips to a multitude of destinations around the world, including Scandinavia, Canada, New Zealand, Namibia and the polar regions. But Iceland has a special place in Clive's heart. So here's a little bit more about the man behind Discover the World and where his passion for the Land of Fire and Ice came from…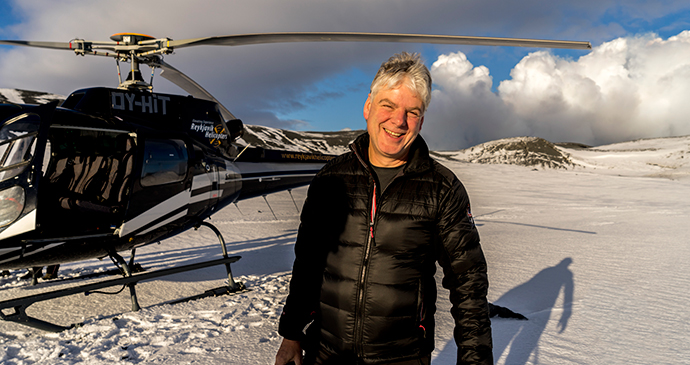 When did you first visit Iceland and develop a love for the place?
In 1972 I lived and worked in the North West Iceland village of Flateyri. I worked for a year in a fish factory and on fishing boats, during which time I managed to explore a lot of the country. This was enough to inspire me and start a love affair with Iceland that will last for life!
Now, over 40 years later, I still get goosebumps when I see the empty roads twisting along a dramatic coast, or a waterfall that looks like it's flowing straight from the imagination of Tolkien.
How has Discover the World pioneered holidays to Iceland over the last 35 years?
Iceland's tourism has evolved greatly over the last few decades and we are proud to have been at the forefront of many new developments. We were the world's first tour operator to offer river rafting, snowmobiling and superjeep safaris, as well as dedicated northern lights holidays to the country. In 1993, we operated the very first whale-watching trip there.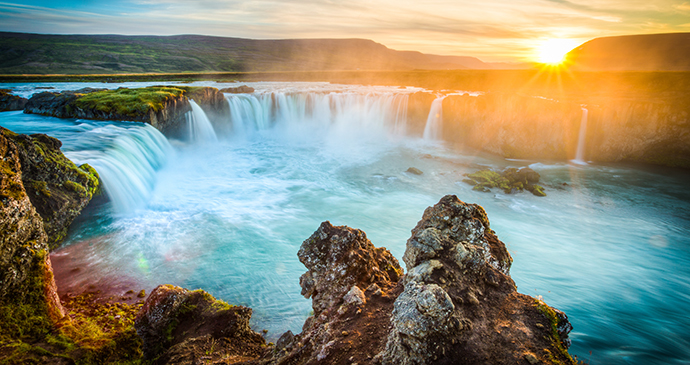 Our long-standing partnerships with the Icelandic tourist industry, as well as our own first-hand knowledge of Iceland, has helped us continually develop original and exclusive experiences. These include our popular 'Orcas and Aurora' small group tour, which gives you the best chance of seeing whales and the northern lights in the company of two award-winning expert guides, and like-minded travellers. Another exclusive escorted tour is our flagship 15-night trip called Absolute Iceland, which is the perfect way for first-time visitors to explore the country accompanied by an Icelandic legend, our good friend Gudmundur Gunnarsson (known as 'Gummi'!).
As well as guided tours we also trail-blaze exciting tailor-make independent itineraries and self-drives. We have even developed our own exclusive interactive app called iDiscover, which is available to all our Iceland self-drive clients and is like travelling with your own Icelandic guide. The app is on an iPad which is given free with your hire car and will have your itinerary on it, as well as information and tips, and a comprehensive list of places to visit along your way. You can add these to your itinerary and the app will cleverly calculate your driving distances.
What are your personal top Iceland travel moments?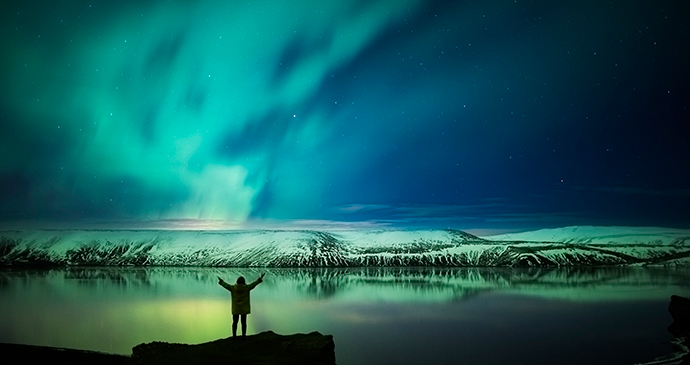 Clive's top Iceland experience was seeing the northern lights for the first time © RTH Sigurdsson
My top experience has to be seeing the northern lights in Iceland for the first time ever! Another highlight was watching a vent spewing out lava as Krafla volcano erupted. I've loved really getting to know the place and discovering its many hidden secrets.
What would you recommend as the 'must-see' sights during a first-time visit to Iceland?
The southwest region is probably the most popular for first-time visitors – there you can visit the classic Golden Circle route, Reykjavík and the Blue Lagoon. However, for more discerning travellers or second-time visitors, there is so much more to see outside of this area. A lesser-known hotspot like the Secret Lagoon, for example, is a great place for a bit of geothermal bathing.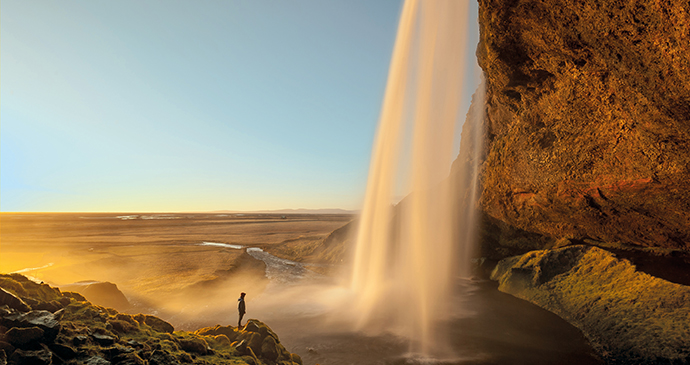 Hiking through the highlands, exploring the fishing villages and fjords of the east, glacier adventures in Husafell, and even Flateyri – where my adventure started back in 1972 – are great for visitors who want to delve a little deeper into what Iceland has to offer. I would also suggest visiting Iceland both in the summer and the winter if you can, as they can be very different experiences and offer different highlights.
Do you have any other insider tips for anyone interested in travelling to Iceland?
Speak to someone who knows their stuff, and can advise on the hidden gems and avoiding the peak tourist times. We strongly recommend leaving Reykjavik if you want to experience the northern lights.
Iceland is addictive. Many of our clients travel with us time and time again – so don't try and do it all in one go. Take your time and explore it in different ways at different times of year. I'm sure that when you visit, you'll realise just like I did what a special and magical place it is.
---
Discover the World's Iceland Travel Specialists all have extensive first-hand knowledge of the country and are experts at tailor-making a holiday to suit your requirements.

Inspired to visit Iceland? Check out our guide for more infomation…