Written by Diana Darke
Diana Darke, author of our new Eastern Turkey guide, discusses travel memories and offers tips for aspiring travel writers.
What is your earliest travel memory?
My earliest travel memories are of long car journeys from Wales to southern Germany each year to stay with my grandparents at their farm in a tiny village in the Pfalz (Rheinland Palatinate). My brother and I loved those journeys. In the days before seat-belts, electronic devices or even tape cassettes, we developed an eye for detail in the towns and landscapes we passed through. We learnt to watch the ever-changing view from the car window and were never bored.
What is your most bizarre?
The most bizarre travel memory I can recall was my first arrival on Syrian soil in August 1978. It was in the port of Tartous, where I was edging my ancient 2CV Citroen cautiously down a very rickety ramp from a cargo vessel that had made passage from Volos in Greece. Sandwiched between heavy good vehicles, mainly lorries carrying Mercedes Benz cars out to Iran, it was one of those incongruous moments I will never forget, as the wheels touched down and I descended into the cheerful chaos of the docks.
Which travel destination has taken you most by surprise and why?
The travel destination that has taken me most by surprise is Lake Van in Eastern Turkey. The sheer size of it, seven times bigger than Lake Geneva, and the colour and exceptional light from the mountains encircling it lend an ethereal quality. Swimming in it is a magical experience, the alkaline water feeling silky and soft. Local people drag clothes behind their boats to wash them and they emerge as if they have been soaked in Comfort.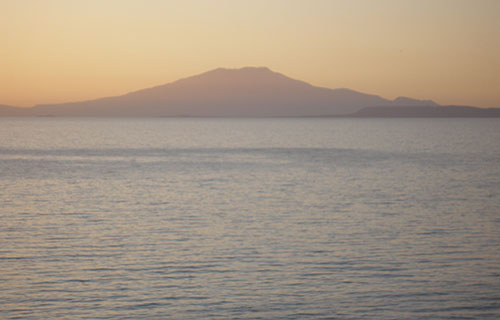 Lake Van © Diana Darke
Describe the most memorable hotel you've stayed in.
My most memorable hotel is the Shmayaa in Midyat (www.shmayaa.com) Eastern Turkey. I've just spent eight days based there, and it's the most unlikely oasis of serenity and beauty I've ever come across. It was originally the 16th-century residence of a Syriac bishop, now converted to a 15-room hotel with exceptional taste and flair. It has a magnificent courtyard with fountain and a spectacular roof terrace overlooking the town with its mix of church towers and minarets. I feel completely at peace there and the food and wine is wonderful.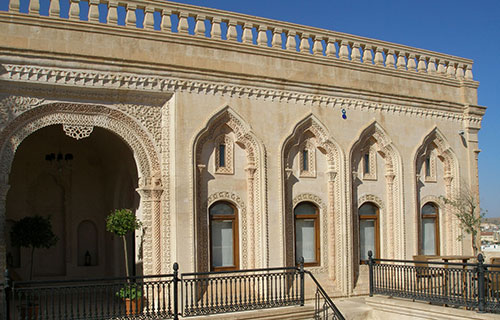 Midyat Hotel © Diana Darke
Everyone gets it wrong sometimes, so what's the biggest travel blunder you've ever made?
My biggest travel blunder was to try to climb Mt Ararat without the right kit. I had no idea what I was doing or how hard it would be, so did not have enough layers of clothing for the high altitude, head torch or crampons. The Kurdish guides were great though, and lent me their long johns, adjusted their crampons with cellotape to fit me and walked ahead of me in such a way that their head torch gave me something to follow. Looking back, it's a miracle how I ever made it to the summit. I was 53 and not very fit.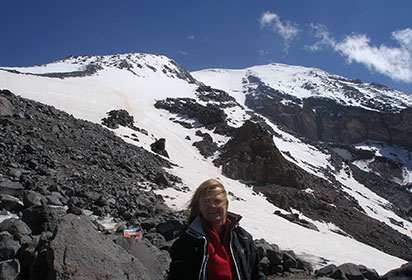 Diana hiking in the mountains of eastern Turkey
If you could travel to any moment in history which would you choose?
I would travel to Midyat in 1915 so I could see for myself what actually happened at the time of the so-called Sayfo, the massacres of Syriac Christians supposedly at the hand of Kurdish tribesmen under instructions from the Young Turks. The historical sources remain very unclear.
How did you first get involved in travel writing?
I first got involved in travel writing after enjoying my best ever holiday in Turkey in the 1980s. There was not a single guidebook to the country in those days, so I thought I might have a go at writing one myself. With no idea about publishing and no contacts, I went to Stanford's travel bookshop in London's Longacre to look at the shelves and take down the names and addresses of the publishers who had done books on Egypt and Greece but not on Turkey. Out of the seven publishers I contacted, enclosing a two-page proposal, two wrote back saying they were interested – the timing was just right, so I was very lucky.
If you had one tip to share with other travel writers what would it be?
One travel tip to share with other travel writers, what would it be – always think ahead to anticipate potential problems when travelling somewhere new and unknown and make sure you are as well prepared as possible with supplies of vital medicines, water and food. At Hasankeyf in Eastern Turkey just a few days ago my husband had a nasty fall to the head as we were clambering down the banks of the Tigris. I had tissues on me for the blood and antiseptic wipes. Local people were incredibly kind and gave us a lift to the clinic where he was given a local anaesthetic and stitches. I had Paracetemol on me for the pain. Then we drove to the nearest proper hospital where he was given a CT scan to the head to check for brain haemorrhage as he had been unconscious and was suffering memory loss. All was fine, thank goodness. The whole thing cost nothing at all, as all Emergency treatment in Turkey is free, and was all sorted within two hours – far far better than the NHS! The Ibuprufen I had helped the swelling go down, and after 5 days we were able to take out the stitches in the hotel using my nail scissors and tweezers.
Get 35% off Diana's Eastern Turkey guidebook by clicking here.