Written by Ben le Vay
We chat to Britain from the Rails author Ben le Vay about his favourite rail journeys from around the world, his inspirations for writing the guide, and his thoughts on the future of British railways.
1. If you had to choose just one, what would be your favourite rail route in Britain? And why?
It's got to be the West Highland Line, which starts in the bustling city of Glasgow and ends up looking across to the Isle of Skye at Mallaig. Along the way you have so many scenic treats – coming out high above Loch Long, the bonny banks of Loch Lomond, the great horseshoe curve, the wilderness at Rannoch Moor, climbing down the shelf of rock at Loch Treig, the Monessie Gorge, Fort William and Ben Nevis, the wonderful Glenfinnan Viaduct in that glorious setting (which is featured so brilliantly on the cover of my book) – plus plenty more. Alternatively, my favourite in Wales the Cambrian Coast Line; in England, the Settle & Carlisle.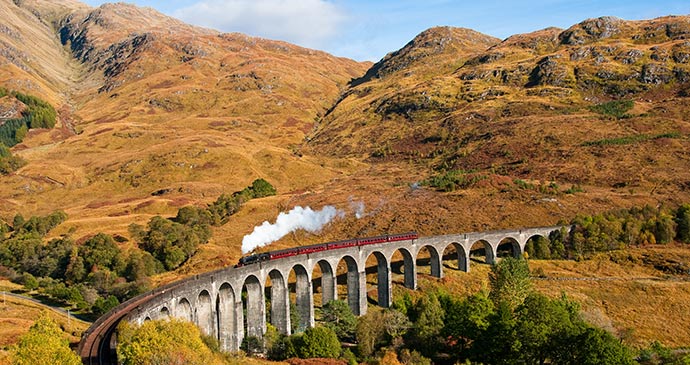 Glenfinnan Viaduct is one of the highlights of the beautiful West Highland Line © Andrew Shapland
2. How does travelling by train in Britain compare to elsewhere in Europe?
Well, in Europe the trains are bigger inside, so it makes it easier to have those 6-berth couchettes for rolling across the continent on enormous 12-hour journeys. They can be fantastically cheap on local services, too. Do have a look at narrow-gauge trains in places like the Basque Country or Austria – both of which I have sampled this year. They are frequent, fun and scenic – and a useful part of the community, unlike many of our preserved railways which tend to be more of a tourist, heritage thing. Although they are lovely (and we do have the best in the world) they don't really help the transport situation.
If you follow the advice in my book you can get really cheap tickets on long runs in Britain and avoid the over-crowding, too. But really the thrill of approaching Edinburgh along the wonderful East Coast Line is like that of approaching Venice across the causeway – it's the romance and anticipation of travel to somewhere wonderful.
3. What inspired you to write Britain from the Rails? Was there a 'eureka' moment?
One of the main factors was the number of people moaning about the railways – it's a national pastime. After a lifetime of enjoying travel around Britain I thought, 'Hang on, we've got something wonderful here, something we did first and did better than everyone else.' And yet I know many people who never go on trains because they are told they are awful, and spend half their holidays inside ghastly airport terminals and in motorway jams. Have they seen the new St Pancras or the new King's Cross stations? Have they crossed the Tweed at Berwick on the Royal Border Bridge? Or rounded the cliff-top to St Ives in Cornwall? Let's get them on board!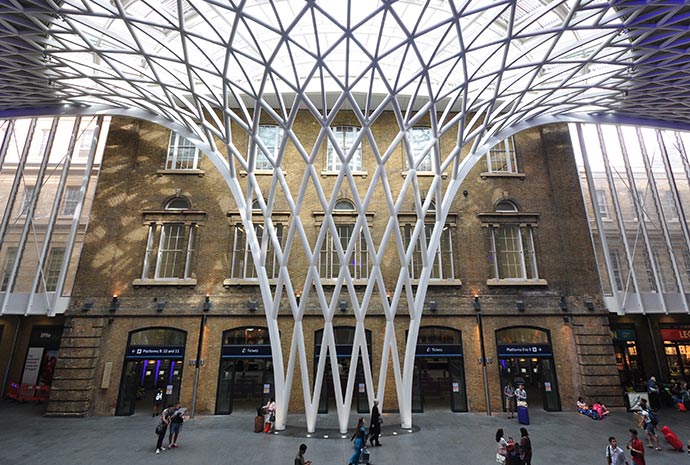 The new concourse at King's Cross © Ron Ellis, Shutterstock
4. How did you first become involved in travel writing?
That's a funny story. I work in Fleet Street, laying out and sub-editing features pages for national newspapers. Back in 1990 we needed 'shorts' for the corners of many pages – these would be quirky or curious snippets about the world of British goings-on. Although it was someone else's job to do research, they weren't always interesting enough so I started knocking them out myself – always something eccentric, such as the World Stinging-Nettle-Eating or Cheese Rolling championships, or else something about railways, or ancient folk customs. The editor grumbled 'Why is that chap doing this?', but I got about a hundred in the paper and it was nice to see your name in print – you don't in my job normally.
Quite a lot of them were about mad things clergymen do – riding up the aisle on a Harley Davidson, hosting a mass pie fight, eating daffodils, that kind of thing – and eventually a vicar's wife from Lincolnshire, bless her, wrote in and said, 'We love those, is there a book?' Ten years later – thanks to Bradt having the imagination to run with the idea – we had Eccentric Britain (which still has people on trains breaking out into laughter), as well as Eccentric London, Eccentric Oxford and Eccentric Cambridge. Getting my first book into print was just wonderful – a bit like having another child! – and if you told me then I'd have half-a-dozen, with some on their third and fourth editions, I'd have been flabbergasted.
5. What do you think the future holds for Britain's railways?
The future is brilliant. We are entering another golden age, like the Victorian era, of investment, which is very odd when you think of the gloomy last half of the 20th century where things mostly got worse and worse, with tracks and station closures, shabby stations, routes singled to save money and generally worn-out trains. You can argue until the last train from Penzance comes home about whether private or public control is the best, but the truth is the system needs hefty investment and good management to be held to account and a fine espirit de corps on the part of the staff themselves – the devotion to the GWR in Victorian-Edwardian times was astonishing, for example.
Wel,l the fact is the investment is pouring in. At every bottleneck around the system – where crossing trains held up all the others so often – massive investment is being made, with new flyovers at Reading, Hitchin, and Nuneaton, and new curves at Ipswich and Manchester. Hundreds of new stations on existing lines have been opened or reopened – when I lived in Hertfordshire in the 1980s we started this process off with a campaign to reopen Watton-at-Stone.
Dozens of seemingly lost branches have been reopened – one from Edinburgh to Tweedbank is being built as I write, and I'll be on the first train, as I was on the last on many of these lines. Lines that were stupidly singled to save a few thousand pounds a year are being redoubled at a cost of tens of millions.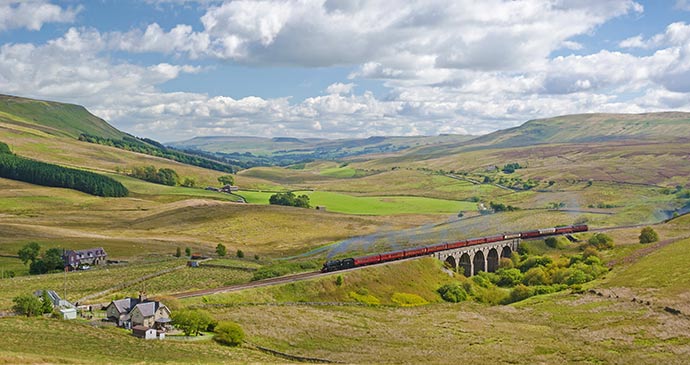 The Settle & Carlisle Line is one of England's best © David Horner
You now enter a busy station such as Didcot or Leeds and see trains to all over the country. Every train is on time – not always, but often. I'm sorry, but that really didn't happen much in BR (British Railways) days.
Plus there is a lot of invisible work going on – culverts, rebuilding bridges, etc – which, although unsexy, results in higher speeds and more safety and reliability.
On top of that, we have massive electrification programmes, such as the Great Western to South Wales and Bristol and the Midland Main Line. There are also huge new lines such as Crossrail and HS2 from London to the North. Despite all this, subsidies are coming down. More people than ever before in peacetime are on the rails – so book a seat (it's free) for long trips!
No die hard rail fan would have put all that on a dream wishlist 20 years ago. It's fantastic and will benefit this country for centuries ahead.
6. Aside from Britain, and its railways, what is your favourite travel destination?
New Zealand. Sensational scenery, used in the Lord of the Rings; wonderfully warm people. They used to say it was like Britain in the 1950s – Morris Minors, Rotary clubs, warm beer, shepherd's pie, rain and royalists. That was only part of the story – you also had the Maori people and the volcanoes. Now, you have terrific Pacific fusion food, fabulous wine, reliable Japanese cars – and still rain and royalists!
---
Read more about Ben's love of the railway in Britain from the Rails. 10% off when you buy from our online shop.