Written by Antony Mason
Searching for a new city break destination? Why not Mons, a European Capital of Culture for 2015. We catch up with Antony Mason, author of our new guide to the city.

How did you get involved in travel writing?
It was Bali. I had just gone freelance as an editor, with a view to doing more writing, and went to Balion holiday. What magic! I had never been to a place with such poetry written into its daily life. I returned there with a contract from Cadogan Guides and spent months travelling the island and researching its cultural history. The Cadogan Guide to Bali gave me my greatest claim to fame: in the film Notting Hill, it is the book that Dylan Moran, the book thief in Hugh Grant's travel bookshop, has hidden down his trousers.
You have been writing about Belgium for over 20 years – what took you there in the first place and what keeps drawing you back?
So I was in Martinique in the French Caribbean, way back, just after university, teaching English in the Club Mediterranée and I met a beautiful Belgian girl. I married her. Many trips to Belgium later, I persuaded various publishers of the unrecognised merits of that country and have been writing books about the area ever since. What I love about Belgium is its understatement: it's a country full of character, poetry, brilliant cooking and beer, but without pretension. So visitors go with modest expectations and return thrilled with its revelations. That foreigners sing its praises is a wonder to the Belgians too.
Although readers may well associate Mons with World War I and the commemorations this year, many may not know much about what the city has to offer in cultural/architectural terms – what is it about the city that makes it a really attractive place to visit? Is there anything that has particularly contributed to it being chosen as a European Capital of Culture for 2015?
I cannot claim to know what was in the minds of the selection committee, but I can say that Mons is an excellent choice as a European Capital of Culture. This is a city that really suffered in the post-war economic decline of Wallonia, which saw the final collapse of heavy industries that had made it rich in the 19th century – notably coal-mining in the nearby Borinage region, the place that the young Van Gogh came to in order to evangelise the downtrodden. But over the last 20 years or soMons has been dragging itself up by its own bootstraps, and turning itself into a pole of modern technology, underpinned by its excellent universities and attracting the likes of Google and Microsoft. At the same time, it has been renovating its historic fabric, which was left relatively unscathed by World War I. So as a city it has beautiful historic heritage – the town hall, Grand-Place, Belfry, the Collegiate Church and so on. But it also has a modern, cutting edge, seen for instance in the excellent modern art gallery BAM (Beaux-Arts Mons). Its theme for 2015 is 'Where Technology Meets Culture', and it is has all the tools to explore that interface. There is a great deal of renovation and new building going on – converting old barracks (Mons was always a military town) and churches, and also parachuting in some top-end prestige architecture, most especially the new Congress Centre designed by Daniel Libeskind and the new railway station (opening in 2018) by Santiago Calatrava. Being awarded the status of European Capital of Culture allows a city to reassess its past and project its future onto a world stage, andMons – which, let's face it, has been relatively unknown up till now – is in an excellent position to make the most of that opportunity.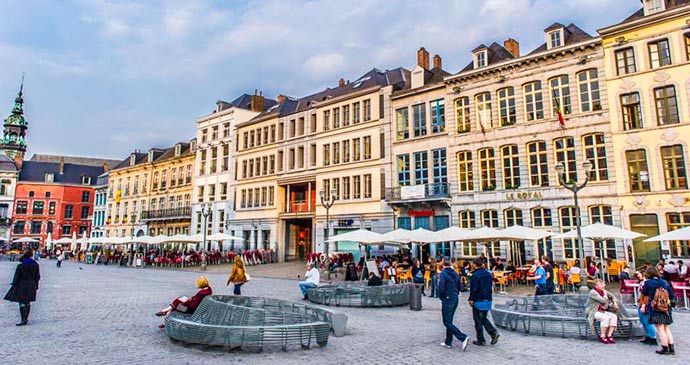 The main square in Mons © Visitmons/Gregory Mathelot
A number of influential figures have been associated with Mons – who do you think has shaped the city most – an angel, a prime-minister-mayor, a canoness, a sculptor? And why?
I am fascinated by the Canonesses of St Waudru, who had a powerful influence over the affairs of Monsfor about 600 years. St Waudru herself was a 7th-century noblewoman, but the Chapter orCollege ofCanonesses named after her emerged in early medieval times, peopled by a very select set of women from aristocratic families. The ruling classes in those days were a very international bunch, and so were the Canonesses. The Chapter acted as a kind of club and refuge and centre of learning and education, with a strong obligation of religious duties – but the women were not nuns, and could leave the Chapter to marry, or indeed to become a nun. And they were wealthy. So with their connections to ruling families acrossEurope they were well protected, and could pull strings, and were consulted by decision-makers at all levels. Information about them is scarce, and I have not yet come across one Canoness in particular who stands out – but there must have been at least one, if not several, in the Chapter's 600-year history (until its dissolution by French Revolutionaries in the 1790s). I need to dig deeper to get a full picture. A research project for the future, maybe – and a good cause to return toMons for a prolonged stay!
You have written widely on Belgian food. Some people say that Belgian cooking ranks among the best in Europe. Why is that? Do you have a favourite dish?
The Belgians have two expressions about food that I like: if they say a restaurant's cooking is 'honnête' (honest), it means well made, unpretentious, and does justice to well-chosen ingredients. Also, they might say it has a 'un bon rapport qualité-prix': value-for-money. That's important. You just know when you are good hands: the food has succulent flavour, and the cook has been tasting to check the flavours well-balanced. The detail is good: presentation is studious while unfussy; the chips (frites), if there are chips, are well made – and, let there be no doubt, Belgian chips are the best in the world, when properly prepared (double-fried in beef fat). Favourite Belgian dishes? Croquettes aux crevettes grises can be superb if well made: little North-Sea 'grey' (we say 'brown') shrimps in a deep-fried, mildly cheese-flavoured batter casing rolled in breadcrumbs, served with crisp sprigs of deep-fried parsley. Chicons au gratin is a classic: Belgian endives wrapped in thin slices of ham baked in a cheese sauce. Or for a snack, how about a Belgian rarebit made of Herve cheese spread on a slice of toast covered with a layer of sirop de Liège (a pear-based jam), and heated under the grill? A bit stinky, but delicious!
If you were to make a pre-Christmas or winter visit to Mons how would you spend your ideal day?
Go to the centre, the Grand-Place, for a start. It's not only beautiful, but it is still the active heart of the city – and a Christmas Market sets up there for a whole month, from early December on. Go to the Tourist Office to check out what's on at the museums and galleries and concert halls, and have a coffee in one of the café/bars to consider the possibilities. I like the walk up to the Parc du Château and the Belfry, which has great views over the city and to the outlying landscape. Then I'd head down to the Collegiate Church of St Waudru, with its wonderfully calm interior, almost cathedral-like in its scale. The most attractive museum in Mons was always the Musée François Duesberg, with its outstanding collection of late 18th-century and Empire-style clocks and other lavishly ornate sculptural ornaments, but soon Mons will have all sorts of other museums to choose from, such as the Mons Memorial Museum (on World War One and war in general), the Musée du Doudou (about the great annual procession and the battle between St George and the Dragon), the Mundaneum and Artothèque. A light(ish) lunch at somewhere like Le Bistro de Jean-Phi. Then a wander around the shopping streets in the centre leading perhaps to a temporary exhibition at BAM, or the Magasin de Papier or the Anciens Abattoirs. Evening: a nice Belgian beer – or more specifically a Mons beer, like a St-Feuillien Grisette – in the Copenhagen Taverne, or La Vie est Belge in the Grand-Place. Then dinner in one of the many great restaurants of Mons: Vilaine Fille, Mauvais Garçon or La Table du Boucher to name but two.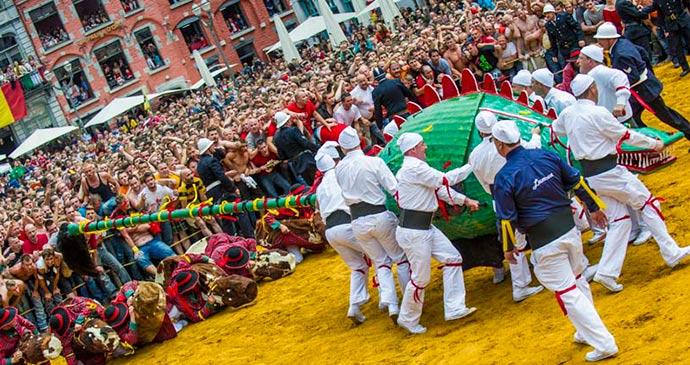 The dragon and its men prepare for a fight for St George at the Doudou © Visitmons/Gregory Mathelot
What was the most memorable place you have ever stayed in Belgium?
I can't just single out one! I like B&Bs in Belgium. The hosts are invariably very willing and hospitable, bringing professional, hotel-standards to their accommodation, and can provide invaluable local knowledge. The breakfasts are usually superb. I'm thinking particularly of Les Chambourlettes in Mons here. There are two hotels in central Brussels that I see as very special: the Brussels Welcome Hotel, where every room is themed around a different, exotic part of the world. And top-of-the-range Hotel Amigo, part of the select Rocco Forte chain: fabulous.
Over the years which area/place in Belgium took you most by surprise and why?
Again, it's hard to pick out one in particular: there are plenty of places that have very special and individual merits. Bruges and Ghent, for instance, are lovely – but perhaps there is no element of surprise there. It may seem a bit scheming, given that it's the subject of my new travel guide, but actually Mons surprised me by its unpublicised charms. It's just a really nice place to be. But a lot more people are going to know about that after 2015 – its year as European Capital of Culture. Another place that I found surprisingly enchanting is the fortress town of Bouillon, in the far south. Read Patrick McGuinness's wonderful, poetic memoir Other People's Countries (2014), which centres on Bouillon, for a delightful picture of life in the town, and, by extension, what in general makes Belgium special.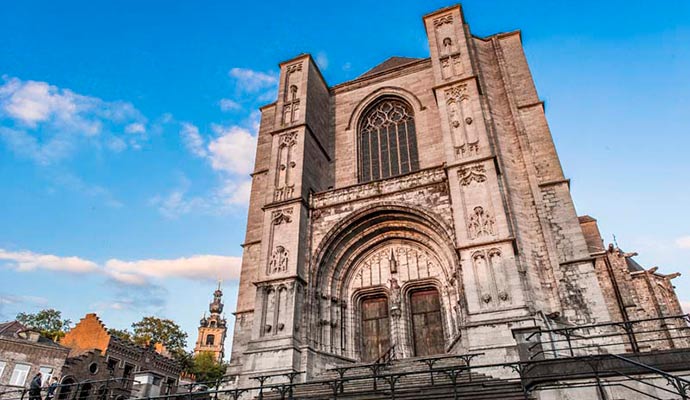 Collegiate Church of St Waudru © Visitmons/Gregory Mathelot
There are many silly jokes about famous Belgians – but is there a funny story would like to share from your experience travelling there or perhaps a particular figure you would like to highlight to readers?
The great surrealist artist René Magritte was famously downbeat and unassuming, and resolutely unbohemian in appearance, dressing like a banker in a suit and tie as he set to work at an easel in his dining room, and leading a sociable and very devoted domesticated life with his wife Georgette. This duality can best be summed up in his declared desire 'to make familiar objects roar'. His former house in Jette, in suburban north Brussels, where he lived from 1930 to 1954, is now preserved as the René Magritte Museum, and provides a beguiling insight into the man, and into the secret character of Belgium, where individuality burbles beneath a veneer of conformity. 'Life obliges me to do something,' he said with marvellous flatness, 'so I paint.'
To buy our Mons guide, click here.