Written by Hugh Collins
International Museum Day
Since 1977 International Museum Day has been organised around the world to take place on 18 May. To celebrate we asked some of our authors for their top-choice museums. For more information on International Museum Day visit http://network.icom.museum/international-museum-day.
---
Recommended by our authors
Museo de la Silla de Asunción
Nominated by Margaret Hebblethwaite, author of our Paraguay guide.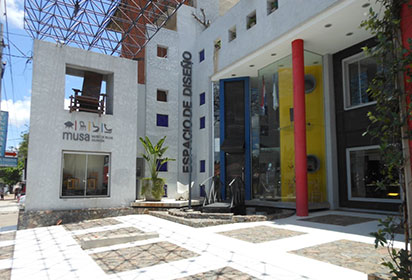 Artigas 4289 c/ Juana Pabla Carrillo; 021 297500; museodelasilla@silday.com.py; 08.00–11.30 & 13.30–17.00
Go to this new and little-known Museum of Chairs if you possibly can: you cannot believe what fun it is to wander up a circular tower with five floors of some 400 imaginative, colourful, innovative and amusingly designed chairs. The collection has been put together by Argentinian architect Jorge Nicolás Jury, who has lived 37 years in Paraguay, and it is housed in a striking modern building of his own design. There is everything from the apyka of the Guaraní indigenous, to the barber's chair sat in by astronaut Neil Armstrong; from a child-size Chippingdale-inspired gem, to a giant 4-metre-high copy of a ladder-back chair by Charles Rennie Mackintosh (nineteenth-century Scottish pioneer of industrial design); from a 120-year-old German school desk with the pupil's name carved into the top, to the Zig Zag chair of Gerrit Rietveld; from a polished wooden hand large enough to sit in, to an antique chair with a wonderful carved back, on sale for US$1300. The Paraguayan artists Carlos Colombino, Ricardo Migliorisi and the two sons of Hermann Guggiari – Sebastián and Javier – are represented here, with useful biographical details. An international library of books on design is planned for the future.
The National Museum of Computing
Nominated by Sheridan Williams, author of our 2012 & 2013 Solar Eclipse guide.
There is no need to travel to California to see wonderful old computers – Colossus, WITCH, EDSAC and BBC Micros, Laser discs, 1980s games machines, when a simple 35 minute train journey from Euston to Bletchley will suffice.
Although at Bletchley Park, you can visit The National Museum of Computing for only £5. Oh and virtually all old computers are switched on and working. During Easter special events are put on, just peruse the website. Allow at least 2 hours at the museum. (http://tnmoc.org)
National Museum of Taiwan History
Nominated by Steven Crook, author of our Taiwan guide.
"Of the several tableaux vivants on the second floor, two in particular stand out.
One is a recreation of Lukang's waterfront as it would have looked in the 18th century, when the central Taiwan town was one of Taiwan's busiest harbors. The diorama features several lifelike waxworks figures, among them stowaways (who cower in the hold of a single-mast junk, hoping to evade the imperial ban on migrating to Taiwan), the vessel's captain, stevedores, and an official wearing a traditional mandarin's gown
Another depicts a traditional religious parade. Anyone curious about the roles played by Bajiajiang (fierce-looking young men with painted faces who prance menacingly in front of the palanquin bearing the god's effigy) and others during such events will appreciate the clear and concise information – even if they have to kneel on the floor to read some of the panels.
According to a museum spokeswoman, more than 200 waxworks figures (actually fiberglass) were crafted for the museum, and the physique and face of each one was modeled on an actual living person – including, in one case, NMTH Director Lu Li-cheng and his daughter." (http://www.nmh.gov.tw/)
Other museums participating as seen in our guide:
Nigeria: National Museum, Lagos
How they're celebrating: opening all exhibitions/galleries for free, plus lectures, essay writing and drama.
The museum is set back in large grounds and houses numerous exhibits of Nigeria's ancient civilisations, including some famous bronze and terracotta sculptures. Guides are available for the museum itself for a small dash, but everything is labelled reasonably clearly so it's easy enough to wander around by yourself. This can be rather infuriating, though, as there are no dates marked on anything, so there is no way of telling how old things are, and even the guides, who do little more than read off the labels anyway, are a little vague on the age of the exhibits. There are a few dusty old books and magazines for sale in the reception area but nothing of great interest.
The museum's exhibits cover Nigeria's traditional religions such as the Yoruba gods and deities and masquerade festivals, which many ethnic groups use to connect with their ancestors and to express their cultural traditions. Many of the masquerade costumes and masks on display are elaborately decorated with raffia, cowrie shells, beads and horns. There is an extensive selection of old musical instruments on display including drums, flutes and horns, the most elaborate being the trumpets still used in the north to signal the arrival and departure of the emir at Friday prayers or special events.
Israel: Ghetto Fighters' House Museum
How they're celebrating: free entrance to all exhibitions.
The vast museum complex was established by a group of Holocaust survivors who aimed to tell the story of the Jewish people throughout the 20th century and in particular remember those who died and suffered in the Holocaust. It focuses on Jewish resistance throughout World War II, exhibitions including 'The Warsaw Ghetto Fights Back' and 'Ghettos and Deportations'. The moving Yad LaYeled (Children's Museum) focuses on the children of the Holocaust, and is a combination of informative displays, symbolic objects and audio-visual presentations.
Albania: National History Museum, Tirana
How they're celebrating: coming together with private collectionists in Albania for a joint exhibition.
Dominating Skanderbeg Square is the National Historical Museum, with its huge mosaic mural above the entrance. The museum was opened in 1981 and the mural is an excellent example of the triumphalist art of the time. It depicts victorious Albanians from various points in history, from Illyrians to partisans via the fighters and intellectuals who won independence from the Ottoman Empire. You should allow at least two hours to go round the whole museum.
There are many interesting things on display and the labelling has greatly improved in recent years, with helpful maps and information on multi-lingual panels. Each display case usually has a summary in English and French. On the ground floor – the prehistory, antiquity and late-antiquity sections – some of the individual exhibits are labelled in English and French as well as Albanian. The exhibition is arranged in rough chronological order, and starts with prehistoric finds from the Stone, Copper, Bronze and Iron ages. There are maps of Illyrian tribes and city states at different points in time, and examples of Illyrian jewellery, coins and votive objects in terracotta and bronze from the 3rd to the 1st centuries BC. Two outstanding works of art date from the 4th century BC: a head of Apollo, discovered in the orchestra of the theatre at Butrint, and known as 'The Goddess of Butrint'; and the first mosaic ever discovered in Albania, which portrays a woman's head and is called '!e Belle of Durrësi'. There is pottery from the Greek colonies in what is now Albania, 3rd-century armour and reconstructions of 2,000-year-old agricultural implements. Maps on the walls show the sites of uprisings and invasions during the turmoil of the 11th and 12th centuries.
Georgia: State Museum of Folk and Applied Art of Georgia, Tbilisi
How they're celebrating: visitors will be able to listen and see the theatrical tale created with museum exhibits and dolls by Karlo Sulakauri.
Going around to the left (clockwise), you'll come first to a big open-plan house from Abacha in Mingrelia, with a sleeping platform; then a farmstead, also from Mingrelia, with attractive wooden panelling around a bukhari or chimney. An 18th-century house from Imereti is built of logs on a stone base, also open-plan with a central chimney; above a house from Lanckhuti (in Guria), which has an ingenious babywalker on the verandah, a smithy is still in use. The shorter route back passes another Imeretian house, with the traditional Georgian marani or wine store; the alternative is to climb up the hill to a restaurant by the road, near large and impressive houses from Adjara and a Svan defensive tower on the ridge. Returning down the hill you'll pass a house from Teliani (near Kaspi) just before the ruined 6th-century Church of Sionis Tianeti and a row of tombs (one, with an inscription in Old Georgian, under glass); beyond this a stone building half-set into the hillside is from Kakheti. Finally, hidden away right at the bottom is a 2m phallic stone from Abkhazia.
Zambia: Lusaka National Museum, Lusaka
How they're celebrating: talks from the ICOM President.
Lusaka National Museum officially opened its doors to the public in October 1996, more than ten years after its inception. It was to have been part of the UNIP Party complex on Independence Avenue but, after Kaunda's electoral defeat in 1991, the plans came to naught and the complex remained an unfinished eyesore until the government stepped in. The museum houses several galleries on two storeys, and is well worth a visit. Upstairs is the museum proper, currently in the throes of a major and ongoing reorganisation, subject to securing appropriate funding. The eventual aim is to focus individually on Zambia's history, rural culture and urban culture, with a separate children's corner. Already there's a life-size rural village complete with rondavels and model people, set against a painted mural, all depicting traditional village life. It's well thought out and executed, and bodes well for the future.