Written by Her Royal Highness Princess Michael of Kent
In her new book, A Cheetah's Tale, Her Royal Highness Princess Michael of Kent discusses her experiences with cheetahs – from caring for Tess, an orphaned cub, to becoming the Royal Patron of the Cheetah Conservation Fund in Namibia. Accompanied by extracts from the book, the following images showcase some of the highlights of her story.
Early encounters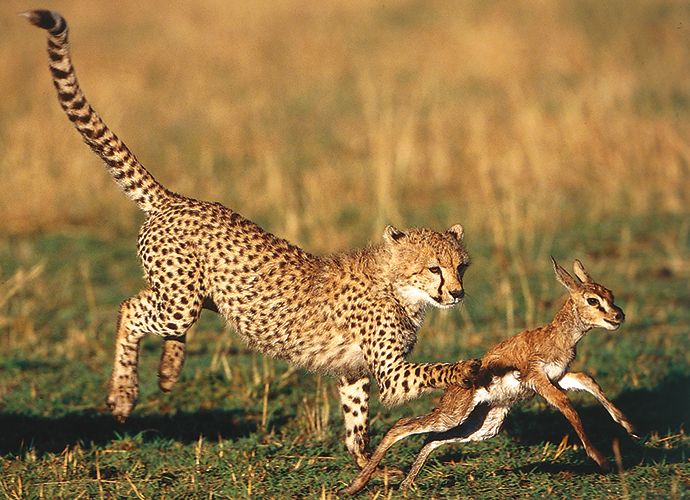 Princess Michael remembers the first time she saw a cheetah hunting as 'thrilling' © Jonathan and Angela Scott
'There he was – in a large stretch of dry grass – my first cheetah about to make his charge. I zoomed in and watched open-mouthed as he ran, his action indescribably elegant, almost floating above the ground alongside his antelope target, whirling and twisting as he shadowed it, his long, white-tipped tail swinging to balance him as he made sharp turns. The antelope managed to escape, but that day I saw for the first time a cheetah at full speed hunting, and the thrill of it engulfed me… Since my early Africa days, I have often watched slow-motion films of cheetahs running down their prey.'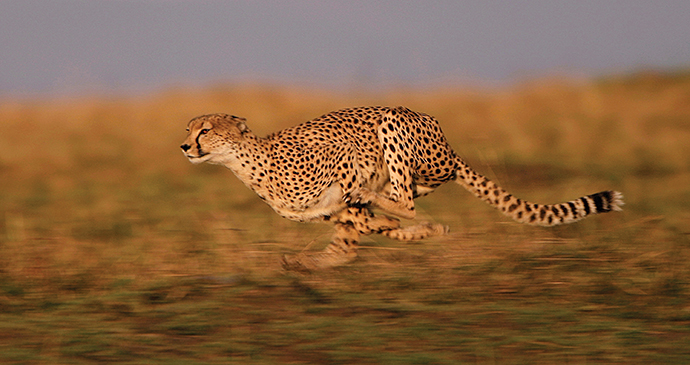 Cheetahs can reach speeds of over seventy-five kilometers in a few seconds © Jonathan and Angela Scott
'With its speed coming from its muscled, elongated lower limbs, a cheetah can pass seventy-five kilometres in the first few seconds. Another aid to its speed is a large heart to pump blood and large lungs for faster breathing.'
Caring for Tess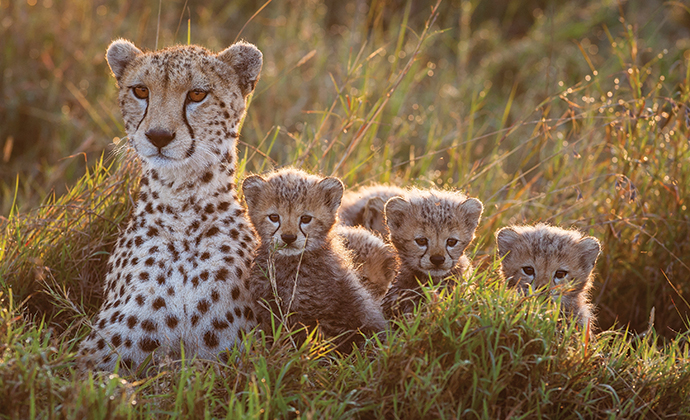 Princess Michael had to learn how learn how to care for the orphaned Tess © Jonathan and Angela Scott
'That first week, when I spent all day and every night caring for the little cub, I could not have managed without Eduardo's [the local Portuguese vet] guidance. Oh, how I welcomed his daily visits! He advised me to mix a little egg yolk into her milk, as well as crushed vitamins he added to her bottle to compensate for the lack of nutrients from her mother.'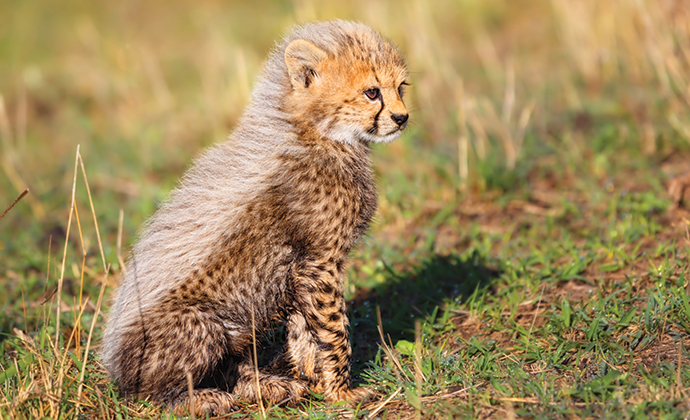 Cheetah cubs grow an extra fluffy coat on their backs © Maggy Meyer, Shutterstock
'I noted in my journal that in those first weeks I never slept more than two hours at a stretch before Tess would wake and demand milk or attention. Her little face was smooth, but almost all of her back was covered in a sort of fluff – not as strong as fur on a coat, and a beige-honey grey in colour. Eduardo explained that this was called a 'mantle'.'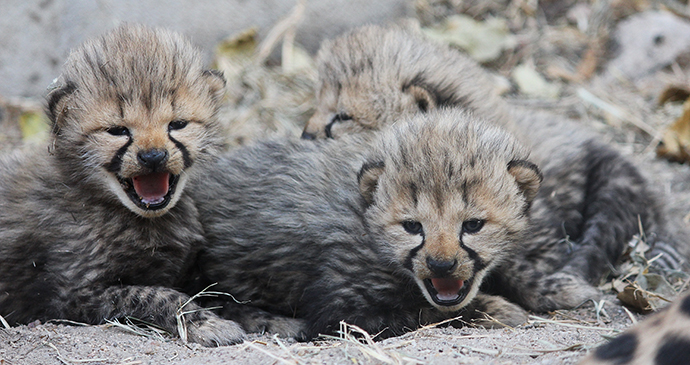 Cheetahs have their own unique ways of communicating © Christo Schreiber
'In the wild, cheetah cubs can depend on their mother to hunt for them and to teach them to hunt from about six months old. But since Tess had no mother to teach her I was very surprised when, at ten months old, she began chirruping to be let out at dawn.'
Cheetah conservation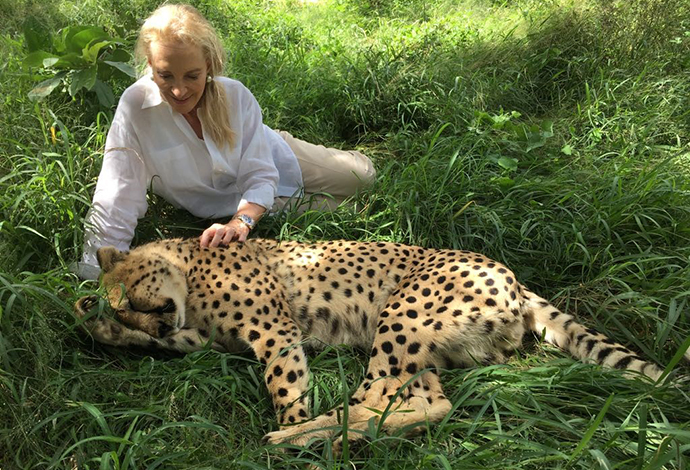 Princess Michael is now the Royal Patron of the Cheetah Conservation Fund in Namibia © HRH Princess Michael of Kent
'Since I became the Royal Patron of the CCF (Cheetah Conservation Fund) in Namibia, I have renewed my trips to that beautiful country I first visited in 1962 when it was called Southwest Africa.'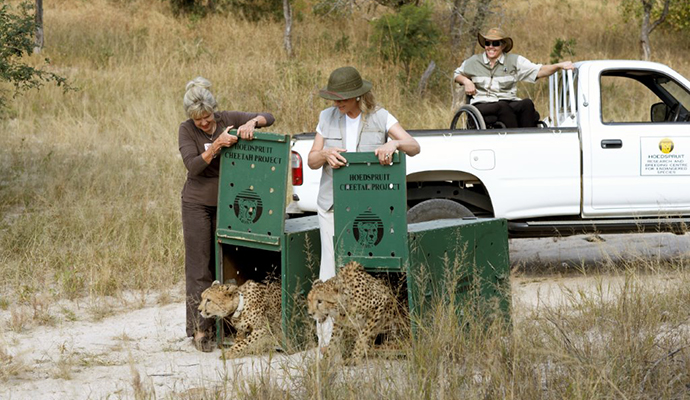 Princess Michael has witnessed cheetahs being released into the wild, and has even helped to release them herself © HRH Princess Michael of Kent
'Not long ago I was there with Dr Laurie and her team to watch her release three male cheetahs into a friend's substantial estate where there was room for them. It was fascinating to watch the big cats follow a vehicle towing a dead antelope out of the safety of their large enclosure and into the open countryside.'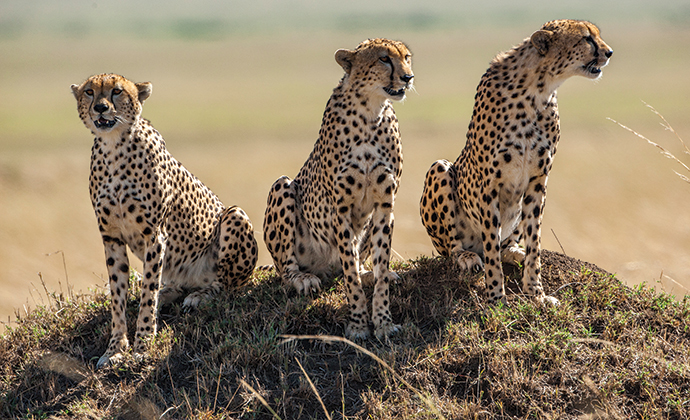 The princess is committed to cheetah conservation efforts © Jonathan and Angela Scott
'With so many native species declining in nature, I will pledge my continuing efforts to try to help at least one of them, the cheetah, to survive.'
---
Want to read more of HRH Princess Michael of Kent's story? Her book, A Cheetah's Tale, is available now.