Written by Keith Barnes and Josh Engel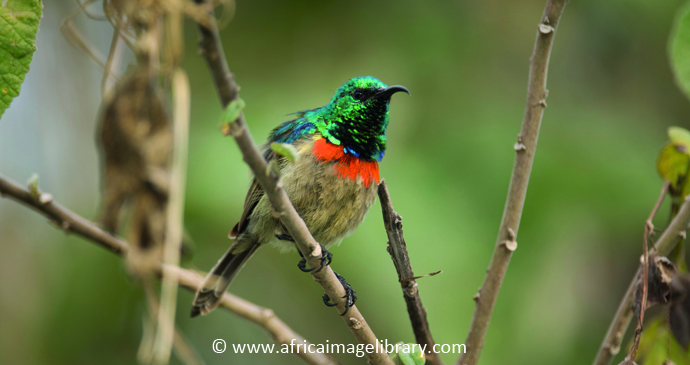 The beautifully feathered eastern double-collared sunbird is a birdwatcher's dream © Ariadne Van Zandbergen, Africa Image Library
Gorongosa National Park is one of the most rewarding destinations in Mozambique, with more than 500 species recorded, and what it lacks in terms of the sort of forest specials associated with Mount Gorongosa, it compensates for in terms of variety, with waterbirds in particular being very well represented. The open woodlands, grassland and huge wetlands of this national park make for easy and highly rewarding birding. The road into Chitengo passes through many grassy areas (keep an eye out for moustached grass warbler and a wide variety of finches) as well as extensive miombo woodlands, with thick billed and barred long-tailed cuckoos, racket-tailed roller, Arnot's chat, southern hyliota, purple-banded sunbird, broad tailed paradise whydah and Cabanis's bunting heading a list of local specialities. The localised sooty falcon is among the many raptors that can be seen along the road, and bronze-winged coursers are present, but probably seasonal.
Gorongosa National Park has more than 500 species recorded, with an incredible variety of avifauna, especially waterbirds.
The area around the campground has quite good birding. Collared palm thrush is fairly common, but black-and-white flycatcher is more difficult to find, though it is often seen calling from the tall trees around the cabanas. Dickinson's kestrel, red-necked falcon and racket-tailed roller all occur here too. The most important seasonal wetlands accessible from Chitengo are the Mussicadzi and Urema floodplains. There's always a fair amount of avian activity at these floodplains, and sometimes they host fantastic numbers of pelicans, storks and other large waterbirds, alongside such sought-after species as Baillon's crake, long-toed lapwing, wattled crane and greater painted snipe. A useful checklist of birds recorded in the park can be downloaded at www.gorongosa.org/explore-park/wildlife/gorongosas-birds.