Written by John Man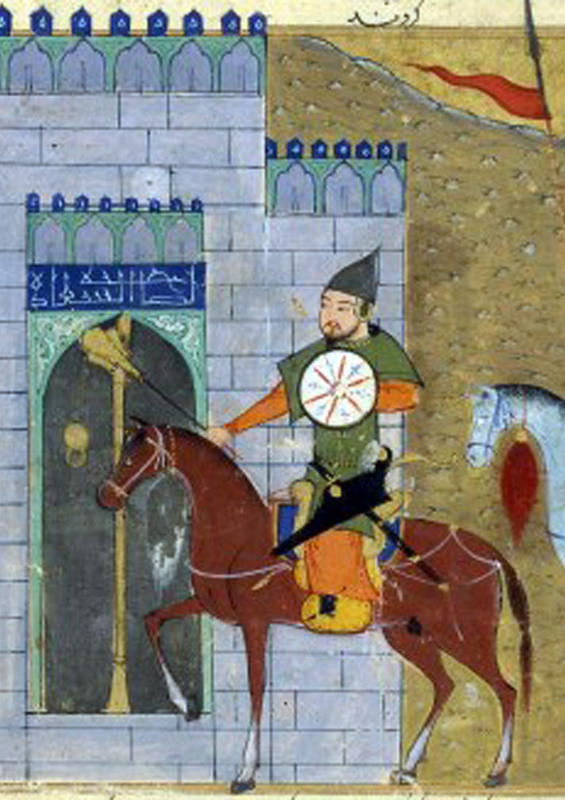 Where is Genghis Khan buried? This is one of the world's great unanswered mysteries, of peculiar fascination because it is almost universally assumed that the ruler of half Eurasia must have been buried with matching wealth.
The few sources are not much help. The one that should offer the greatest help, The Secret History of the Mongols, offers none at all. Genghis, it reveals, died in August 1227 while campaigning in north China, and then 'ascended to Heaven'. Clearly, it intended the burial to remain secret. Chinese sources are little better. Two envoys visited what they thought was the site within ten years of his death, but did not identify the place. Anyway, they say that horses had been driven over it to disguise the spot; and they were not allowed past a line of guards and guard posts set well away from the grave.
(Photo: An Afghani manuscript illustration of Genghis Khan and the siege of Beijing © Sayf al-Vâhidî, Bibliothèque nationale de France, Département des Manuscrits, Division orientale)
Almost certainly, Genghis was brought back to the Mongols' heartland, today's Khentii Aimag – probably for a simple burial, as befitted his nomad roots. Here in the Khentii Massif is a sacred mountain associated with Genghis from his youth: Burkhan Khaldun – Holy Khaldun. Today that mountain is identified as Khan Khentii, the King of the Khentii. Mongols assert that this is where Genghis was buried, in a yet-to-be-discovered grave.
Though only a day's drive (some 200km) from Ulaanbaatar, Khan Khentii is not easy to get to for cars. It's in the Khentii National Park, and visitors need permission. There's a rough 30-mile approach track, several peat bogs, a steep ridge and a river (the upper Kherlen) to negotiate. It all depends on the weather and the state of the bogs. Horsemen, though, go often enough to make a path to the summit.
Buddhist and shamanists have worshipped up here possibly for centuries. At the very top, capping a feature we will get to in a moment, is a well-built ovoo, one of those rock shrines with which Mongolians honour high places. This one consists of a circular wall some 5m across, from which rises a pole topped by a silver war helmet and black horse tails – Genghis's war standard. All around are a hundred or so smaller ovoos (made over the last century, by the look of them).
Almost certainly, Genghis was brought back to the Mongols' heartland, today's Khentii Aimag – probably for a simple burial, as befitted his nomad roots.
Is Genghis really somewhere on the mountain? For those who want the truth, there are problems, the main one being that there is no certainty that Khan Khentii is in fact the Burkhan Khaldun of the historical sources. Names shift with time. Today's mountain does not quite fit with details in The Secret History. Perhaps Burkhan Khaldun was a different mountain. Perhaps the name referred to a range containing a number of peaks. Perhaps each clan had its own sacred mountain, its own Burkhan Khaldun. No-one knows. Believers point to so-called evidence. Firstly, on the lower flanks of Khan Khentii are the remains of a temple, possibly the one known to have been built by Genghis's great-great-grandson, Kamala, who was in charge of the burial site.
Secondly, a vast mound of stones on the mountain's summit looks like an enormous ovoo. One scientific paper calls it 'an ancient tomb … (which) may be the tomb of Genghis Khan'. And thirdly, collections of stones on the upper slopes look like graves, suggesting that this is a cemetery not only for Genghis, but for some of his heirs as well. Yet all of this 'evidence' is extremely shaky, as I have seen in three expeditions up the mountain. The temple is of later origin (on the evidence of a few scattered tiles). The 'graves' are not graves. I dug up one of them and found nothing but peat.
It's possible that Genghis is up here; certainly almost everyone believes it, but belief, however strong, is not the same as certainty.
They are geological features – 'stony circles', as geologists call them, made by rain, frost and time acting on streams of stones moving downhill immeasurably slowly. These stones all come from the top – a dome so regular that it does indeed look artificial. Could it be? It is about 250 by 200 by 30m in size, which gives a weight of about 630,000 tonnes. It could have been built in a few years by 2,000 men working with 900 oxen, supplied by herds, tents, pastures, and horses based in the valley below. But the idea is totally at odds with both tradition and the sources.
Mongols did not build mounds for royal graves, and the sources speak only of a secret grave. It is hardly conceivable that such a vast project would have left no traces in official histories or the earth or literature or folklore. The clinching argument is from geology, which suggests a far better explanation. Over the last 50,000 years, the mountain was covered by ice several times, grinding it down. Some 13,000 years ago, the last of the melting ice dropped its rocky detritus to form the vast, neat oval, much as it is today, except that cold, ice and summer rains continued to eat away at the cairn, breaking the rocks and carrying them downhill in slow-motion streams. Men could have built it up. But they didn't. Ice broke it down.
It's possible that Genghis is up there; certainly almost everyone believes it, but belief, however strong, is not the same as certainty. The mystery remains.
John Man is the author of Genghis Khan: Life, Death and Resurrection.