Written by Mike Pentelow and Peter Arkell
Are you a lover of all things spooky? Our new Freedom Pass guide is packed full of haunted pubs, chilling cemeteries and mysterious museums. Here are some of our favourites:
Thomas Hardy Tree
Thomas Hardy (1840–1928), the novelist, worked for the Midland Railway Line, which built the railway track over part of St Pancras Old Church's graveyard in the 1860s. He was responsible for removing the bodies and dismantling the tombstones, so spent many hours in the churchyard. Some headstones were placed around an ash tree, known as the Hardy Tree, which has since grown in and around the stones.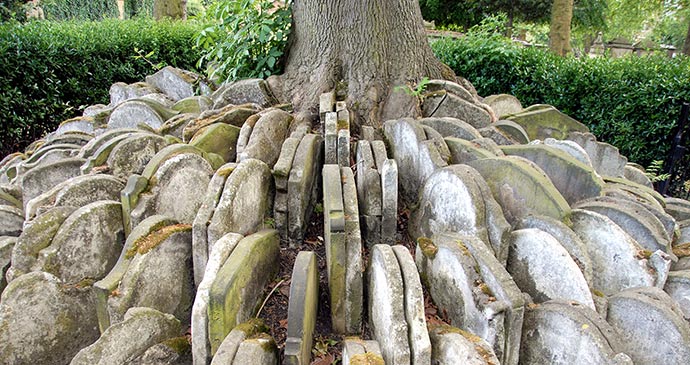 © Peter Arkell
Between Mary Wollstonecraft's tomb and the Hardy Tree is the tomb of Sir John Soane. It is said to have been the inspiration for Giles Gilbert Scott's K2 telephone box (the type still seen on our streets, and now protected by listed building status).
Hunterian Museum (Royal College of Surgeons)
A must for lovers of the ghoulish and macabre, but definitely not for the squeamish (there are skeletons of foetuses and bottled organs). One of the oldest anatomical collections in the world, this free museum reveals 400 years of medical history right up to the latest advances in minimal access surgery. To give a taste (maybe an unpleasant one) there are: the distal end of the stomach of a horned dogfish (with the commencement of the intestine, pancreas and spleen), the sac of a hernia (with a partially constricted portion of a small intestine which killed a watchmaker) and part of a dog's skull (showing atrophy due to infestation of the brain with parasitic worms).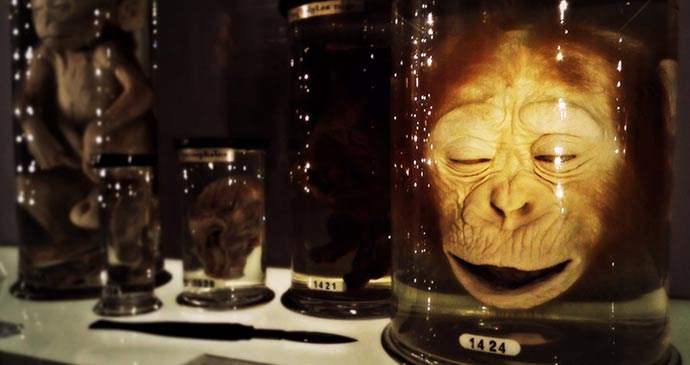 © OFE
There are also photos of the war wounds and early plastic surgery used in World War I, and coronary bypass surgery in 2003. John Hunter (1728–93) started the museum. After no early formal education, he trained as a surgeon and became very proficient at dissection and experimental research. In 1777 he tried to resuscitate the body of Rev. William Dodd, who had just been hanged for fraud and forgery. Hunter had previously revived people who had been drowned. Dodd's friends bribed the hangman to cut him down early and rushed the body to Hunter whose attempt to revive him in a hot bath failed. Dodd had written his best-selling autobiography in prison during his last two weeks, prompting his friend Samuel Johnson's famous remark: 'When a man knows he is to be hanged in a fortnight it concentrates his mind wonderfully.' Hunter's brother William had a medical school which received corpses from body-snatchers at 8–10 Windmill Street, off Tottenham Court Road, where over a hundred bodies were found hidden in a shed in 1776.
John Hunter died heavily in debt so the government purchased this museum in 1799 to bail his widow out of debt, and then gave it to the forerunner of the Royal College of Surgeons.
St Nicholas Church, Elstree
Buried here are no fewer than three murder victims and one of the country's most eccentric explorers was baptised here.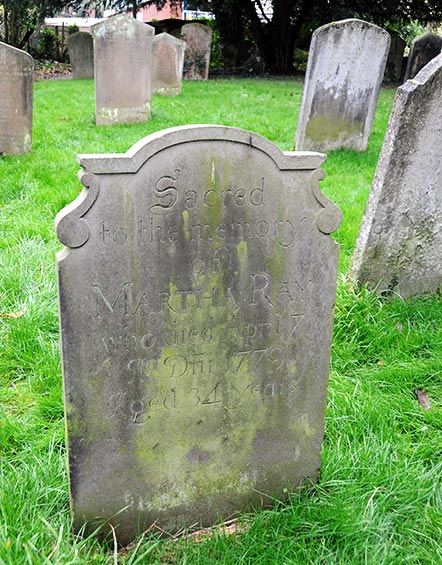 The first murder victim was Martha Ray, born in Elstree in 1742, who was shot in the head by her spurned lover on 7 April 1779. She gave birth to five children by the 4th earl of Sandwich, a member of the Hell Fire Club, who was 24 years older than her. She had a brief affair with a young army captain (later to become a vicar) called James Hackman. He later became excessively jealous and followed her to a Covent Garden theatre. When a stranger offered to escort her to her carriage, Rev. Hackman (as he now was) stepped forward with two pistols, shot Martha through the crown of the head with the right, and aimed the left at his own head, but the bullet glanced off merely wounding him. He was sentenced to death and was publicly hanged in front of a large crowd at Tyburn, and his body publicly dissected. Many pamphlets and poems about the crime were published as well as a novel, Love and Madness by Sir Herbert Croft in 1780. Martha's body was entombed inside this church under the chancel floor. In 1820, her coffin was discovered when the church was being renovated and she was reburied outside the vestry door (the back entrance), where it remains to this day.
(Photo: The gravestone of Martha Ray, one of three murder victims buried at St. Nicholas Church © Peter Arkell)
The second victim interred here is William Weare, murdered locally in 1823 and buried about 20 yards to the east of the vestry door. He was a solicitor and a heavy gambler and won £300, a fortune in those days, for a game of billiards or cards from John Thurtell, who strongly suspected Weare of cheating. So Thurtell invited him to a cottage belonging to his friend William Probert, three miles from Elstree village, for 'a weekend's shooting'. They took Weare to the Waggon & Horses pub in Watling Street, Elstree, where he was shot in the face by Thurtell, but the bullet glanced off his cheek bone. Thurtell then cut Weare's throat with a knife, then battered him to death with his pistol. Thurtell, Probert and their accomplice Joseph Hunt dumped the body in a pond. Afterwards they enjoyed a supper of pork chops, drank, sang and shared out the victim's property. Probert gave evidence against Thurtell in return for immunity from prosecution. Thurtell faced the noose 'nonchalantly' in 1824.
His was the last public execution in Hertfordshire. Hunt was also sentenced to death, but this was commuted to transportation to Australia, where he eventually became a police constable. Probert was shunned for his treachery and hanged a year later for stealing a horse from a relative.
The third murder victim whose final resting place is here was Eliza Ebborn, from Watford. A married woman aged about 31, she was killed by a 24-year-old shoemaker, George Stratton, on 13 August 1882 in Elstree; she was buried four days later in the then new extension to the old churchyard. His death sentence was repealed and he was committed to an institution on grounds of insanity.
Old Barnes Cemetery
Ghostly tales abound about this derelict and overgrown cemetery which was used from 1855 until the 1950s. A hovering nun is said to float over one of the graves, and Spring Heeled Jack (a devilish imp with pointed ears and piercing eyes) carried out a series of attacks on people in Victorian times. He was able to jump extraordinarily high, and was first seen in this area in 1837. Witnesses described him as devilish, terrifying and frightful in appearance, with a diabolical face, clawed hands plus sharp metallic claws, eyes like red balls of fire and an ability to breathe out blue and white flames. He was never caught.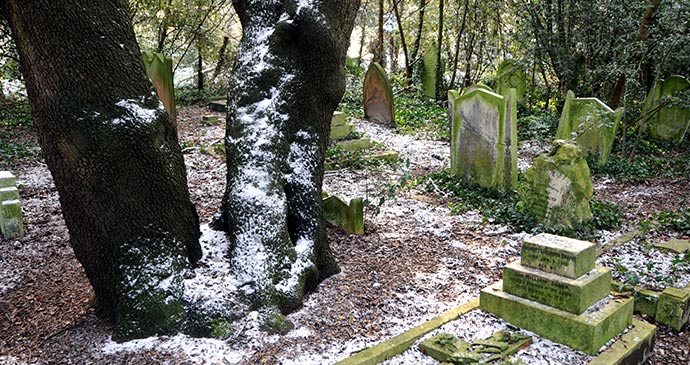 © Peter Arkell
Mother Red Cap
Mother Red Cap was the nickname of Jinney Bingham (1600–80), also known as 'Mother Damnable' and 'The Witch Queen of Kentish Town'. Several of her husbands died in strange circumstances.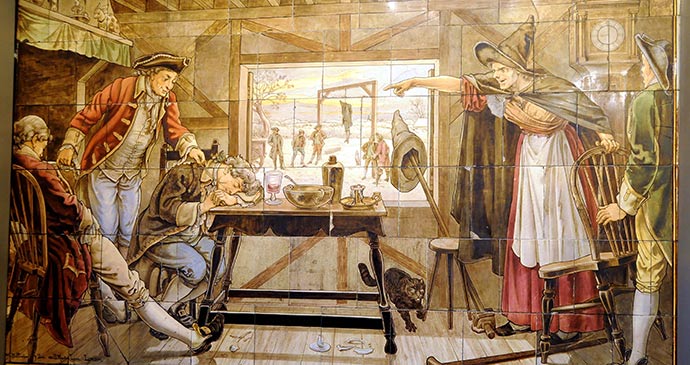 Portrayal of Mother Redcap in the nearby Mother Redcap Pub © Peter Arkell
The first, 'Gypsy' George Coulter, was hanged for stealing sheep in nearby Holloway. The second, called Darby, beat her when drunk and disappeared after Jinney told her parents about his violence. Her parents were later hanged for using witchcraft to kill a woman. The third husband, named Pitcher, was burned to death in Jinney's oven. She was tried for his murder but acquitted after a neighbour gave evidence that Pitcher 'often got into the oven to hide himself from her tongue'. Jinney was also accused of poisoning a lodger but the inquest failed to establish this. Her cottage stood where the World's End pub now is at 174 Camden High Street (it was called the Mother Red Cap until 1986 and still has a bar named after her). She helped shelter highway robber Moll Cutpurse (who had a pub named after her in Tottenham which has recently been renamed the Crow Bar).
Jinney was suspected of being a witch because she wore a cape with bats on it, a red hat and always had a large black cat. Crowds therefore taunted her outside her house but she just screamed profanities back at them. She was described in 1870 by Samuel Palmer in his History of St Pancras as having 'a large broad nose, heavy shaggy eyebrows, sunken eyes and lank and leathery cheeks; her forehead wrinkled, her mouth wide and her looks sullen and unmoved. On her shoulders was thrown a dark grey frieze, with black patches, which looked at a distance like flying bats.'
A rhyme about her concluded:
Her features were shrivelled and brown as a mummy's hide,
And she passed for a witch, whose amusement was homicide.
This pub once had a picture of her with a pot of ale in one hand and cakes in the other with another rhyme:
Old Mother Red Cap, according to her tale,
Lived twenty and a hundred years by drinking this good ale;
It was her meat, it was her drink and medicine beside,
And if she still had drunk this ale she never would have died.
Samuel Pepys dropped into the pub with his wife and laughed at the likeness between the picture and the barmaid serving him.