Looking for a foodie fix this summer? Check out some of our favourite gastronomic attractions from across the country:
South Devon Chilli Farm
From the small beginnings of a few rented acres in 2003, this unique farm now has around 200 varieties of chilli on a ten-acre site, producing around ten tonnes of chillies in large polytunnels.
Visitors are welcome to visit the show tunnel during the summer months and see the different varieties, and a video in the farm shop shows how the sauces and chocolates are made. Here you can buy a huge range of chilli products including chilli chocolate, made on the premises, which is addictive after the initial shock – cautious buyers can taste a sample first. Seeds, seedlings and plants are available by mail order as well as on the premises.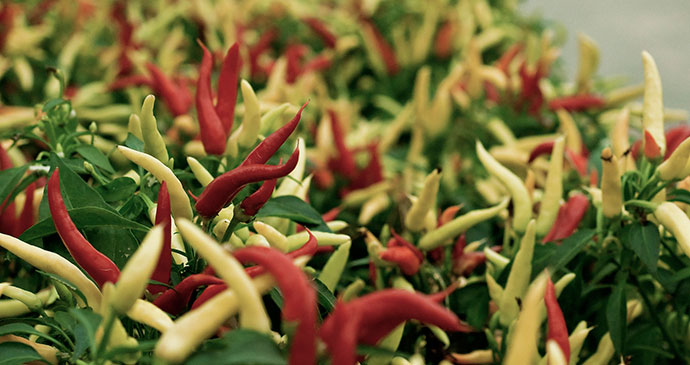 The plants are labelled in detail: where they come from, what they look like when mature (so the decorative side) and – most important – the degree of hotness. The very hottest is Carolina Reaper at around two million Scoville heat units, but there are plenty of milder ones too.
The café serves a good range of food, for all tastes, with indoor and outdoor seating. There are activities and a play area for children (including a chilli-themed play tractor). The best months to visit are July to October, when the chillies are ripening and at their most colourful.
Wensleydale Creamery, Yorkshire Dales
Lovers of real Wensleydale cheese have some unlikely benefactors to thank: the French, a local farmer called Kit Calvert and two Plasticine heroes in the form of Wallace and Gromit.
The recipe for this mild, white cow's-milk cheese almost certainly came over from France with the Cistercian monks and was passed down via farmers' wives to the dairy at Hawes. Twice in the last 80 years this sole producer of genuine from-the-dale Wensleydale cheese almost closed.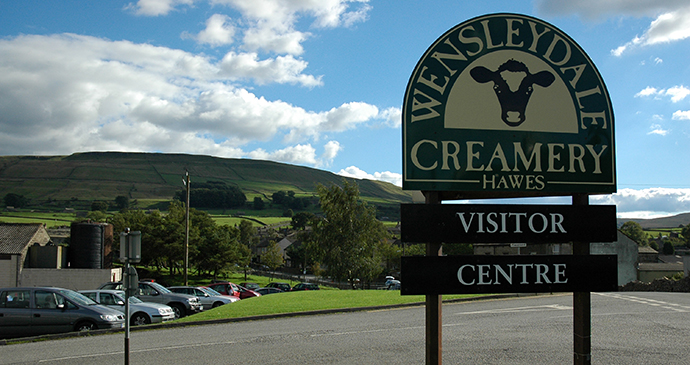 The first time, in the 1930s depression, local farmers rallied around one of their own, Kit Calvert, who called a meeting in the town hall and bullied enough support to keep the dairy running. On the next occasion in 1992 the then owners, Dairy Crest, actually closed the dairy and had the effrontery to move production to Lancashire. A team of ex-managers bought the building and opened it under the name of Wensleydale Creamery, but making it a going concern wasn't easy.
The breakthrough came when, in A Close Shave, one of Nick Park's inimitable Wallace and Gromit animations, Wallace uttered the immortal words 'Not even Wensleydale!' when he found that his lady friend doesn't like cheese and the creamery's steady business exploded.
The visitor centre now entertains 200,000 people a year who enjoy the 'cheese experience' tour, explore the museum, eat in the restaurant or just select gifts from the now huge selection of branded cheeses and Wallace and Gromit memorabilia in the shop.
The Pudding Club, Cotswolds
There's a time and a place for nouvelle cuisine (maybe) but it's not at the Pudding Club. For over 30 years, the club has been snubbing the continental gatecrashers of the dining table and championing tried-and-tested British fare.
More of a foodie night out than a day activity, great British puddings are tried, tested and voted upon on Friday evenings held at the Three Ways House Hotel in Mickleton. There is no membership required, simply a love of great British puddings.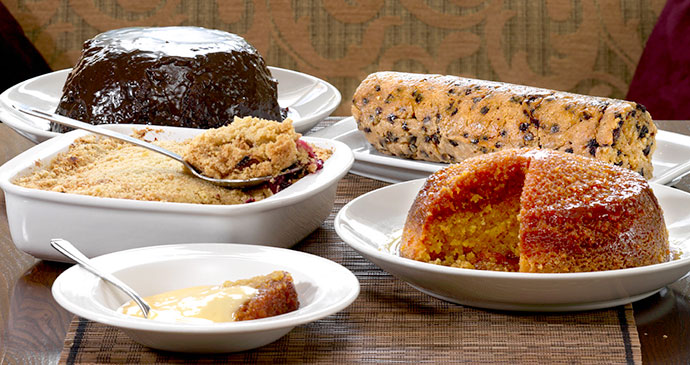 While there is a serious side to making sure that the humble British pudding remains fashionable, as it has become since the Pudding Club was founded, the evenings are all very relaxed, jolly and informal. 'It's all very tongue in cheek and fun,' says Peter Henderson, co-proprietor of the hotel. 'Up to 70 people join us for the weekly Friday club night when a Pudding Host will start proceedings.
A modest main course is followed by a parade of seven traditional puddings, full of pomp, ceremony and madness. Each pudding is cheered in and we have lots of fun eating as many as we can. Providing you follow the rules and advice of the club, most guests finish all seven – the record is 23 helpings!' By late evening, once all the puddings have been gobbled up with lashings of custard, guests then get to vote for the 'Pudding of the Night'.
The puddings are cooked by Sheila Vincent, an unassuming local housewife and 'Queen of Puddings', as Peter describes her. And with the hotel situated so close to the wonderful fruit farms around the Vale of Evesham, a lot of local produce is used and seasonality is key – as is a communal ambience. 'We like people to chat,' says Peter, 'so we group guests appropriately. We don't really recommend children under 12 to visit Pudding Club nights (although they're very welcome guests staying at the hotel) because they tend to get bored with the chit-chat and the time involved; most Pudding Club evenings don't end until 23.00.'
Aldeburgh Fish and Chip Shop, Suffolk
Walk one minute inland from Aldeburgh's seafront to the High Street and if it's lunchtime or early evening you will almost inevitably come across a lengthy queue. The chances are that this is a hungry crocodile patiently waiting for service at the Aldeburgh Fish and Chip Shop at number 226.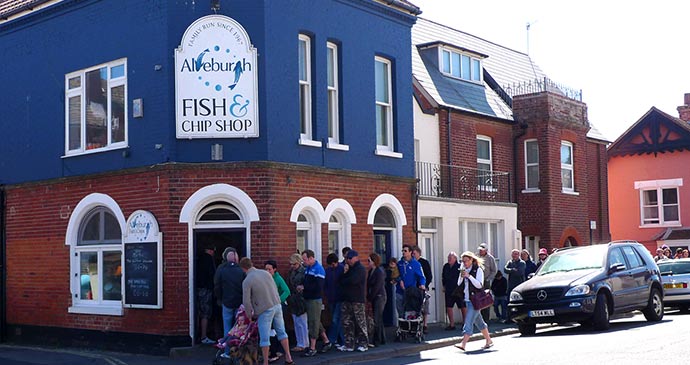 The Fish and Chip Shop – yes, that's its name – has been listed as one of the country's top ten by The Observer and eulogised by chefs like Rick Stein and Nigel Slater. The secret, according to the owner Margaret Thompson, is that no flour is added to the batter and that vegetable oil, not beef dripping, is used for frying. It has been a family business since 1967. Some even claim it to be the best in the country. A place that can prosaically call itself The Fish and Chip Shop rather than 'The Codfather', 'This is the Plaice' or something similar just has to be good.
There's another branch further along the High Street that is run by the same concern but this one is the original. By the time you get your fish supper you'll undoubtedly be very hungry. Walk back to the sea wall to enjoy your food by the sea but beware of local gulls that have become very adept at aerial fish theft.
Darts Farm, East Devon
The Guardian described this East Devon establishment as 'finding Selfridges' food store dumped in the middle of a field'. It comprises a farm shop, delicatessen, butchers, fishmongers, specialist cider and ale house (they make their own cider), and various other retailers, all as organic as they come and top quality.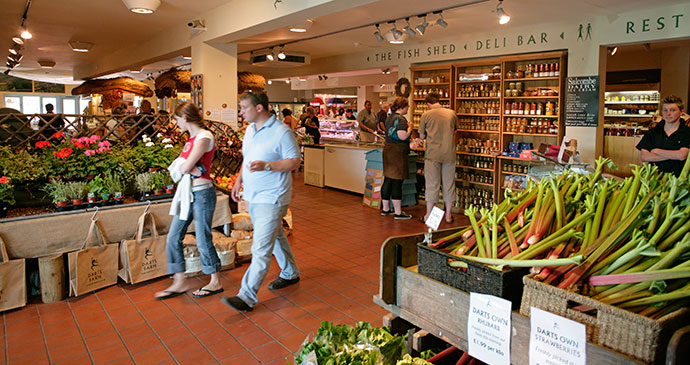 Look outside and you'll see the fields where they are grown: food miles – zero. There's a good, spacious restaurant for snacks and main meals, and The Fish Shed selling fish and other seafood that's either fresh, grilled or battered with crunchy chips and comes from Lyme Bay, so it's freshly caught and local.
There's also an RSPB shop here, which organises regular nature walks, generally on Saturdays from April to December, and has details of birdwatching cruises from Topsham.
River Cottage, Dorset
River Cottage HQ at Park Farm, Dorset, is the venue for courses inspired by the philosophy of the original River Cottage, including foraging, curing, gardening, bread-making and butchery.
You can also enjoy an entertaining dinner at Park Farm, where you get to mingle with fellow guests over canapés, then potter around and draw inspiration from the flourishing fruit and vegetable garden and elaborate chicken enclosure, before sitting down to eat.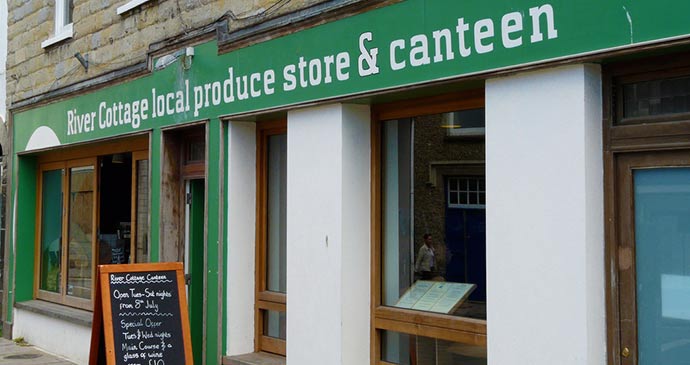 Dinner is at two long tables and each course is accompanied by a talk from the chef, who explains the detail behind the dish. River Cottage also has a canteen and deli in Axminster, where they sell local and organic food and drink.
Wincle Brewery, Peak District
Wincle Brewery started its life as a low-key affair in a redundant milking parlour on a local farm before relocating to a renovated stone barn by the River Dane with its state-of-the-art 15-barrel plant. Visit today and you'll see a steady flow of customers, mostly walkers passing through, delighted to have an opportunity to sample two inhouse beers and a guest brew before choosing a pint.
Outside there's a small grassy area and picnic benches where you can enjoy the peace and tranquillity of this beautiful valley alongside the fishing lake. It's a great place to sip one of the local brews – and if you don't drink beer the brewery also does coffee and cake. The brewery offers tours, demonstrations and beer tasting.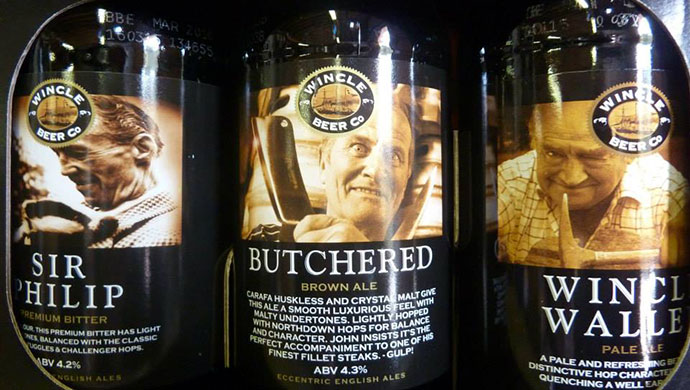 A nice touch is the way the names and sepia pictures on the bottles celebrate local stories and characters. Bad Bill refers to an ill-tempered bull that lives around the back, while Wibbly Wallaby pays homage to the escaped wallabies that roamed the Roaches for a time. The manic individual holding a large knife on the label of Butchered is a retired local butcher and Life of Riley references another retired local called… Riley – who's clearly having a good time. Other local, real-life characters include a haymaker, dry stone waller and woodcutter.
Sir Philip Lee Brocklehurst of nearby Swythamley Hall is honoured with a beer, having accompanied the great explorer, Shackleton, to the Antarctic, while Mr Mullins was associated with the estate when it was run by Indian mystic Maharisha Mahesh Yogias as a training centre for transcendental meditation. Old Hag with her gnarled face is Bessy Bowyer who lived in the cave house on the Roaches, while the equally wizened Old Oak can be found at nearby Whitelee Farm, said to be a stately 700 years old.
Ludlow's markets and festivals, Shropshire
Ludlow is arguably the UK's Slow Food capital and known as a gastronomic destination, at one time holding three Michelin stars, the greatest number per capita in Europe. As Shropshire historian Keith Pybus points out in Blue Remembered Hills, Ludlow's foodie reputation makes it 'a brand-name capable of extension into the hills and down the A49'.
Events adding to its gastronomic status include: the UK's first (and probably most famous) food festival, held in August; the Magnalonga, a walk where food is found every step of the way; and the Spring Festival, held in May, more accurately described as a 'beer festival but better'.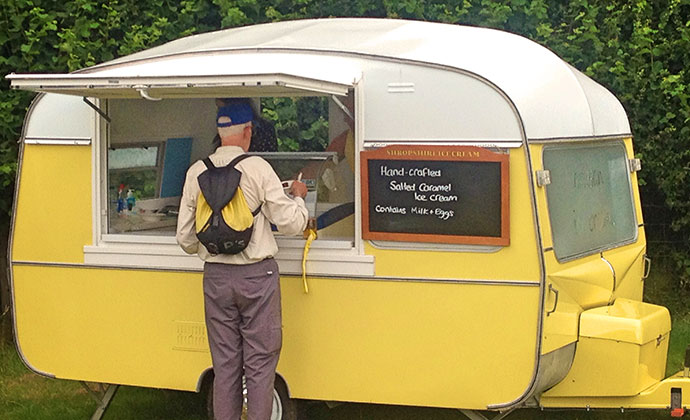 At any time of year, though, you can enjoy the fruits of this region's farms and hills and support local businesses by shopping at Ludlow's markets: one takes place in Castle Square on most days except Tuesday.
General markets are on Monday, Wednesday, Friday and Saturday. Ludlow Local Produce market is on the second and fourth Thursday of the month, showcasing food and drink produced within 30 miles of the town. Finally, don't miss a visit to the Ludlow Food Centre – a farm shop-lover's dream.
Quince Honey Farm, North Devon
You can't judge a book by its cover. This garish building on South Molton's main road houses a truly amazing exhibition. If you thought you knew quite a bit about bees you will find that you have only scratched the surface. Here you will learn about the history of bee keeping, going back some 10,000 years; the different species of bees; and where and how they make their homes in other parts of the world.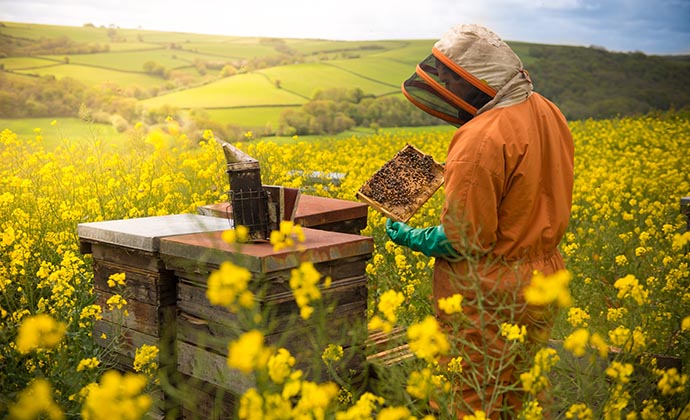 There are observation hives that you can open yourself (by remote control), films, explanatory panels, and bees everywhere, but always behind glass. You can watch the various stages of the commercial aspect of bee keeping, from candle-making to extracting the honey and bottling it, and you can learn a great deal about these remarkable creatures.
How does the colony deal with an intruding bumble bee, or mouse, for instance? They sting it to death, and if it is too large to remove from the hive, they bite off all the hairs and mummify it in a coating of resin-based propolis so that no bacteria can be released from the decaying body. Extraordinary!
The farm was created more than 65 years ago by George Wallace, who worked as a postman to earn extra income while he was building up his hives, often collecting swarms from one of their favourite places: letter boxes. The farm is still owned by the Wallace family. The commercial hives are in the North Devon countryside and are moved to Exmoor during the heather season.
What is so great about this place is that the information is never dumbed down. While little children can tumble around in the Play Hive, older ones will be fascinated by the bees' behaviour. The shop, as you might expect, sells every possible product connected with bees, and there is a café.
Thatchers Cider distillery tour, Somerset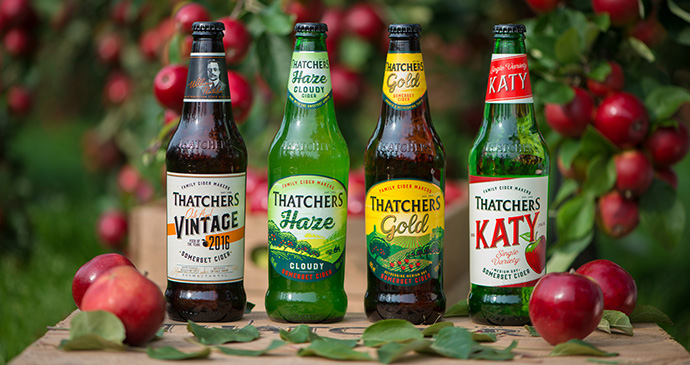 Apples were first pressed at Myrtle Farm in 1904 by William Thatcher; since then, Thatchers has gone on to become one of the country's largest cider producers. However, it remains a family-run business to its core, currently on its fourth generation of owners (Martin is the current incumbent), and well on its way to training up the fifth generation – the company, it seems, is in safe hands.
Unlike so many brewery and distillery tours, Thatchers is worth every penny. Over the course of two hours, you get to see the canning centre, fermentation plant and packing area, as well as other parts of the site depending upon what operations are going on. Happily, the tour concludes with a tasting session, which typically includes a number of vintage and artisan ciders that you won't find anywhere else.
---
Find out more about Britain's foodie spots in our Slow Travel series: