Written by Andrew Day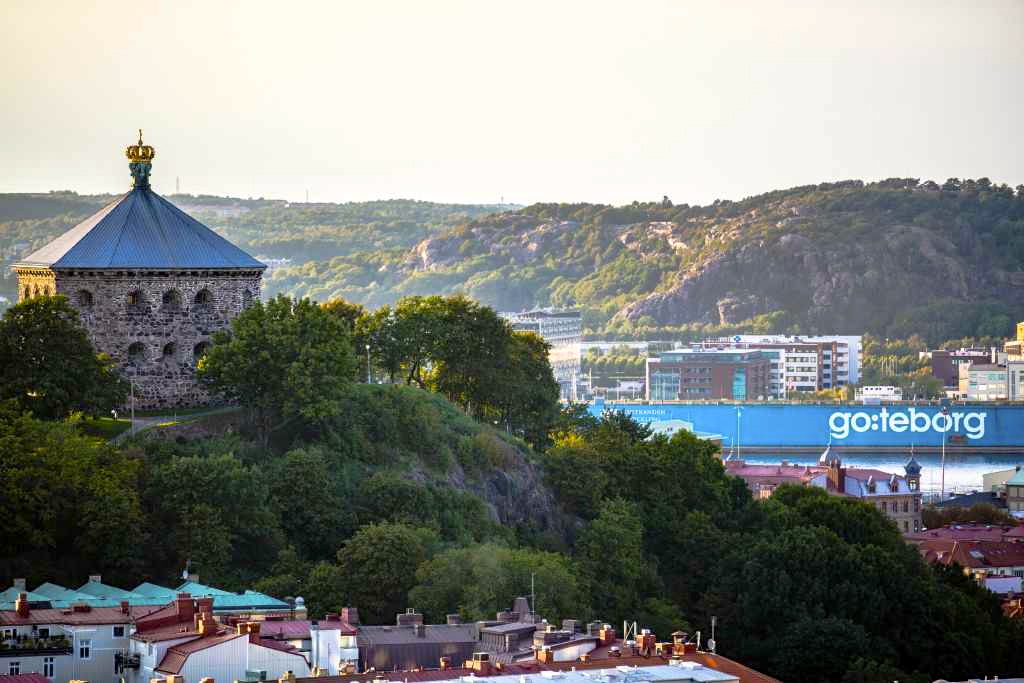 Sweden's second-largest city is often overlooked by the capital Stockholm, but Gothenburg – nestled against the country's scenic west coast – has a character all its own. With a vibrant arts scene, buzzing café culture, plus a welcoming and relaxed spirit, the world is beginning to discover Gothenburg. You should too…
1) Haga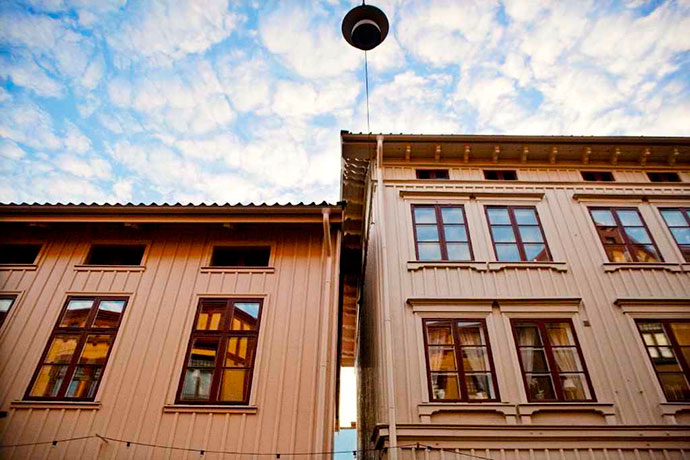 © Beatrice Törnros
In the 1970s Haga was so rundown that large parts had to be demolished. The part left standing has become one of Gothenburg's coolest hangouts, lined with cobbled streets and 17th-century timber buildings, now housing independent shops and chic cafés. It's a great place for fika (fee-ka), the Swedish tradition of a lazy coffee break, usually served with a cinnamon bun of plate-sized proportions. Burn-off your pastry overload by climbing Skansen Kronan – a hilltop fortification built to defend against potential Danish attacks – and take in the view over the city's old working-class quarter. In the evening head to Pustervik (just outside Haga) for some live music and a locally brewed beer.
2) Archipela-go!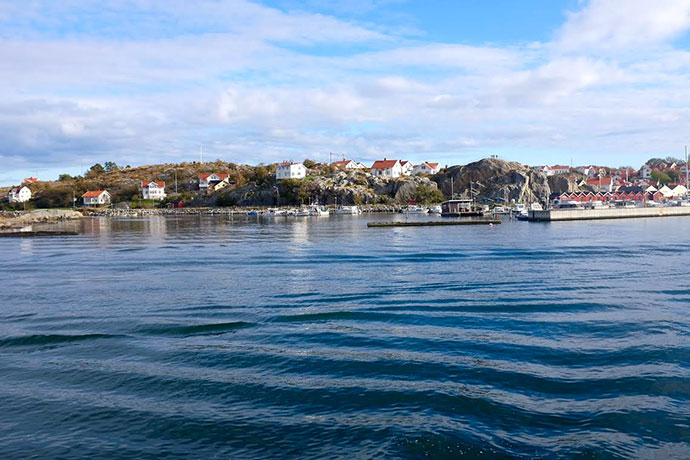 © Andrew Day
Escape the hustle of Gothenburg and explore the deserted beaches of the southern archipelago. Choosing an island isn't easy (there are 13 inhabited isles and dozens of smaller ones) but Donsö, with its bright-red cottages and scenic harbour is a winner. Fill-up alongside local fishermen at Isbolaget, and then wander the excellent hiking path, winding through woods and along the captivating coastline. Vrångö – the most southerly of the islands – is another gem. Home to a mere 380, Vrångö is famous for its unspoiled nature reserves and sandy beaches, perfect for swimming. The islands are 40-minutes by tram (take the #11) from Centralstationo to Saltholmen, the embarkation point for all ferries.
3) Liseberg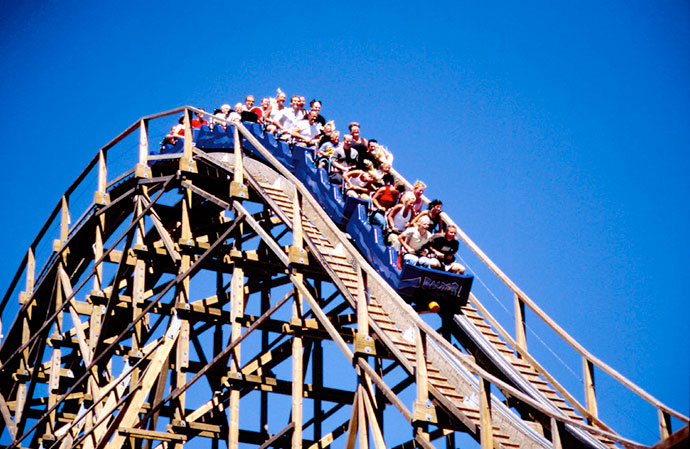 © Liseberg
Liseberg is a Gothenburg institution. Opened in 1923, Sweden's largest amusement park is home to not just rides and rollercoasters, but concerts, high-quality restaurants and at Christmas, a terrific market. Wrapped tastefully by sculptures and landscaped gardens, the parks 41 adrenaline blasts include the award-winning vintage rollercoaster Balder, AtmosFear – Europe's tallest free-fall tower (116m) – and a Ferris wheel, offering glorious city views. For little 'uns there's fairy-tale castles, carousels and a rabbit house where the famous Liseberg rabbit resides. Remarkably, the park is located right in Gothenburg's centre, meaning you can hear the shrieks of thrill-seekers as you wander the city streets.
4) Röda Sten Konsthall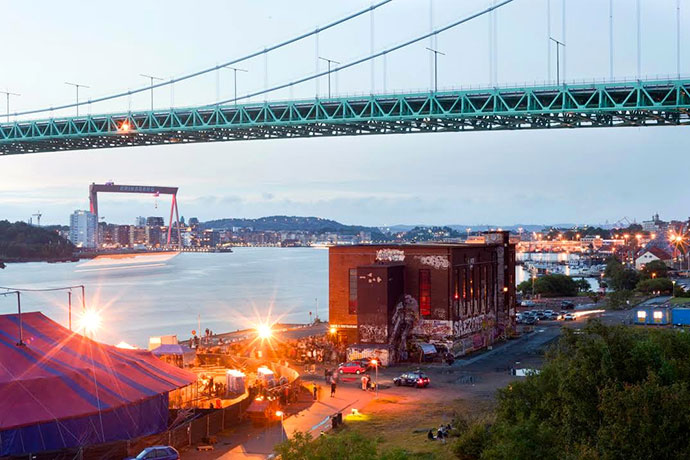 © Hendrik Zeitler
Hiding beneath the enormous Älvsborg bridge sits an old boiler house, which powered the regions factories for decades. Today, Röda Sten (Red Rock) is one of Gothenburg's most exciting spaces for contemporary art, run on a not-for-profit basis since 1994. The buildings exposed brick walls present edgy and often ground-breaking installations: think cross-dressing rap videos challenging sexuality stereotypes in Afghanistan. When you're done exploring, stop for lunch at the gallery's ground-floor café, which serves traditional Scandinavian cuisine, and hosts one-off club nights. Or enjoy a drink on the riverside terrace, watching in awe as the huge Stena Line ferries roll in from Denmark.
5) Feskekörka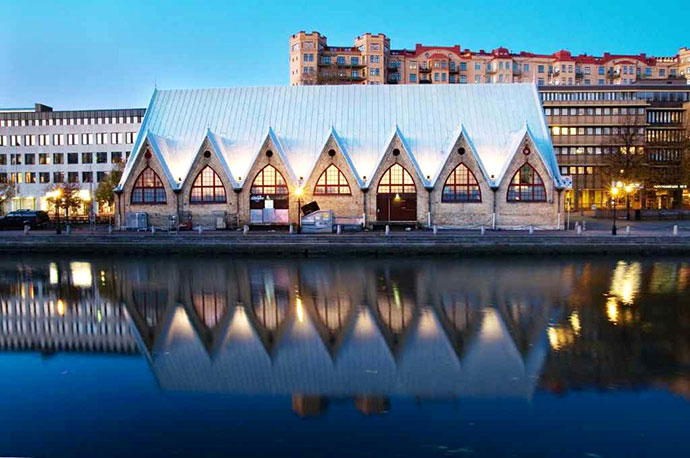 © Kjell Holmner
A mecca for seafood lovers, this peculiar "fish church" was built as an experiment to see if one single structure could stand without pillars. Thankfully, it seems to have worked… so far. Opened in 1874, fishmongers still hawk a colorful variety of seafood delicacies, from cod to crayfish and monkfish to mackerel; many giving off strong aromas, hitting you well before you reach the door! All produce is freshly landed, so if your accommodation is self-catering; you're in for a teatime treat. If not, indulge in some take-away shrimps, or get a birds-eye view of the mountains of crab-claws and twitching lobsters from Gabriel, the market's second-floor restaurant.
Written by Andrew Day
---
Discover more about Gothenburg and the region in our West Sweden guidebook.