Written by Bradt Travel Guides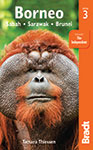 Situated in the heart of southeast Asia, Borneo is a unique biodiversity hotspot. Delve into the tropical rainforests, mountain ranges and coastal forests and discover the natural wonders and diverse culture of the Malay Archipelago. Come face to face with an orangutan (the intelligent 'Man of the Jungle'), sail on a tranquil river cruise or marvel at the magnificent architecture of Brunei's capital.
Bako National Park – for a chance spot proboscis monkeys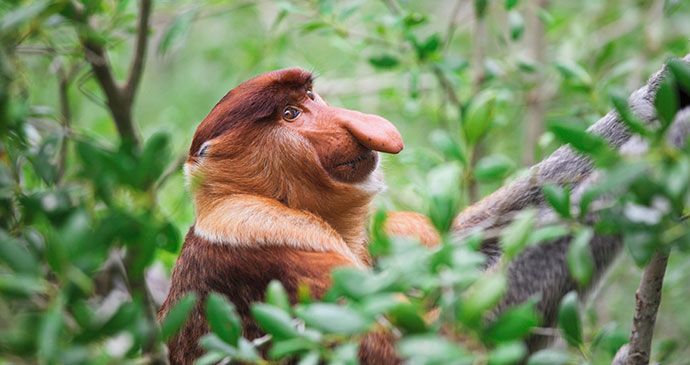 © gualtiero boffi, Shutterstock
Spellbinding Bako is Sarawak's oldest national park (and Malaysia's second oldest) and boasts 16 well-marked trails ranging from one-hour strolls to full-day treks. It's also tipped to be Sarawak's best park for wildlife experiences so come here to see a range of bird and monkey life as well as bountiful species of reptiles (including Borneo's only dangerous snake – triangular-headed pit viper). There are reputed to be some 280 proboscis monkeys here so chances of a sighting while trekking are high. Bako also has 25 distinct kinds of plant life and seven ecosystems. Remarkable!
Bandar Seri Begawan – where exotic Islamic traditions intermingle with impressive modern architecture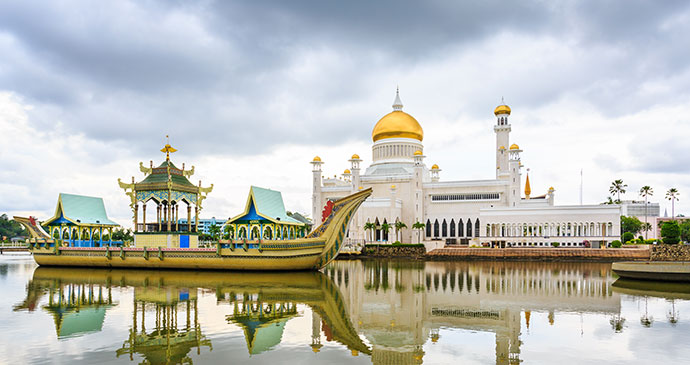 The cream-and-gold Sultan Omar Ali Saifuddien Mosque is an icon of the city © Peera_stockfoto, Shutterstock
BSB (as the locals call it) is an intriguing city. On the one hand, you feel you are in a place entrenched in trading history and Islamic exoticism, while on the other, is the emerging face of a 'modernised capital'. The city spreads out over 16km from the downtown area, which is hemmed in by riverside recreational areas, state-owned land, museums and ministries. Once you get past the logistical challenges and locate the most animated tamu (markets), the museums and mosques, the gorgeous green spaces and nearby beaches, you can join the locals and enjoy a high quality of life for a few days as well as some rich cultural experiences. And while you're here, make sure you try the street food: among the most delicious and immaculately presented in Borneo.
Sepilok Orangutan Rehabilitation Centre – to get close-up to the 'Man of the Jungle'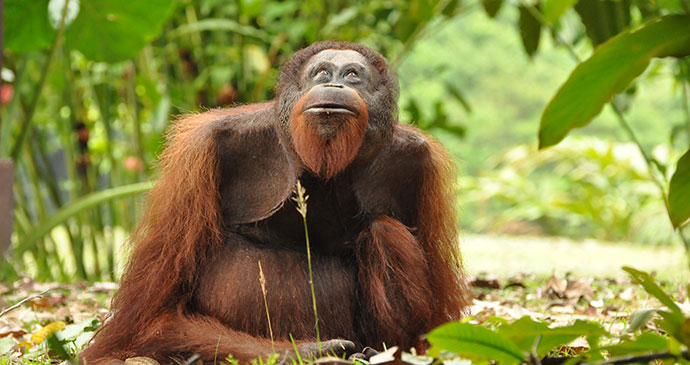 © Lisette van der Kroon, Sabah Tourism
Borneo is home to 90% of the world's orangutans and, with its innate magnetism and undeniable appeal, the 'man of the forest' – from the Malay orang for 'person' and hutan for 'forest' is a deserving mascot of the island. The orangutan is a protected species across Sabah, Sarawak and Kalimantan, but that has not put an end to the extreme dangers to the species' survival. Current numbers of orangutans living in the wild are estimated at between 20,000 and 30,000 – less than a third of the population in the early 1990s, and down from 55,000 in 2005.
Sepilok was set up to rehabilitate orphaned orangutans who had lost their parents and habitat through logging and has since become one of Borneo's orangutan-viewing hotspots. A boardwalk leads to the feeding platform, perched up in the trees about 25m from the viewing area. What a super way to get a close-up view of these charismatic creatures!
Southeast Sabah – for diving & rainforest experiences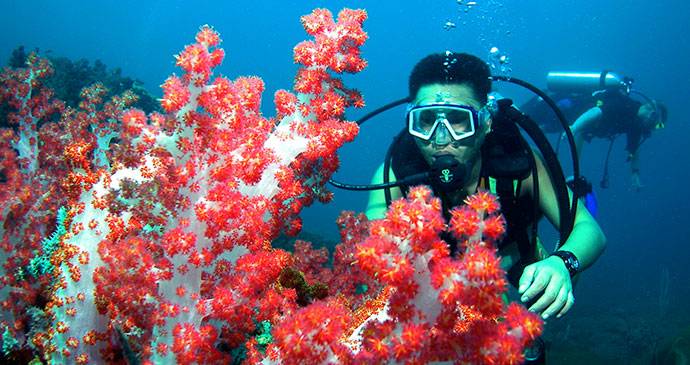 © Sarawak Tourism
Between the islands, lagoons and straits of southeast Sabah lurks a treasure chest of marine biodiversity. Along the coast, hilly hinterlands are interspersed with some of Borneo's biggest tracts of enduring rainforest. Cocoa, rubber and coconut crops thrive in the fertile volcanic soils – though the landscape is increasingly dominated by large oil palm plantations. The region is inhabited by the Bajau Laut – maritime nomads whose ancestors set out from the Filipino island of Mindanao over 1,000 years ago. Many have now settled in stilt villages along the shores of the mainland as well as offshore islands and reefs. The Bajau remain closely connected to the sea, living on the coast and making a living from fishing and seaweed cultivation. Several local and international initiatives are under way to save the eco-region of the Sulu–Sulawesi seas. National Geographic magazine named it as one of the most diverse marine communities on earth – with nine times as many stony corals as the Caribbean Sea, and over twice the number found in the Indian Ocean. Six of the world's seven species of sea turtles dwell here, along with whale sharks, massive manta rays, and an incredible abundance of fish species.
Note that in recent years there have been security issues in this area – do seek out the latest advice before travelling.
Take a river cruise and stay in a longhouse in Sabah and Sarawak
The longhouses of some of Sabah's Rungus and Sarawak's Iban tribes welcome guests. In Sarawak, you can stay in quiet remote areas to experience local life. Longhouse accommodation is occasionally purpose-built, for those wanting to get a taste of tradition without living among a family. Most longhouse accommodation in Sarawak is in the Skrang, Lemanak, Batang Ai and Rejang river areas.
In the Batang Ai area, longhouse communities can be reached via a self-chartered longboat trip or on a tour – some of the upriver longhouse communities still live a relatively isolated and traditional life that's fascinating to observe. At Kampung Mengkak Longhouse (Rumah Burau, Mengkak; mob: 013 286 7451) on the Sungai Engkari, you can mingle with some of the 26 families who live in the 200m-long structure as they sit in the ruai (communal veranda), drinking tuak (rice wine) and making handicrafts. The locals demonstrate their blowpipe skills, perform dances and play music in traditional dress on request, but with far more personality and passion than you could ever expect in a city cultural show.