Written by Alexander Stewart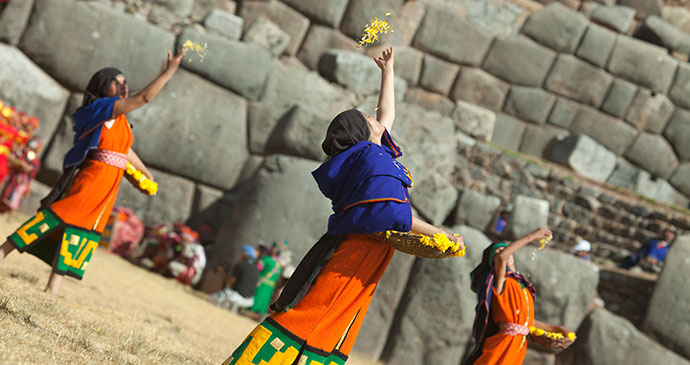 Inti Raymi celebrations, Cusco © PromPeru
Festivals in Cusco
Cusco is home to some of the most exciting, energetic festivals and fiestas in Peru's calendar of events. Visit at the appropriate time to see the city at its traditional, vibrant best but beware that accommodation books up far in advance. Cusco is a great place to spend Semana Santa (Easter week) in late March or early April, as there are dramatic processions throughout the city, building towards a parade on Easter Monday led by El Señor de los Temblores, the 'Lord of the Earthquakes', the giant crucifix kept in the cathedral. Early May sees the highlands in general celebrate the Fiesta de las Cruces (the Festival of the Crosses), where local communities decorate large wooden crosses that are then displayed on hilltops. Corpus Christi in early June sees effigies of celebrated saints carried through the city and then displayed in the cathedral for a week.
The biggest event, however, is , the celebration of the winter solstice…
The biggest event, however, is Inti Raymi, the celebration of the winter solstice, which takes place on 24 June but seems to go on for days before and after; Cusco's carnival is often the start point for the celebrations. Folk dances, parades with participants dressed in elaborate Inca costume and huge processions culminate in a giant pageant that takes place on the flat central plaza of Sacsayhuaman, above the city.
A careful re-enactment of an ancient festival, it is hugely significant and an essential expression of folk culture. The year culminates on 24 December with the Santuranticuy Festival, where artisans gather in the Plaza de Armas to display and sell traditional carved figures, ceramics and retablos (carefully crafted wooden boxes containing intricately decorated scenes and figures).