Written by Roger Harris
Want to travel the full length of the Amazon? You're not alone. It's the ambition of many travellers; for some a lifelong goal, for others an interesting foray into another way of life. Perhaps unkindly, one travel journalist dubbed the journey 'the most boring trip in South America'. If you are a hardcore adventurer, such a title might be apt. Voyaging down the main stream will not provide the intimacy and excitement of canoeing down a remote tributary, but a trip along Amazon proper will impress upon you the river's vastness. Travelling this route also allows you to experience the working river; the people of the Amazon travel vast distances to trade, visit relatives and search for work. Cargo and people are transported in organised chaos, but the river flows impassively on.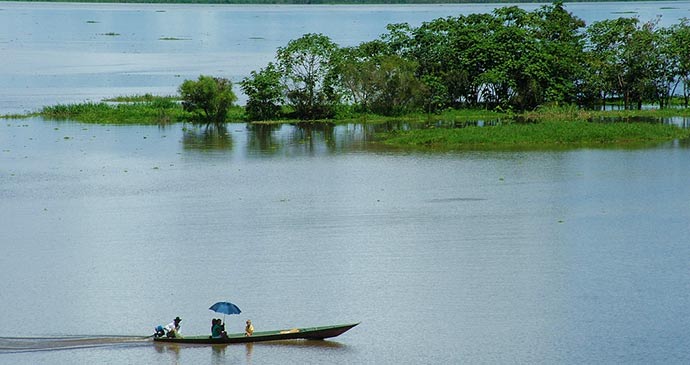 © Suzanne, Flickr
Boat-hopping
Going by local riverboat will enable you to follow the main stream for the longest distance. With planning and foresight, you can plan excursions on your route downstream. Stop off at towns along the river, and tour down the smaller tributaries to less disturbed areas.
The best starting point is Pucallpa in Peru. Boats regularly leave Pucallpa from La Hoyada docks for the three- to four-day journey to Iquitos. You will need to change boats at Iquitos then Leticia, Manaus and Santarém before arriving in Belém. The whole journey may take around three weeks, or longer if you go sightseeing. Smaller boats also tend to stop at smaller villages en route. They also take a little longer. The cost will vary according to the type of boat and the time spent in cities. Figure on a minimum US$750 for transport and another US$250 for food and spending money. You'll need a hammock; it may be possible to get cabin accommodation but don't rely on it. Take your own supplies of food – essential if you're a vegetarian. Budget to buy bottled water; don't stock up for the whole journey as you can buy supplies along the way.
Adventure cruises
Adventure cruise vessels cater to cruise passengers accustomed to tourist or luxury standards. This type of 'expedition' cruise is more experiential than a typical 'sun and sand' cruise. You get close to the local environment, feel, see and learn about the area's culture and nature. It's not the non-stop party of large cruise ships. Excursions on expedition cruises allow all passengers to visit local villages, lakes and tributaries, which the larger ships cannot. These side trips are usually in rubber inflatables (Zodiacs), which may not suit less mobile passengers. Itineraries are variable. These cruise vessels typically carry 80 to 200 passengers. They're much smaller than the megacruise liners, but still offer luxury amenities including five-star cabins, international food, high-quality educational content and a high staff-to-passenger ratio. It's the best way to travel to remote areas in comfort. The best cruises offer the same experiences you get with a lodge-based tour. You get to visit the Indian or mestizo villages, go on birding excursions, and take night trips to experience the river at night.
Cruises are the fastest and most comfortable way to visit the Amazon's larger cities, including Belém, Manaus, Leticia and Iquitos. For a typical cruise, count on 14 days from Belém to Iquitos, or nine for Manaus to Iquitos. These usually include a highly qualified expedition team, including a botanist, ornithologist and historian, who accompany the full length of the cruise. These experts give invaluable commentary, adding to the educational value of the trip. Some itineraries focus on the Amazon proper; others include cruises from the Caribbean to Amazon cities. The business is in flux, so research your options carefully before you book anything.