Written by Philip Briggs
Make no mistake, Ethiopia in 1994 could be tough going.
Wrapping up the seventh edition of this guidebook, it's strange to think that a full 21 years has passed since I first explored Ethiopia to put together what would become the first modern guidebook to a then practically unknown destination. It was an amazing, revelatory trip, and in many respects one that couldn't be repeated today.
Make no mistake, Ethiopia in 1994 could be tough going. Freshly emerged from the oppressive Derg regime, long before the advent of the internet and smartphones, it felt more isolated and insular than any place I've been before or since. As a rare faranji, the non-stop attention of yelling children could be utterly sapping. Ill-advisedly travelling during the rains, the roads (then almost all unsurfaced) were horrendous, and the buses that trundled along them uncomfortable and dangerous. Smalltown hotels were crude and often showerless, meals basic and repetitive, rural toilets spectacularly graphic, and sanitation and hygiene so dodgy that I contracted typhoid and guardia among other less diagnosable illnesses.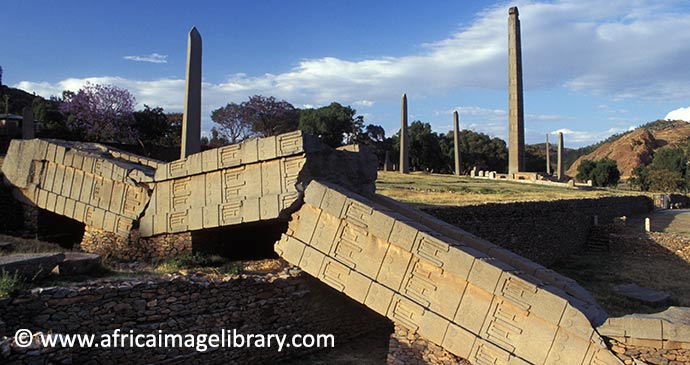 The stelae field at Axum, one of Ethiopia's greatest sights © Ariadne Van Zandbergen
Yet Ethiopia in 1994 also stands as easily the most absorbing and downright strange trip I've ever undertaken. Every day in this little-known and idiosyncratic land brought fresh moments of discovery and wonder, be it a chanting priest in a time-worn rock-hewn church, an Ethiopian wolf trotting across the Sanetti Plateau, an azmari singing the Amhara blues in a small-town bar, or vice-jawed hyenas being hand-fed on the dusty outskirts of Harar. Truly, I had the time of my life. Ethiopia in 2015 is a very different prospect: hugely changed, in most respects for the better. The country is less oppressively governed than under the Derg, and far more connected to the outside world. It has better roads, more schools, less grinding poverty, and greater gender equality. Furthermore, vast improvements in infrastructure and amenities make it incomparably easier to travel through.
Still, over three recent trips to Ethiopia to research this seventh edition, I was struck repeatedly – just as I'd been two decades earlier – by what a wonderfully strange and varied country it is. That venerable cast of incanting priests, endemic wolves, grumbling troubadours and suburban hyenas is still present and correct, but a host of more newly accessible attractions – the explosive lava lake at Erta Ale, elephant tracking in Chebera-Churchura, bamboo-munching Bale monkeys in Harenna, a funky cabaret in a Gondarine bar – ensured that Ethiopia felt almost as fresh in 2015 as it did 21 years earlier. I'm already looking forward to my next visit!