Written by Rosie Whitehouse
Eating Curds and Whey
The peaks of Monte Sibillini are covered in mysterious low-lying clouds as we drive into the tiny village of Montemonaco. Legend has it that the prophetess Sybil lived near here in a cave surround by fairies that liked to seduce the local young men. I make a mental note to keep an eye on 15-year-old Jacob.
Well off the tourist trail, Monte Sibillini on the border of Le Marche and Umbria is remote and wild. It was declared a national park in 1994 and is covered in fantastic walking trails. In late May the high mountain pastures burst into life and are covered in wild orchids and cornflowers.
This is perfect sheep country but nearly all the shepherds who once lived here have hung up their crooks and moved away. The forest is growing over the ruins of the villages they abandoned. Wildlife is returning among the chamois and wolves. Wild boars snuffle in the field outside the window as we eat dinner, much to the kids' delight.
High up in the mountain top village of Cupi, however, a little revolution is under way. The villages of Monte Sibillini are beginning to slowly come back to life.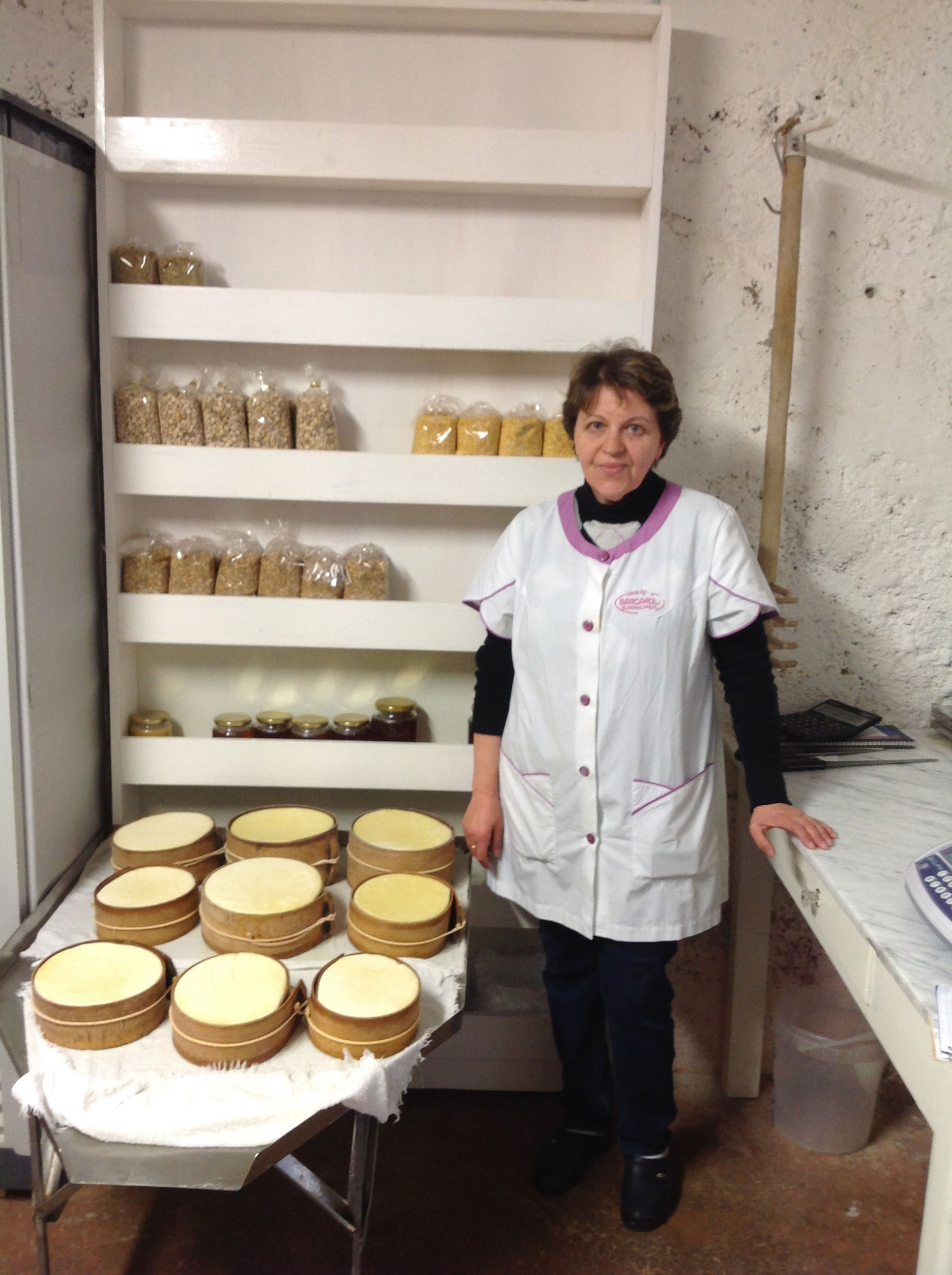 Beniamino Ciammarucchi is stirring up a cauldron of boiling sheep's milk in a brand new stainless steel kitchen. His son Arcangelo is delivering huge milk churns that are being loaded into the dairy.
In the late 1980s Beniamino left his home village to settle down in the valleys of Le Marche. Summers spent on the high pastures and wintering his flock in the low lying fields near Rome was no longer economical and new regulations brought an end to the traditional ways of producing cheese.
After generations of sheep herding and cheese making Arcangelo was forced to take a job in a factory producing cookers and fridges. He longed for the shepherd life that was in his blood and decided that he would return to Cupi and set up a modern dairy producing top class artisan cheese.
It was a lucky move. He secured a bank loan just before the crash of 2008 and in its wake the factory where he had been working closed down. "Everyone thought he was crazy," laughs his father. "They thought Cupi was the end of the world but the irony is all his friends lost their jobs and many of them are still unemployed. Look at Arcangelo, he built a business."
Sandra, his mother is by now pressing the curds into huge, round moulds. She makes ten pecorino cheeses in under an hour. Beniamino then puts the whey back to boil. It will make ricotta, which means twice cooked in Italian.
He spent decades living the hard life of a shepherd. Every winter he would drive his flock to the fields near Rome. It was in Vitterbo that he met his wife. The family lived for months in a small cabin with a hole dug in the earth for a fire. In summer he camped alone up in the high pastures above Cupi.
He is delighted to be back in the old house but misses the natural rhythm of the past and the rough and ready days of unpasteurised cheese making. "What doesn't strangle you makes you fat!" he laughs patting his tummy.
The economic crisis has been good for Cupi. The families of the shepherds who moved to the bright lights are doing up their old family cottages as second homes as more Italians decide its cheaper to spend their holidays in Italy.
We drive over the mountain passes on to Castelluccio. It's a tiny hilltop village that sits in a mountain plain. It's the highest settlement in the Apennines and a lonely spot.
In the fields below they grow the best lentils in Italy and in the summer months they are a riot of colour as the wild flowers spring up among the lentils.
Castelluccio is a tumbledown village covered in graffiti of the gossip variety dating back to the 1950s. She left me for that b***** kind of thing. No one has bothered to clean it off because most of the inhabitants moved to Rome. Sandra Barcaroli and her son Diego are now among the ten full-time inhabitants. Diego is the only young man.
He too is running a high-class cheese business with his mother. More and more young people in Italy are returning to the old ways of making a living. Sandra and Diego are more traditional than the chaps in Cupi and still use wooden moulds. I spot some jars of honey on the shelf.
Sandra explains to me that Diego had been experimenting with keeping bees. It is so cold in Castelluccio in winter that the bees are now the only creatures plasticising transhumance and they spend the coldest months in Ancona.
I am with Daniele Pintaudi from Palazzo Seneca, a high class gourmet hotel in nearby Norcia down in the valley below. The hotel and its fabulous restaurant are doing a lot to keep this town going and bring guests up here to make cheese with Sandra and to buy lentils and local salamis. When Daniele discovers that she sells her honey for €5 he reels back in astonishment. "You live in the best flower valley in Italy. This stuff is priceless," he stutters.
On the way back to the Palazzo Seneca we stop off to see another local business that they have been helping. The restaurant buys its pork and salami from Alessandro Salvatori. Seven years ago he thought there must be a better way forward than travelling the country selling local salami.
"My father was the best butcher in town and I thought why not start raising pigs and setting up a new business." He bought some classy rare breed pigs and now has a thriving business.
His father is busy in the kitchen finishing off a large batch of sausages. "The future is in the tradition," he tells me. "We take the old ways and improve on them. That's the way forward for us in Italy."