Dominica's tourist board, Discover Dominica, has announced the Safe in Nature programme to safely welcome back visitors to the 'Nature Island of the Caribbean'.
The programme aims to provide measures to safeguard locals and visitors and is a joint effort combing the forces of the Dominican Ministry of Tourism, local hotelier and tourism associations and stakeholder groups.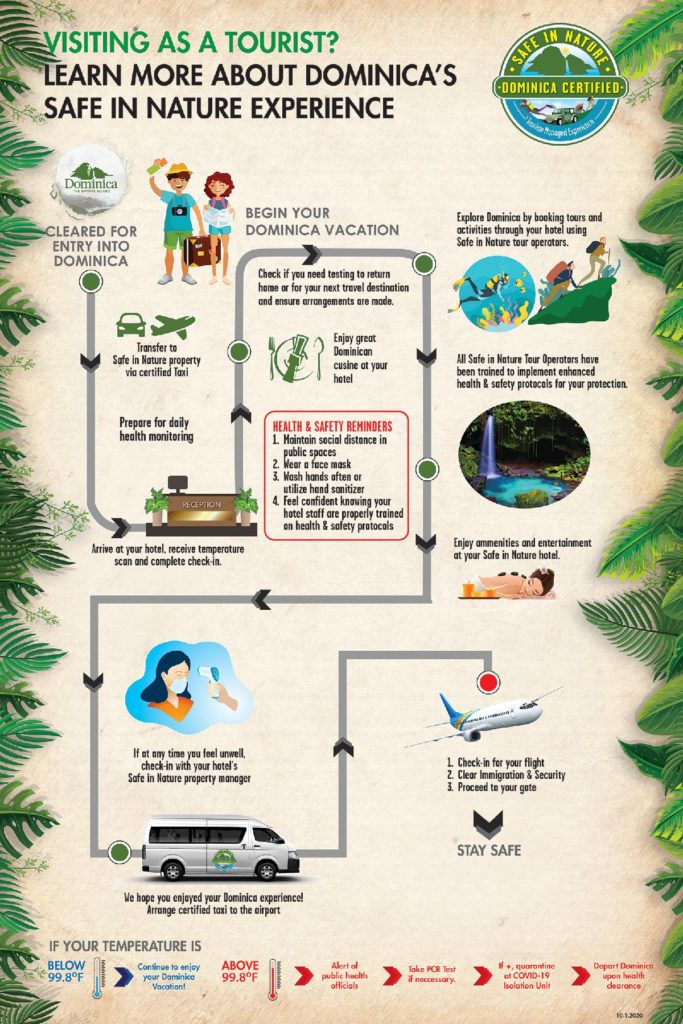 The scheme is categorised into different sets of precautions based on the country the visitors is arriving from:
CARICOM (Caribbean Community)
Barbados
Antigua and Barbuda
St. Vincent and Grenadines
St. Lucia
Grenada
St. Kitts and Nevis
Montserrat
Anguilla
Cayman Islands
Low-risk countries
Norway
Finland
Iceland
New Zealand
Curacao
Bermuda
BVI
Greenland
Medium-risk countries
Sweden
Singapore
Nigeria
Switzerland
Turks and Caicos Islands
High-risk countries
United States, Canada, Panama, Belize
Dominican Republic, Haiti, Aruba, Sint Maarten and Saint Martin, Jamaica, Trinidad and Tobago, Guadeloupe, Martinique
Brazil, Ecuador, Bolivia, Suriname, Guyana, Peru, Mexico, Colombia, Chile, Argentina
Spain, United Kingdom, France, Germany, Russia
Japan, India, Iran
South Africa
More than 50 Dominican properties, including guest houses, apartment complexes, hotels and resorts, have had their participation in the Safe in Nature scheme certified.
"A well-deserved break from chaos and crowds"
Dominica's Minister of Tourism Denise Charles hailed the programme saying that it is intended for people "needing a well-deserved break from chaos and crowds, to those thinking about travel and those needing rejuvenation."
Safety measures
The following are the measures that have been implemented:
Transportation
Certified vehicles will be sanitised before and after each trip.
Limited contact between passengers and driver.
Passengers and driver to wear face mask at all times inside of the vehicle.
Hand sanitiser will be available for passengers use within the vehicle.
Attractions and places of interest
Trafalgar Falls, Middleham Falls, Emerald Pool, Spanny Falls & other High-Volume Sites
Adhere to opening hours, days and times when visitors can visit sites.
Handwashing facilities will be clearly visible.
All contact areas including railings will be sanitised every hour.
Public washrooms will be sanitised every hour.
Hikers are advised to hike in a single line, practice physical distancing protocols and give way to oncoming hikers.
Health spas
Number of persons in pools will be limited.
Physical distancing protocols must be adhered to.
All areas will be thoroughly sanitised after every use.
Watersports facilities
The number of passengers per water sport vessel will be limited to 70% capacity to allow for physical distancing.
Physical distancing between patrons (individuals or groups) will be enforced.
All guests should have their temperatures taken prior to boarding the boat.
Vessel will be sanitised before and after every excursion.
Water equipment will be sanitised after each use (life jackets, snorkel, kayaks, pedal boats, banana boats, oars, etc).
Frequently touched areas within the dive shop should be sanitised every hour including counters, shelves, racks, door handles, and any area that may come in contact with the guests.
Alcohol-based hand sanitiser will be made available for guests.
Dining venues
Reservations are encouraged.
Restaurant tables will be set at least six feet between tables.
Tables will not be pre-set.
Cleaning and sanitising protocols to be observed.
Restaurants will be sanitised three times a day (after breakfast, after lunch and after dinner service).
All tables and chairs will be sanitised after every guest.
Menu options – Disposable / digital menus provided, use of chalk board, or menus will be sanitised after every guest.
Hand sanitisers will be available for guests.
Accommodation providers
Accommodation facilities will be certified to operate under Health and Safety guidelines.
Temperature checks will be done at all entrances for guests, employees and suppliers.
Luggage will be sanitised upon arrival at accommodation.
Bellmen will use disposable gloves when handling bags.
Procedures will be in place to manage suspected cases of COVID-19 in guests and employees.
Physical distancing measures will be in place for guests and employees.
Hand sanitiser stations, touchless where possible will be placed at key guest/public locations.
More information
Read more about the Nature Island of the Caribbean on our Dominica destination information pages.