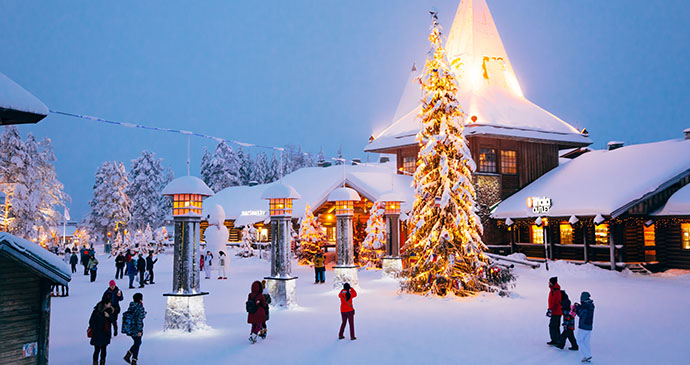 Santa Claus Village is fun for adults and children alike © Visit Rovaniemi
With or without children, the Santa Claus Village is always fun.
Think what you might about a tourist attraction based around the delights of meeting a child-loving old man with a long white beard dressed in a red suit, the Santa Claus Village, one of Finland's top visitor sites 8km northeast of Rovaniemi, is quite within the realms of decency. Located smack bang on the Arctic Circle, an imaginary line drawn around the globe at latitude 66° 32′ 35″N, it is easily accessible from Rovaniemi along Route 4 or by daily bus 8 which leaves from the railway station and then calls at several stops in town, each emblazoned with an Arctic Circle/Santa Claus logo. The main attractions of the village are a small collection of gift stores, the Santa Claus post office and office, where you can meet the great man, and a reindeer enclosure. It is possible to fix up a short reindeer or husky sleigh ride here.