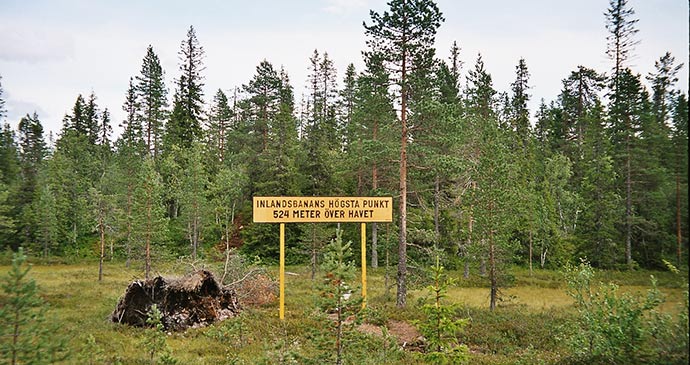 © Jonas H/Wikimedia Commons
Ride the Inlandsbanan through some of Swedish Lapland's most remote landscapes.
The idea of building a railway through the heart of Sweden was first mooted in the late 1800s, though it wasn't until 1937 that the entire stretch from Kristinehamn on Lake Vänern to Gällivare, a distance of 1,288km, was completed. Built in stages, and traversing some of Sweden's wildest and most remote terrain, the Inlandsbanan was conceived as a means of developing some of the country's most sparsely populated regions and of aiding the ongoing process of industrialisation. The Swedish parliament was also keen to build a new railway through the interior, away from the existing coastal rail line, which, it was deemed, could easily fall into enemy hands in the event of war. However, the 50s and 60s saw a dramatic increase in car ownership and passenger numbers on the line began to decline. Service reductions and partial line closures followed; passenger trains ceased in 1969 on large parts of the southern stretch of the line south of Mora and the axe finally fell in 1992 when SJ declared the entire operation financially unviable. Keen to breathe new life into the Inlandsbanan, the 15 municipalities along the line clubbed together and created the private company which today administers it and runs tourist-oriented summer services between Gällivare and Mora, a two-day journey of 1,067km with an overnight stop in Östersund. Today, a trip on the Inlandsbanan is, of course, a means of getting from A to B, but it's much more about the experience of travelling through Sweden's remote, uninhabited interior – crossing the Arctic Circle on the way. Throughout the journey, the train conductor provides commentary in English and Swedish, picking out points of interest (perhaps, a beaver damming a stream; reindeer grazing in the forest; or quirky facts about the line itself) and the train pulls up now and then for a refreshment stop and a chance to stretch your legs; the tyranny of the timetable is not something the Inlandsbanan subscribes to. Full information, including ticket prices and details about the rail freedom pass (Inlandsbanekort) is at www.inlandsbanan.se.