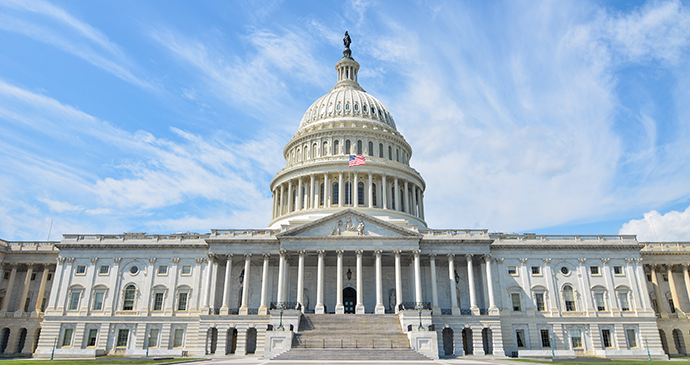 The Capitol is arguably the USA's most recognisable landmark © Orhan Cam, Shutterstock
'Southern efficiency and northern charm' was President Kennedy's mischievous description of Washington, DC, an elegant Neoclassical city designed by Pierre Charles L'Enfant on what had been a swamp. The architecture, boulevards and green spaces provide a fine setting for Washington, DC's main business – government. Events include the cherry blossom festival in April and an Independence Day parade in July. Tourist areas are clean and impressive but the nation's capital has a darker side. Drugs and other crime make parts of the city unsafe, so stay on the beaten track. Summer can be oppressively humid.
Recommended sights
The White House
This official residence has been occupied by every US president since George Washington. Tours (for US citizens) can be arranged by contacting your Member of Congress and reservations must be confirmed at least one month in advance. Visits by non-US citizens must be made through their embassies in Washington, DC.
The Capitol
The nation's most important building was completed in 1800, when the Senate and House of Representatives met in joint session on 22 November. The familiar white dome is a later addition. In addition to its use by Congress, the Capitol is a museum of American art and history.
The Washington Monument
The tallest (555ft/170m) structure in the city and the highest free-standing masonry edifice in the world. A line in the marble a quarter of the way up shows where building work stopped during the Civil War. Finally completed in 1888, the monument provides stunning views from narrow slits in the observation deck.
Lincoln Memorial
A classical Greek-style temple overlooks a reflecting pool. The walls around Abraham Lincoln's 19ft (5.8m) statue are inscribed with the words of his Gettysburg Address. Appropriately, this is where Martin Luther King made his 'I have a dream' speech.