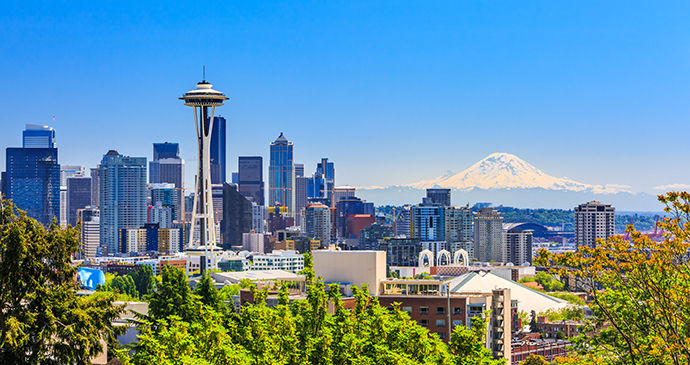 With its mountainous backdrop, Seattle has one of the USA's most attractive skylines © emperorcosun, Shutterstock
Surrounded by mountains, Lake Washington and Puget Sound, the Emerald City was named after Chief Sealth of the Damish and Suquamish tribes. Seattle sees only 56 days of sun a year but has less rainfall than New York or Atlanta, so the city is not quite so wet as outsiders may imagine. Water provides an important leisure resource, however, and countless marinas provide enough space for two boats to every three people.
Seattle was the birthplace of Jimi Hendrix (buried in Greenwood Cemetery in the suburb of Renton), Starbucks coffee, grunge rock and Microsoft. Lately one of America's most fashionable cities, famous for its coffee houses, Seattle has been the setting for movies such as The Fabulous Baker Boys, Sleepless in Seattle, Captain Fantastic, Get Carter and Battle in Seattle, as well as television's Frasier. A monthlong film festival is held each spring and the Folklife music festival takes place around Memorial Day.
Recommended sights
Seattle Center
This legacy of the 1962 World's Fair, a min or so from downtown by monorail, has over 70 acres (28ha) of parkland and entertainments, dominated by the 605ft (198m) Space Needle. Take an elevator to the observation deck for lofty views of the city, Puget Sound and Mount Rainier.
The Waterfront
Where gold arrived during the 1897 Klondike rush, ex-Australian streetcars now run along waterfront tracks. Ferries to Canada and Alaska go from Pier 48, and to Bremerton and Bainbridge Island from Pier 52 (Colman Dock), giving wealthy island commuters inspiring views of snowcapped mountains and an occasional whale.
Pike Place Market
This 1907 market is a warren of shops, restaurants, galleries and stalls selling every kind of fish, fruit and vegetable. Great for street entertainment, people-watching and dodging the flying salmon.