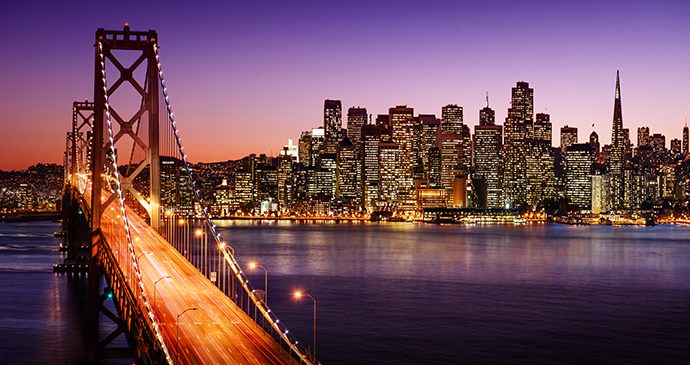 The Golden Gate Bridge is an icon of the San Francisco skyline © IM_photo, Shutterstock
The 'City by the bay' is famous for its Golden Gate Bridge, fog in the morning, vertiginous streets, elegant houses and Alcatraz. Home of Dashiell Hammett and Sam Spade, San Francisco was the birthplace of beatniks, hippies and the topless bar. Finance, industry and a large LGBT community coexist in the cosmopolitan atmosphere. With 'Silicon Valley' to the south, the city has become home to some of the world's most successful dot.com companies, creating hundreds of 25-year-old millionaires. Spaniards arrived here in 1776 but the city prospered only after it became a part of the United States. When gold was discovered in 1848, ships and wagon trains, then the railroads, began bringing thousands of settlers across the Sierra Nevada. San Francisco's Chinatown was founded (like the one in Vancouver, Canada) by immigrants who worked on the transcontinental railroad. Neither the 1906 earthquake nor the tremors of 1989 and more recently have dissuaded a million people from making the city their home.
Recommended sights
The Golden Gate Bridge
Linking the city with Marin County to the North is one of the world's best-known and most impressive landmarks. At 2 miles (3.2km) long – 7 miles (11km) including approaches – it incorporates 80,000 miles (128,000km) of cable and is painted orange rather than gold. Magical views of San Francisco from the Marin County side.
San Francisco Museum of Modern Art
One of the largest contemporary art museums in the world, San Francisco's Museum of Modern Art (SFMOMA) contains more than 33,000 modern works, including paintings by Henri Matisse, Georges Braque, Jackson Pollock, Marcel Duchamp, Frida Kahlo, Edward Hopper, Francis Bacon and Andy Warhol, as well as photographs by Ansel Adams.
Fisherman's Wharf
On the waterfront between Taylor and the Embarcadero, the wharf has gift shops, salt air, cruise boats and hordes of tourists. Open-air stalls sell freshly cooked seafood while sea lions bark for fish and gulls glide above the water. Downmarket pleasures include a wax museum, the Guinness World of Records and Ripley's 'Believe It Or Not!'.
The Cannery
Built in 1894 as a fruit-canning factory, the Cannery has been converted into a mall with dozens of shops, a comedy club, restaurants and art galleries. Jack's Cannery Bar boasts more beers on tap than almost anywhere in the country. There are stalls and cafés among century-old olive trees in the courtyard and street performers entertain on summer weekends.