The 'Big Easy' features jazz, blues, Mardi Gras, voodoo and creole cooking, and more churches per person than anywhere else in the country. Immortalised by Tennessee Williams and William Faulkner, New Orleans was founded by the French in 1718, taken over by the Spanish, then bought by the US for $15 million in 1803. Settlers from France, Spain, Britain, Germany and the Caribbean have given it a uniquely cosmopolitan atmosphere.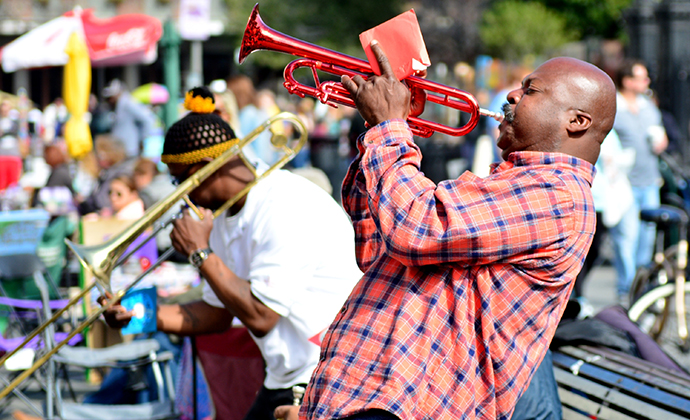 Jazz comes alive on the streets during Mardi Gras in the French Quarter of New Orleans, birthplace of Jelly Roll Morton and Louis Armstrong © Chuck Wagner, Shutterstock
Relaxed charm and a ragged beauty make New Orleans the perfect place for letting les bons temps roll. Apart from Las Vegas, this is one of the few places in America without a closing-time law. Louis Armstrong and Fats Domino were born here and blues, soul and Cajun music are played in hundreds of music clubs. Jazz venues include Mahogany Hall at 309 Bourbon Street and Preservation Hall at 726 St Peter.
The effect of Hurricane Katrina on New Orleans in August 2005 was catastrophic because of the failure of the levees that should have protected the city. Over 200,000 properties were damaged or destroyed by the floodwaters and more than 1,500 people died. Reconstruction and recovery work still continues in some areas, especially the Ninth Ward that was worst affected. Despite this, the most celebrated and historic parts of the city, including the French Quarter, Garden District and St Charles Avenue, remain intact and are thriving.
Recommended sights
French Quarter
The Vieux Carré (Old Square) centres on Jackson Square, where the first settlers arrived in 1718. The finely decorated wrought iron on the houses was made in Birmingham, England. You can soak up the atmosphere best at the French Market and along Bourbon Street.
Jackson Square
Originally the Place d'Armes, where soldiers marched and public executions took place. Later it became a park and was renamed after General Andrew Jackson, whose statue stands opposite the cathedral. See artists, street musicians and entertainers free and have your future told by tarot cards.
The Cabildo
This was the site of the Louisiana Purchase Transfer and was built between 1795 and 1799 as the seat of the Spanish city council in New Orleans. The building has also served as the Louisiana Supreme Court and became part of the Louisiana State Museum in 1911. Reopened in 1994 after being damaged by fire, the Cabildo focuses on Louisiana's early history.
Mardi Gras
The greatest free show on earth takes place during the month before Lent, with parades, bands and every kind of revelry. Book your accommodation in good time. Mardi Gras World has a collection that includes thousands of carnival props and giant figures.