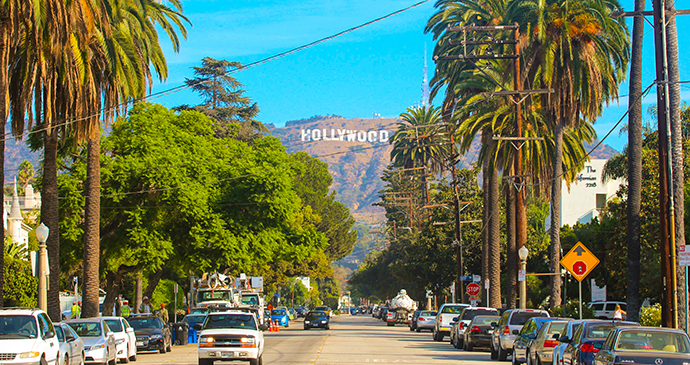 The Hollywood sign is an LA icon © Ingus Kruklitis, Shutterstock
Palm trees, beaches, blondes, surfing, freeways, smog and David Hockney swimming pools: Los Angeles is a sprawling place with an atmosphere all of its own. Founded by the Spanish in the 18th century as El Pueblo de Nuestra Señora de la Reina de Los Ángeles (the City of Our Lady, Queen of the Angels) its name grew shorter as the town became bigger. Completion of the transcontinental railroad in 1869, together with oil, Hollywood and a near-perfect climate, brought millions of settlers in search of the good life. America's second-largest city now spreads ten million people over an area as big as Rhode Island and true Angelinos would never live anywhere else. The sun really does shine 90% of the year, although smog can be a problem in summer.
Recommended sights
El Pueblo de Los Angeles State Park
Los Angeles began here in 1781 and the city's oldest house, the Avila Adobe, which dates from 1818, is at 10 E Olvera. This street also features Mexican restaurants and cheerfully tacky souvenir shops. Look also for the Masonic Hall (1858), Old Plaza Church (1822), Old Plaza Firehouse (1884) and Sepulveda House (1884). Free film and walking tours from the visitor centre.
Universal Studios
The second-biggest tourist attraction in southern California has spectacular rides such as Jurassic Park, King Kong in 3D and the Simpsons Ride, with character voices performed by stars of the TV show. You can enter the world of Shrek & experience the chilling, machine-controlled future with the Terminator, as well as The Wizarding World of Harry Potter with its Forbidden Journey and Flight of the Hippogriff.
National History Museum
Two world-famous habitat halls show African and North American mammals in their natural environments, and the museum is home to Megamouth, the world's rarest shark. The Lando Hall of California History has fascinating exhibits showing the Southwest from the 1500s through to downtown Los Angeles in 1940.
J Paul Getty Center
With panoramic views of Los Angeles and the Pacific Ocean, the museum has 54 galleries to display one of the richest collections in the world, including medieval manuscripts and 65,000 photographs, as well as paintings by Cézanne, Goya, Leonardo, Michelangelo, Monet, Titian, Turner and Van Gogh.