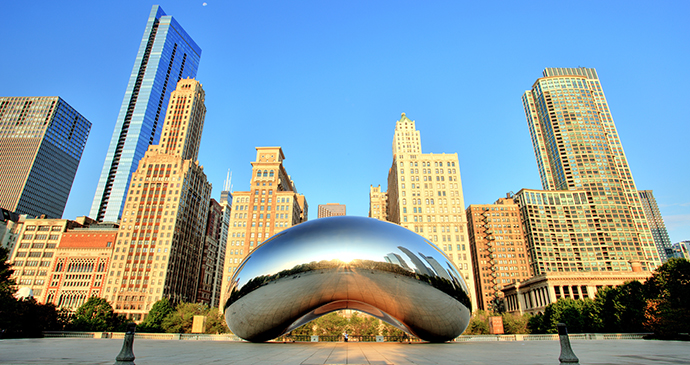 The bean-like sculpture Cloud Gate forms the centerpiece of Millennium Park, one of Chicago's main draws © RomanSlavik.com, Shutterstock
The proclaimed capital of America's third coast is one of the country's largest and most ethnically diverse cities. Writers such as Saul Bellow, Nelson Algren and Sara Paretsky have lived in 'the city of big shoulders', as have Al Capone (gangster) and Mother Cabrini (first American saint). Poet Carl Sandburg called Chicago the 'Player with Railroads and the Nation's Freight Handler'. Harrison Ford and Raymond Chandler, whose father was a railway engineer, were born here, and Ernest Hemingway grew up in the middle-class suburb of Oak Park. Muddy Waters, Howlin' Wolf and John Lee Hooker made blues history on the South Side.
Chicago began in 1833 but stayed a village until railways connected it to the east coast in 1852. Destroyed by fire in 1871 soon after the rail link with San Francisco was completed, the city rebuilt itself as a centre for industry, finance and the arts. The Junction Railway's stockyards were where cowboys brought their cattle, and although these closed down long ago, Chicago retains a hard-headed commercial spirit. More mainstream and less pretentious than New York or Los Angeles, the city became the fashionable home of television's ER and Oprah.
The first 11-storey skyscrapers were erected here, leading to the Chicago School of Architecture and subsequently Frank Lloyd Wright and Mies van der Rohe. You can see three of the world's ten tallest buildings and superb architecture in every modern style, as well as outdoor sculpture, an elevated railway and the brooding Chicago River. Chicago boasts 29 miles (46km) of beaches but it can be bitingly cold in winter, when ice sometimes floats on Lake Michigan.
Recommended sights
Willis Tower
This building, completed in 1973, was the world's tallest for 25 years, reaching 110 storeys and 1,454ft/443m (1,729ft/527m including added antennae). Ear-popping elevators shoot you to the 103rd-floor Skydeck for views of the city, Lake Michigan and four states. Go before sunset and watch the city come alight.
360 Chicago
Even at 327ft (99.6m) lower than the Willis Tower, the John Hancock Center observation deck gives wonderful views of Lake Michigan and the city. The 94th-floor observatory is more than 1,000ft (300m) above Chicago & features an outside Skywalk, a virtual-reality tour of more than 80 city sites, 3D 'talking' telescopes and a Chicago history wall. TILT , 'Chicago's highest thrill ride', extends out and over the city's famous skyline to give unique, downward-facing views.
John Shedd Aquarium
When the aquarium began in 1927, live specimens were transported here aboard a specially built fish car, the Nautilus, later replaced by the Nautilus II (now on display in the Railway Museum at Monticello, Illinois). Today's splendid building holds 32,000 animals, including thousands of fish as well as the largest indoor collection of marine mammals in the world, such as beluga whales, seals, sea otters and dolphins. Don't miss the penguins and the amazing alligator snapping turtle.
Navy Pier
A city landmark with 50 acres (20ha) of parks, gardens, shops, restaurants & attractions, including a Ferris wheel, carousel, children's museum and Chicago's Shakespeare Theatre. The 3,000ft pier (914m) was one of several planned for the city but the only one actually to be constructed (in 1916).