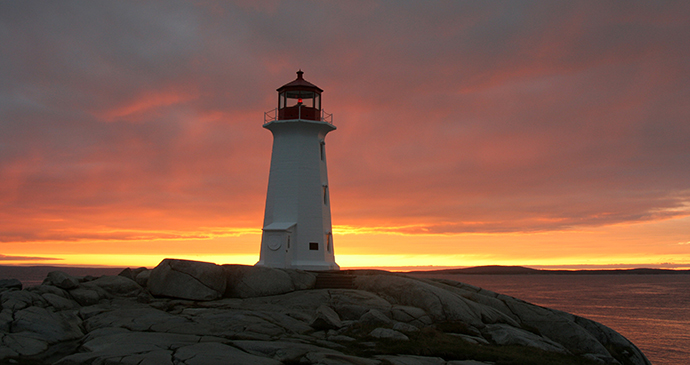 Peggys Cove Lighthouse at sunset © goofyfoottaka, Shutterstock
This quaint fishing village lined with weathered fishing shacks on stilits, stacks of lobster pots and piles of fishing nets is home to an iconic early 20th-century lighthouse.
Indubitably, Peggys Cove (population: 120) is a very picturesque fishing village with an incredibly photogenic octagonal lighthouse overlooking a perfect little harbour. The white c1914 lighthouse stands atop granite worn smooth by thousands of years of mighty waves. Just below it, weathered fishing shacks on stilts, stacks of lobster pots and piles of fishing nets line the tiny cove where colourful fishing boats bob in the water. Bright green vegetation on the banks above contrasts with the blue of the sea, and the lapping of the waves, rustle of the wind, and squawking seagulls provide the soundtrack.
Incidentally, the lighthouse received a fresh coat of paint in 2012: when the federal and provincial governments couldn't agree on whose responsibility it was to keep the lighthouse looking good, locals bonded together and did the job themselves.
So what's not to like? The problem is that this is no 'off-the-beaten-track' secret. T Morris Longstreth wrote in 1934's To Nova Scotia: 'I am afraid that Peggys Cove will meet a tragic end. She will be thrown to the tourists.' In summer the same pleasure you get from thinking how quiet, unspoilt and (relatively) tourist-free the rest of Nova Scotia is can be soured by having to share the beauty of this little village with hordes of other visitors, many of whom arrive by the busload. That doesn't mean that the place is swamped with tacky souvenir shops or rip-off bars, restaurants and hotels: on the contrary, services are limited. There's an interesting gallery, a craft shop or two, a restaurant, a couple of ice cream shops – and two car parks to cater for a lot of visitors.