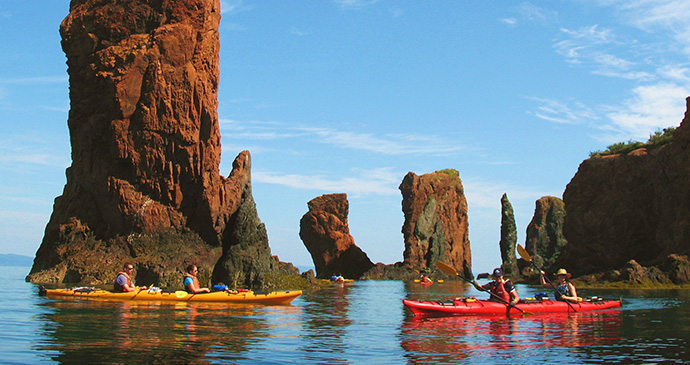 Cape Chignecto is a wonderful destination for sea kayaking © Nova Scotia Tourism
As Nova Scotia's largest, this provincial park is a must-see for lovers of hiking, wildlife and all things outdoors.
Covering a vast area of 4,200ha, Cape Chignecto is Nova Scotia's largest provincial park and should certainly not be missed by lovers of the wild outdoors. It is located on an arrowshaped headland pointing in to the Bay of Fundy, flanked by Chignecto Bay and the Minas Basin. Although encompassing 29km of pristine coastline, much of the park sits high above the huge tides, with some cliff s reaching 185m. In the water below, nature has created a range of natural sculptures, such as the Three Sisters, huge misshapen sea stacks.
The park has no roads, and to stay within its boundaries you'll have to camp. Partly for these reasons – and the somewhat 'out-of-the-way' location – Cape Chignecto is still something of a hidden gem.
Ten marked trails give access to the natural highlights. These range from quick jaunts to the beach from the Red Rocks visitor centre, or the Three Sisters look-out from Eatonville Beach, to challenging all-day hikes that should only be attempted by experienced hikers, such as the spectacular Red Rocks visitor centre–Refugee Cove trail. The big one is a multi-day circuit of the Cape. The longer hikes are all likely to involve climbing steep slopes and following vertiginous cliff side paths, but the wonderful nature, magnificent scenery and spectacular views are a just reward.
Expect to see yellow birch, American beech, Eastern hemlock, balsam fir, sugar maple and white and red spruce. For much of the summer, you'll also see wild flowers. Whilst the peninsula is home to bobcats, moose and black bear, these are very rarely encountered; far more common are whitetail deer, rabbit and hare. Grey seals can often be seen in late summer, basking on rocks in the coves.