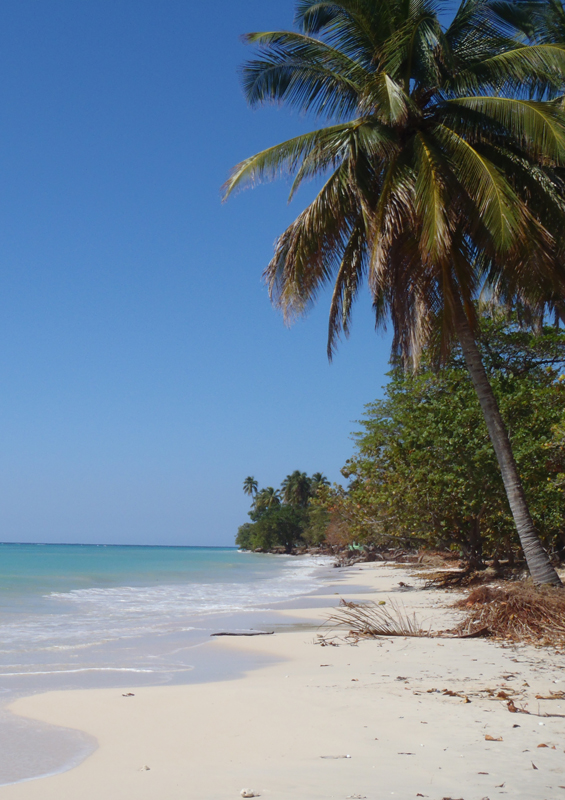 In recent years, Port Salut has become the place for weekend breaks from Port-au-Prince. One look at the long stretch of palm-fringed white sand and it's easy to see why. Hotels seem to be springing up all along the coast to satisfy demand – but since this is Haiti, there's still some way to go before things reach the crush of many other Caribbean beach destinations. Come during the week and you can still have the place pretty much to yourself.
(Photo: A stunning stretch of white sand on the beach at Port Salut © Paul Clammer)
Port Salut is neatly paved, and strung quite some way along the coast. The part most people are interested in is the beach at Pointe Sable. All your favourite Caribbean holiday clichés are here to be fulfilled – miles of clean white sand lapped by a shining blue sea, the occasional beach bar serving grilled fish, with the whole thing fringed with coconut palms. Pointe Sable is on the western edge of Port Salut – there's access via a slip-road (vehicle entrance 50HTG).
The palm-fringeed white sand beaches of Port Salut make it popular for weekend breaks from the capital.
Most people will be rightly content with kicking back and spending their time here doing nothing more energetic than ordering another rum sour. If you want something a little more active, Cascade Touyac is a small but pretty waterfall about half an hour's walk inland from near the turning for Pointe Sable – anyone will be able to direct you. It's possible to swim in the pool beneath the 10m-high falls. With a vehicle, an ideal day trip is to Port-à-Piment, for a visit to the stunning Grotte Marie Jeanne.
A longer drive on a rougher road up into the hills would take you through the tiny hamlet of Douyon. It's a poor and very dry area, but when you approach the village, a gleaming new road appears as if by magic. Douyon was the home village of Jean-Bertrand Aristide.
If you carry on driving for another 5km or so, the road runs along a high ridge where, in a couple of places, it's possible to look north and south and see the sea on both sides of the southern peninsula – spectacular.
Port Salut's fête patronale is held on 4 August. Bullfights are held on Saturdays throughout the year, in the fields behind the police commissariat. It's not a bloody man-versus-bull competition, but a locked-horns pushing contest between bulls. It's a sport peculiar to the town, with plenty of betting on the side among spectators.