Soak up lively music and colourful art in Haiti's frenetic capital.
Haiti's buzzing capital is uncompromising and irrepressible. As the economic, political and cultural hub of the country, it ceaselessly sucks in migrants from across the country – when people say that the 'Republic of Port-au-Prince' is a completely separate country to the rest of Haiti, they're only half-joking.
Perhaps two million people live in the greater metropolitan area, squeezed in between the coastal plains and the high slopes of the mountains that rise above them. Designed for a population a quarter of its size, Port-au-Prince's infrastructure creaks and groans under the pressure, a state of affairs that has only grown since swathes of the city crumbled in the 2010 earthquake. Rebuilding has been slow and the scars are visible, but contrary to the expectations of many first-time visitors, the city is not one giant rubble pile.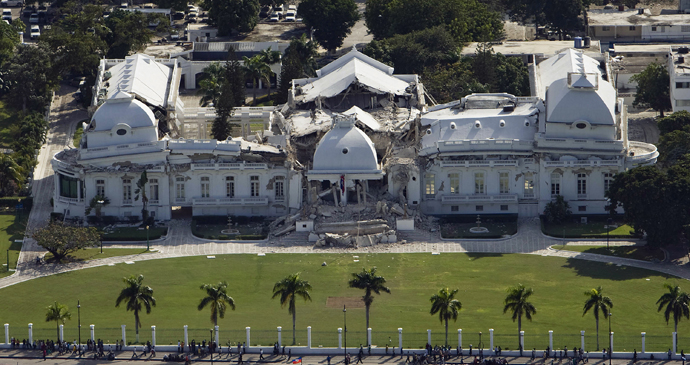 The beautiful Presidential Palace (National Palace) was heavily damaged in the earthquake © Logan Abassi-UNDP Global, Wikipedia
Far from it. Port-au-Prince's spirit is very much alive. It's a sweaty and noisy place, its streets clogged with street vendors and traffic jams, but it's also a place of lively music, vibrant art and great restaurants, of impromptu soccer games watched with a cold beer from a street vendor, church singing, and impeccably uniformed school children streaming to class every morning. The concrete-block houses of the developing world sit cheek by jowl with fancy 'gingerbread' houses, while the city remains surprisingly green given its uncontrolled development – don't be surprised if you catch sight of a flock of parrots winging their way between mango trees. In all this, perhaps the jokers are right after all – Port-au-Prince is Haiti, in all its glory and contradictions, and a mile away from the dangerous and chaotic reputation that swirls around it.
Many visitors to Port-au-Prince tend to divide their time between either downtown ('la Ville') or up the hill in Pétionville. The majority of sights are found downtown, while Pétionville has a better variety of eating options and shops. Choices for accommodation are split fairly evenly between them.