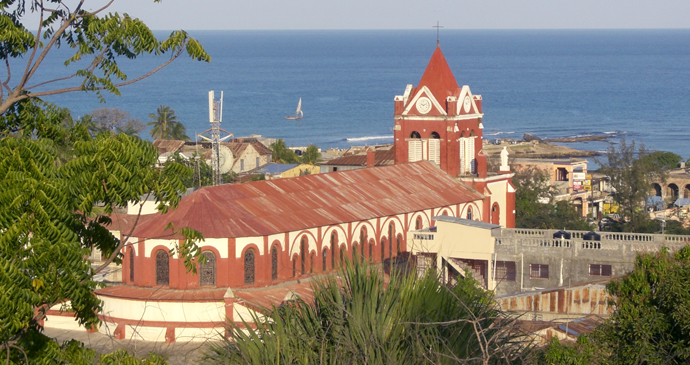 Built in 1877, the striking terracotta-red Saint-Louis Cathedral is located in the centre of town © Bruno Le Bansais, Wikipedia
Jérémie is one of those places in Haiti that feels like a long way from anywhere. Relatively few people seem to make it here, which is a shame, because it's a charming and relaxed little city, smack in the middle of the greenest and lushest corner of the country.
Self-styled as the 'City of Poets', Jérémie is the base for wider discovery of the Grand Anse, with towns such as Dame Marie and Abricots to visit, and beautiful beaches to have pretty much to yourself.
At the heart of the Grand Anse system, this relaxed city is one of the lushest parts of Haiti.
The surrounding fertile mountains produce avocados, coffee, cacao and a dozen other crops. Jérémie is also famous for komparet, a deliciously heavy gingercake-bread.
Jérémie sits next to the Grand Anse River – the views in the morning are particularly lovely when the mist seems to smoke off the valley. Fishermen stand waist-high with throw nets to catch fish, particularly the tiny anchovy-like piskit, which swarm in great numbers several times a year. You'll frequently also see long bamboo rafts called pipirit (after the trilling song of the tropical kingbird), which villagers upstream build in a day to bring their produce to market.