Also known as the Seven Sisters, this series of waterfalls in the forests of Grand Etang make an enjoyable hike.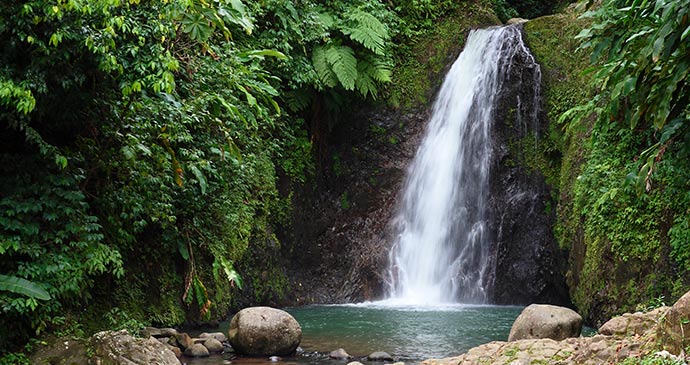 The waterfalls form part of a series known locally as the Seven Sisters © Celia Sorhaindo
This is a moderately easy hike across private estate land to a series of pretty waterfalls with nice, deep and refreshing bathing pools. The trail follows a steep dirt track and can be quite muddy and slippery in places. You also have to hop across rocks to get over a small river to reach the falls right at the end of the trail. The hike takes about 30 to 45 minutes each way. It is downhill there and uphill on the way back. Though the trail is, for the most part, very obvious and clear (it is frequently walked by cruise-ship visitors in the high season), it may be worth taking a guide along to help you out over some of the trickier stretches if you are not a regular hiker. Your guide can also tell you about some of the vegetation you will see along the way, which itself is quite interesting and diverse.
The waterfalls form part of a series known locally as the Seven Sisters. The lower falls are number six, the taller ones above it number five. The four above it are in actual fact rather small cascades that can be accessed via the trail to your right. It takes about 20 minutes to get up to the top and a popular way of descending is simply to jump down each waterfall into the pool below. The seventh waterfall is close by but on a different river. It is called the Honeymoon Falls. The route back to the car park is the same way you came; unfortunately the slippery downhill slopes are now replaced by steep uphill ones. There is currently a planned project to install ropes and zip-lining down all seven waterfalls was being developed as an attraction, especially for cruise-ship visitors.