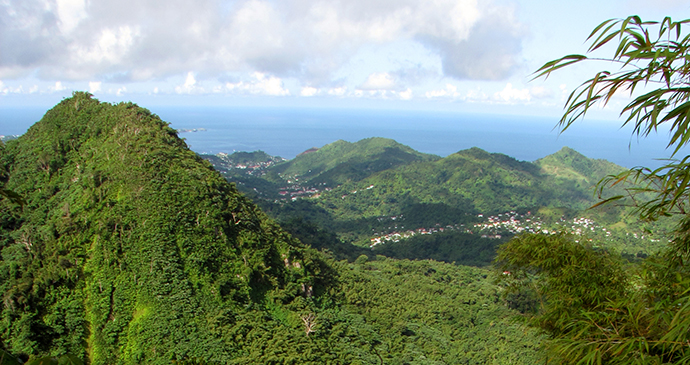 Grand Etang National Park is made up of 1,000ha of mountainous forest © Paul Crask
The Grand Etang National Park was established in 1992. It is a 1,000ha swathe of mountainous forest located in the centre of the island to the northwest of the 1,540ha Grand Etang Forest Reserve that was created as far back as 1906. The name 'Grand Etang' is derived from the French meaning 'large lake', in reference to the 12ha crater lake which sits at an elevation of 530m at the southeastern boundary of the national park. Also located within the Grand Etang National Park are the summits of Mt Qua Qua, Mt Granby and Morne Fédon (also commonly known as Fédon's Camp or simply Fédon). Waterfalls found within the park include the three that comprise the Concord Falls – Concord, Au Coin and Fontainbleu. Located on the southwestern perimeter of the park is the frequently visited Annandale Falls.
The mountainous ridges of the national park are steep and narrow. They are home to a variety of trees including gommier (Dacryodes excelsa), a tall gum tree that Amerindians used for making their canoes; mahogany (Swietenia mahagoni); teak (Tectona grandis); balata (Manilkara bidentata); and maruba (Simarouba amara), to name just a few. Prior to Hurricane Ivan in 2004, the tall trees of the Grand Etang National Park and the Grand Etang Forest Reserve provided a high forest canopy that in turn created a wet rainforest habitat on these elevated slopes and ridges.
This forest-covered national park is home to a large crater lake, volcano peaks and the mona monkey.
Unfortunately the high winds of the hurricane had a devastating effect upon the rainforest, particularly on the windward-facing slopes that were exposed to the full force of the storm. The taller trees were either uprooted or cropped by the wind and the result is that there is no longer a high canopy creating wet rainforest conditions. This in turn means that many of the plants, flowers and creatures which you would normally expect to find in Grenada's rainforest habitat are no longer as prevalent as they once were; in fact some are now quite scarce. Despite the storm, the forest is growing and recovering though it will clearly take many more years to re-establish habitats.
The forests of Grand Etang are also home to the mona monkey (Cercopithecus mona) which was probably introduced to the island from Africa during the years of the slave trade. The monkeys used to be a popular visitor attraction though sightings have become fewer in the wake of two hurricanes. Of particular concern is the destruction of the monkeys' habitat and the fact that there appears to be little enforcement of the law ensuring their protection from hunters within the national park's boundaries. Hopefully something will be done about this before the mona monkey goes the way of the agouti (Dasyprocta leporina) and is hunted out of existence in Grenada altogether.