A fascinating picture of the island's cultural heritage that provides an educational insight into the processing of nutmeg.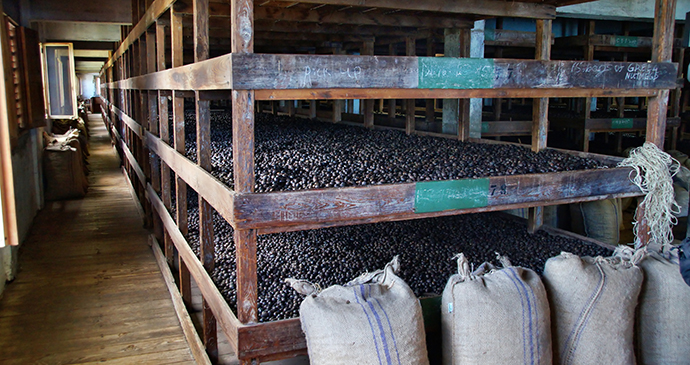 Support and learn about Grenada's nutmeg industry with a tour of the Gouyave Nutmeg Pool © Przemyslaw Skibinski, Shutterstock

The nutmeg processing station at Gouyave, referred to by local people as 'the pool', is located in the centre of the village on the coastal side of the road, just south of the bridge to L'Anse. Owned by the Grenada Co-operative Nutmeg Association, it is one of three processing stations in Grenada. It was constructed in 1947 on the site of a former coastal battery that was built by the French in the 1700s to protect this west coast settlement from attack and invasion.
The co-operative was formed in 1952 with the aim of removing the monopoly of nutmeg processing, sales and export from the plantation owners. Farmers who are members of the co-operative agree to sell their produce exclusively through the co-operative. In its heyday Gouyave would process up to 2,700 tonnes of nutmegs per year for export. The impact of Hurricane Ivan devastated the industry, however, and today Gouyave is the only station on the island still processing nutmegs for domestic consumption and export. Despite this serious setback, the Gouyave station is a fascinating place, nutmeg processing is recovering, and a visit there gives you an insight into an important aspect of Grenada's agricultural tradition, its troubled past, its stark economic present, and its uncertain future. Wooden machines and long curing trays, together with men and women engaged in manual sorting, grading and packaging activities, combine to paint a fascinating picture of the island's cultural heritage as well as to provide an educational insight into the processing of nutmeg and mace.
The nutmeg station has a gift shop where you can buy nutmegs, spices and a variety of local products and crafts. Several tour operators include a visit to Gouyave Nutmeg pool and it is usually part of a cruise-ship shore excursion. If you are travelling independently, please take the time to visit and support the nutmeg workers of Grenada. The tour is rather quick (the last one I took was certainly whirlwind), but definitely worthwhile. If you find your tour is going rather too quickly, don't be afraid to ask your guide to slow down a bit and ask plenty of questions. Because the 'pool' is on the cruise-ship circuit, visitors can be processed through the station as efficiently as the nutmegs themselves. Speak up, interrupt, and be sure to get the most out of your visit. Taking photographs is no longer allowed.